Debina Bonnerjee And Gurmeet Choudhary Blessed With First Child 11 Years After Marriage
Debina Bonerjee and Gurmeet Choudhary took to their Instagram handle and shared the big news.
Debina Bonnerjee and Gurmeet Choudhary have welcomed a new member into their family. Yes, it is good news! Debina and Gurmeet welcomed their first child, a baby girl on 3rd April 2022. The news comes just after the arrival of Bharti Singh and Haarsh Limbaachiya's baby boy.
Debina Bonnerjee And Gurmeet Choudhary Welcome Their Baby Girl
Debina Bonnerjee and Gurmeet Choudhary have been blessed with a baby girl. The couple made an official announcement through their Instagram handle with an adorable video. They captioned their post, "With utmost gratitude we welcome our "BABY GIRL" into this world. 3.4.2022 🌸 Thank you for all your love and blessings. Love & Gratitude Gurmeet & Debina."
View this post on Instagram
Gurmeet Choudhary and Debina Bonnerjee's close friend and actor, Romanch Mehta took to his Instagram handle and shared pictures with their baby girl on his Instagram. He congratulated his friends and shared how happy he is with the big news.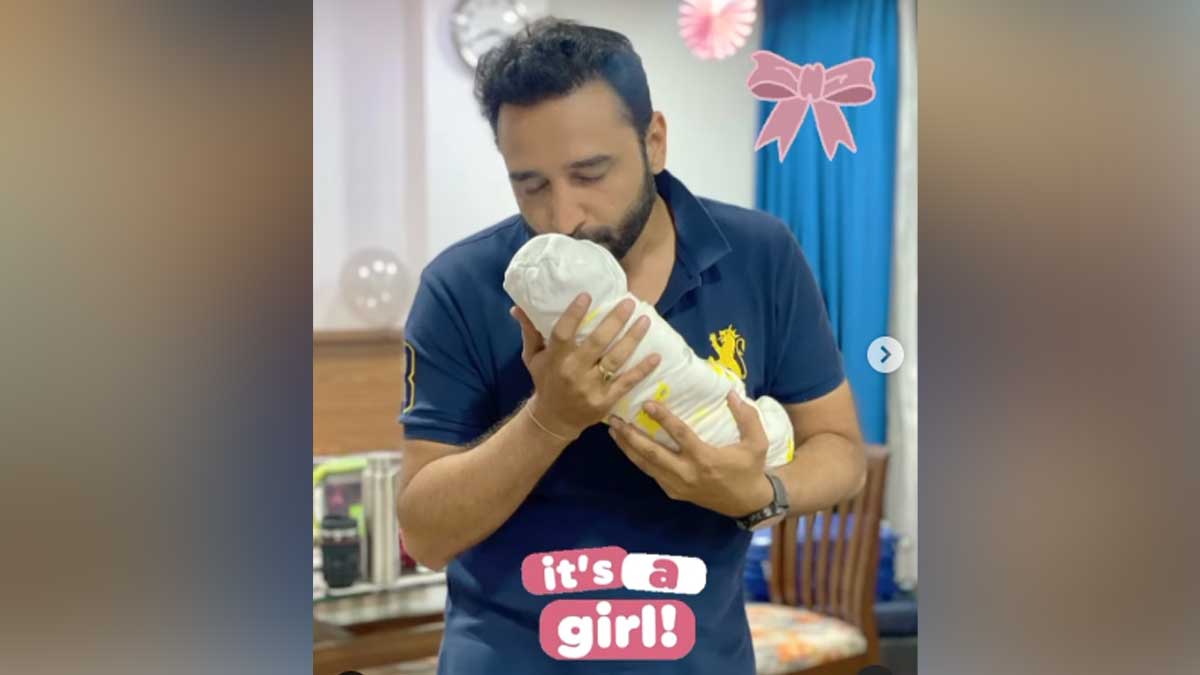 He wrote, "Congratulations mere yaaro @debinabon @guruchoudhary i m soo soo happy for you guys..its like a fairly tale, bcoz having a daughter is like a real blessing..She is God's most powerful creation..I always wanted that if I will ever have my baby that would be a baby girl 👧 n I would have name her Roshii..n genuinely from my heart I felt that yesterday when I hold her for the first time she is not just my niece but like my daughter..Mata Rani will always bless her and she will bring lots of joy, happiness and success in your life..love you always 🎉🥰❤️😘🤗 03/04/2022."
Don't Miss: Inside Debina Bonnerjee's Bengali Godh Bharai Ceremony, Saadh
Debina Bonnerjee And Gurmeet Choudhary's Pregnancy Struggles
All through her pregnancy journey, Debina Bonnerjee and Gurmeet Choudhary kept us updated on all the highs and lows. Just recently, Debina Bonnerjee took to her Instagram handle and shared about the challenges she is facing during the third trimester. She shared how she is suffering from swollen feet, constipation, leaking bouts, toilet runs among other issues. However, she shared how both excitement and anxiety have taken over her mind but she is grateful for this pregnancy after trauma.
Debina Bonnerjee was also one of the celebrities who continued with her yoga during pregnancy. She shared a picture with husband Gurmeet Choudhary doing sirsasana or headstand without support. Her husband Gurmeet was seen standing close by as she performed it. On her Instagram post, she shared how she used to practice it before pregnancy too and felt completely safe and secure to go upside down during her pregnancy.
Don't Miss: Mother-To-Be Debina Bonnerjee Suffered From Endometriosis, What Is It And How She Dealt With It?
Earlier, Anushka Sharma had also aced a headstand with support from her husband Virat Kohli while she was pregnant.
When Debina Bonnerjee Recalled The Time She Had Difficulty In Conceiving
In one of her YouTube vlogs, Debina Bonnerjee talked about facing difficulties in conceiving a child. She further shared how she get her treated with all the treatments available.
Debina Bonnerjee shared that she was suffering from endometriosis, a condition where bleeding happens inside the walls of the uterus. She then shared that along with allopathic medicines, she went for Ayurveda where she undertook acupuncture.
Debina shared that in the process, a needle was inserted in the ear, it was a Chinese approach for fertility.
Debina Bonnerjee and Gurmeet Choudhary tied the knot in 2011. The couple got blessed with their first child 11 years after their marriage. The couple announced their pregnancy earlier this February and captioned their post, "To Becoming 3. Choudhary junior coming . Seeking your blessings. #parentstobe #gurbina." They earlier shared their not-so-smooth pregnancy journey through their YouTube videos and social media handles. Our heartiest congratulations to the couple!
For more trending stories, stay tuned!