Inside Debina Bonnerjee's Bengali Godh Bharai Ceremony, Saadh
Debina Bonnerjee's family hosted a traditional Bengali Godh Bharai ceremony for her recently.
Debina Bonnerjee and Gurmeet Choudhary are expecting their first child. They first announced their pregnancy on social media last month. The couple is enjoying the pregnancy phase and sharing it all with their fans through their posts on Instagram. Recently, Debina Bonnerjee shared pictures from her Godh Bharai ceremony and they are going viral on the internet.
Debina Bonnerjee's Godh Bharai Ceremony
Debina Bonnerjee's family hosted a traditional Bengali Godh Bharai or Saadh ceremony for her recently. It wasn't a grand affair and had only her close family members in attendance.
Debina Bonnerjee on her Instagram post shared about Saadh or the Bengali godh bharai ceremony. She wrote, "Saadh or desire in English. The desire for food of a pregnant woman is celebrated by the maternal side ( here my mother) by cooking all food the woman loves. "Baby shower" in western countires and "godh bharayi" in north India and saadh in Bengal. I didn't particularly crave for anything during the whole journey .. so all things my mother could think of she cooked. Wanted to keep it private and entirely upto myself as I already feel a company."
Don't Miss: Pooja Banerjee Welcomes A Baby Girl With Husband Sandeep Sejwal
Debina Bonnerjee's Godh Bharai Look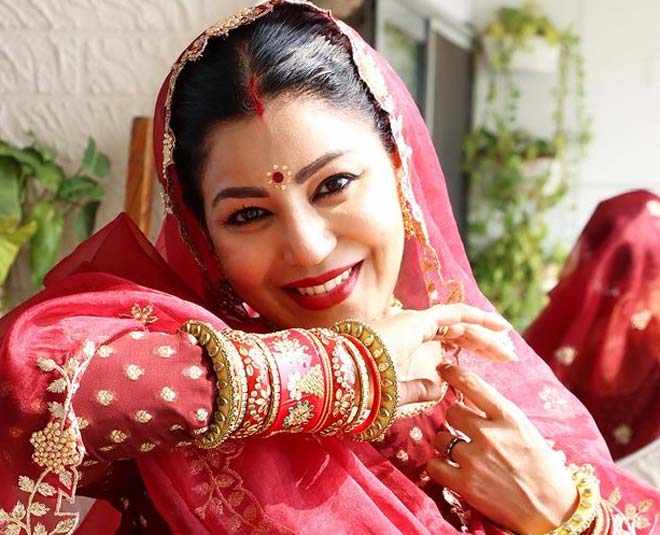 For her Godh Bharai or Saadh ceremony, Debina wore a traditional anarkali maroon suit which had beautiful golden work all over. She carried it with traditional jewellery, a gold choker with matching earrings and red bangles.
Debina Bonnerjee On Entering The Third Trimester
Debina Bonnerjee recently made it to the last stretch of her pregnancy and shared her experience. Debina shared how she is experiencing many toilet runs, constipation, swollen feet, leaking bouts with sneezes and cough along with other things in the third trimester and they all remind her that it is real and she is pregnant.
Don't Miss: Mother-To-Be Debina Bonnerjee Suffered From Endometriosis, What Is It And How She Dealt With It?
In her post, she further mentioned how there is a lot of anxiety too with each appointment. Lastly, she shared that the anxiety and fear will not overshadow her gratefulness and she is ready to overcome all the hurdles that come her way while she waits to meet her baby.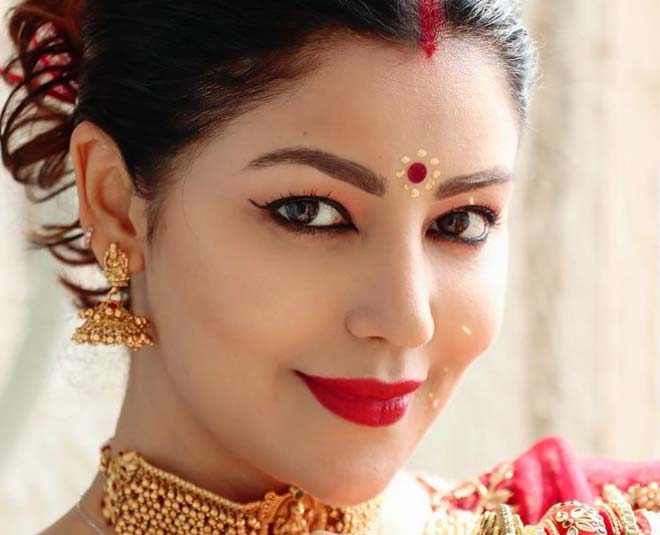 Earlier, Debina Bonnerjee had also opened up about the challenges she had to go through all the years while she was unable to conceive on her YouTube channel. She shared that she visited doctors, gynecologists, IVF specialists to find out why she was unable to conceive a baby. She then found that she was suffering from endometriosis and to treat the same, she underwent acupuncture, a therapy that helped remove all the toxins from the body. Debina Bonnerjee also shared that for the acupuncture a needle was inserted in the ear and it is a Chinese approach for fertility. She went for it everyday.
Debina Bonnerjee also talked about the societal pressure which comes along and advised every woman to not take any pressure or criticism and let it affect them for any reason.
Debina Bonnerjee and Gurmeet Choudhary got married in 2011 in an intimate ceremony. We can't wait to see Choudhary Junior! Share your thoughts on our Facebook page. For more such trending stories, stay tuned to HerZindagi.