Within the first week of the lockdown, Bollywood celebrities flooded social media with several clips and images showing what all are they doing while practicing social distancing. While some were seen cleaning, exercising, singing and playing a few instruments, others like Malaika Arora were seen turning chefs and cooking lip-smacking food. From prepping vegetable stew to besan laddoos and Paniyaram, the actress cooked all these and shared the images on social media.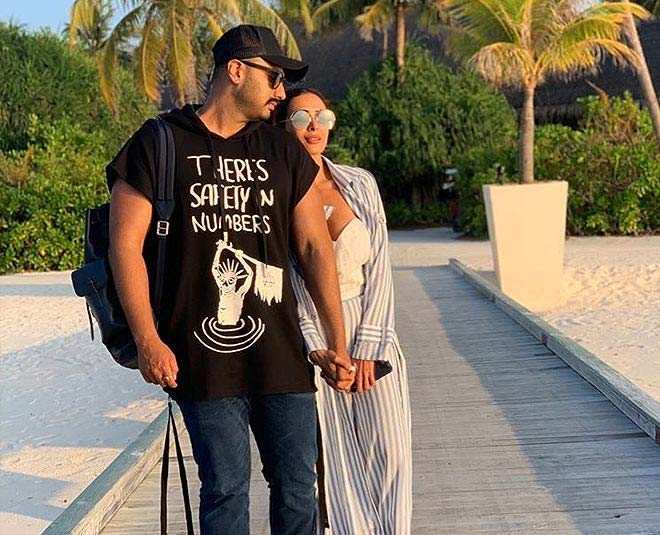 Unfortunately, the fitness enthusiastic star seemed to have run out of any more creative ideas. She shared a snap recently wherein she can be seen sitting on her couch and staring at some books, clad in shorts and tee. She wrote alongside, "The thinker.... #rodin (wondering Wat to do next ... can't sit still )#stayhomestaysafe."
Her boyfriend, who is known for his sarcastic comments on his friends' social media posts and his hard-hitting replies to trolls left a comment on Malaika's picture saying, "Thinking where to sleep next…" While we think it is sweet that Arjun knows all about Malaika's habit, we are still awaiting the actress's reaction towards Arjun's comment. However, this was not the first time that the lovebirds were seen pulling each other's leg on social media. A few months ago Malaika also posted a funny comment on one of Arjun's pictures. The 2 States actor took to Instagram to share pictures of himself, all decked up after hosting an event. Arjun shared the snaps saying, " Enjoyed every minute of hosting the @indiansportshonours w/ @mirzasaniar! I hope you guys enjoy the show tonight... #ISH2019 #bluerising."
Don't Miss: Fitness Queen Of Bollywood, Malaika Arora Is An Inspiration For All Of Us!
The fitness fanatic actress was quick to post a comment on the photo, wherein Arjun is looking a bit serious. Malaika couldn't keep from asking, "Why so serious ??!?" But, Arjun proved that he is the king of sarcasm and replied to Malaika with a hilarious comment. He wrote, "Was wondering how it's such a complex process to get a bow tie right." Also, a few days ago, the 46-year-old was video calling with her friends Kareena Kapoor Khan, Amrita Arora, and others.
Don't Miss: Netizens Troll Malaika Arora, Call Her 'Wanna Be Kim Kardashian' For Donning Resembling Nude Outfit
She then shared a picture of herself and her girl gang. She wrote alongside, "Friends that nap together, stay forever. #napsinthetimeofquarantine #stayhome." Here too Arjun was quick to comment and tickle our funny bone. "But ur smiling in ur nap also waah !!!," said the actor. During the lockdown, everyone including the lovebirds is staying home and hence has not been captured together for a very long time. Last, they were spotted by the paparazzi when the actress celebrated her mother, Joyce Arora's birthday along with her son Arhaan and beau Arjun Kapoor.
Image Courtesy: India Today, The Asian Age