We recently shared with you some beautiful throwback pictures from Abhishek and Aishwarya's wedding and sangeet. These golden pictures are still going viral on the internet.
Now a few more pictures of Abhishek and Aishwarya are out on the net but this time they are from Aishwarya's baby shower. 9 years after her baby shower, we get to see pictures from her baby shower for the first time.
Aishwarya and Abhishek can be seen in the pictures, dressed in beautiful golden outfits. While Aishwarya can be seen sitting on the throne, Abhishek can be seen standing next to her.
There is one picture where Abhishek can be seen fixing Aishwarya's gajra. Isn't it adorable?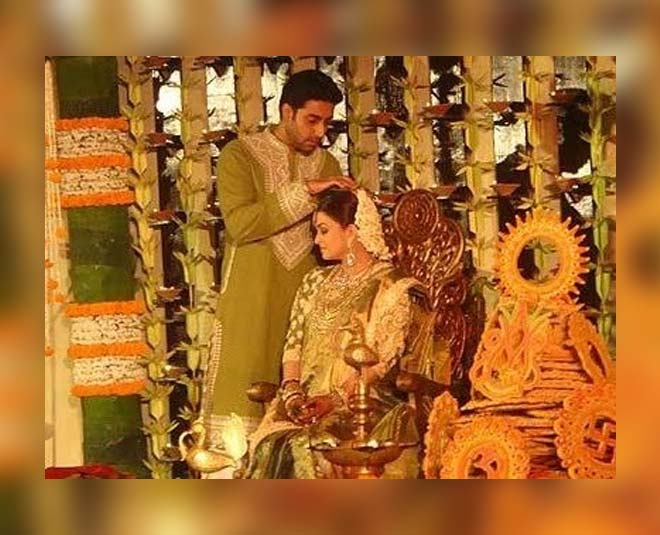 In another picture, Amitabh and Jaya Bachchan can be seen blessing Aishwarya.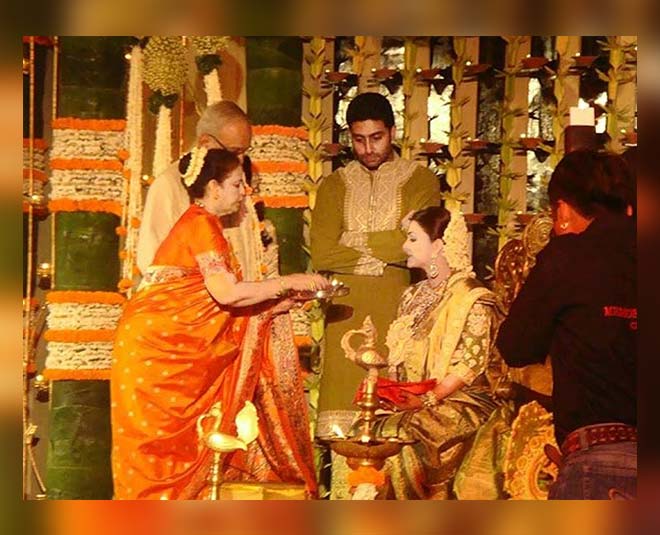 Aishwarya's parents too can be seen with the aarti thali.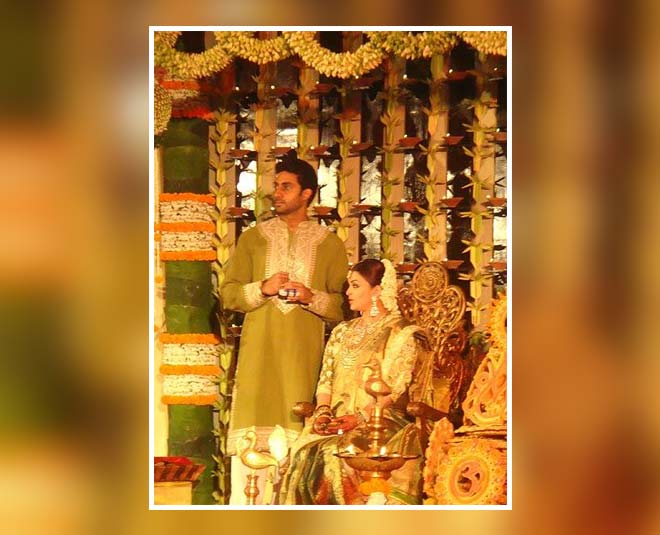 Aren't these pictures gold?
Abhishek and Aishwarya got married in the year 2007. The two became parents in the year 2011 to their little daughter Aaradhya.
Don't Miss: Abu Jani Sandeep Khosla Share Throwback Pics Of Aishwarya-Abhishek Sangeet!
Aishwarya and Abhishek got engaged around 12 years ago. Everything happened really quick. In an interview, Aishwarya talked about the sudden roka which she had no clue about.
She said, "I didn't even know there's something called a 'roka' ceremony. We are South Indians, so, I don't know what a 'roka' is and suddenly there is this call from their house to ours; 'we are coming'."
View this post on Instagram
She also shared, "Abhishek was like 'we are all coming and I can't stop dad. We are on our way. We are coming to your place'. I'm like, 'Oh my God!' So, this 'roka' is happening with a call to my father, who is out of town."
"Mum is here, we are here. They've all arrived home, they are emotional and all. I'm like, 'Oh my God, it's happening.' Then it's like, 'come on, let's go home'. I'm like, 'Mom, okay... is this...is this an engagement? Like, what just happened?'"
Both Abhishek and Aishwarya are missing from the silver screen for a long time now. Soon, Abhishek will be seen on Amazon Prime Video. Aishwarya is currently working with Mani Ratnam on her next project.