Weight loss is a process in which diet plays a huge role. Though diet alone cannot help you lose weight, it sure can help to eat healthy and maintain your intake of essential vitamins, minerals and nutrients.
By diet, we do not mean giving up on food but watching what and when we are eating. Several research studies have concluded that if we eat healthy home-cooked meals, be wary of the portion and follow the eating schedule tightly, it can help not only with weight loss but also maintaining a healthy digestive system.
Ragi is a protein-rich source for vegans and vegetarians and has ample benefits to convince you into adding it to your diet. It is a rich source of minerals, helps with maintaining cholesterol levels and comes with anti-microbial properties.
Here are five quick recipes you can try.
Ragi Halwa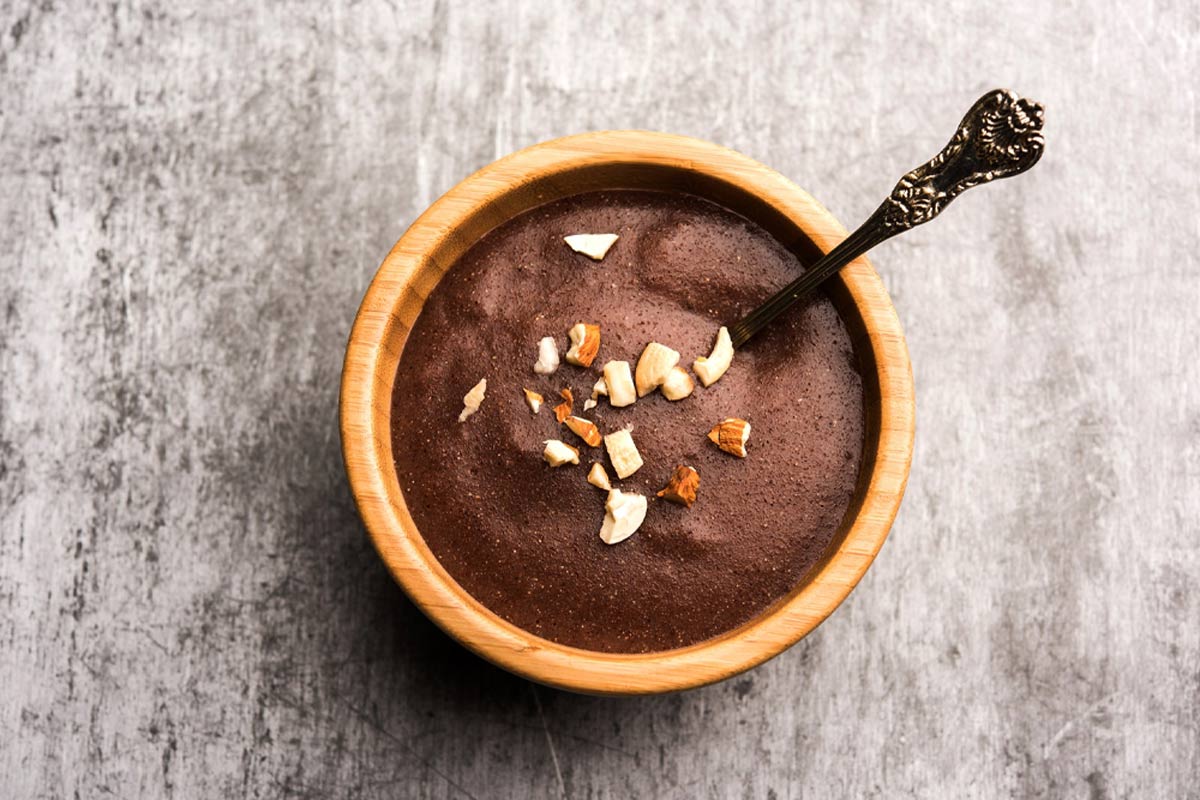 Ingredients
1/2 Cup Coconut Oil or Ghee
3 Cups Water
1/2 Cup Cashews
1.5 Cups Jaggery or Coconut Sugar or Powdered Sugar
1.5 Cups Ragi Flour 1.5 cups
1 Tablespoon Powdered Cardamom Seeds
Cashews 1/2 cup
Cardamoms (powdered – seeds only) 4
Tip: Jaggery and coconut sugar go well with coconut oil; sugar goes well with ghee.
Method
In a heated pan, add a tablespoon of ghee and roast cashews in it.
Make a paste of ragi flour and water.
Pour the mixture into the thick-bottom vessel and keep stirring it on medium heat.
Add sugar and cardamom to the thick paste.
Start adding ghee or coconut oil, two tablespoons at a time until you see all of it getting absorbed by the ingredients.
Lower the heat and let everything simmer until you get a thick paste.
When the oil starts separating, take the halwa out in a pan and serve it hot.
Ragi Dosa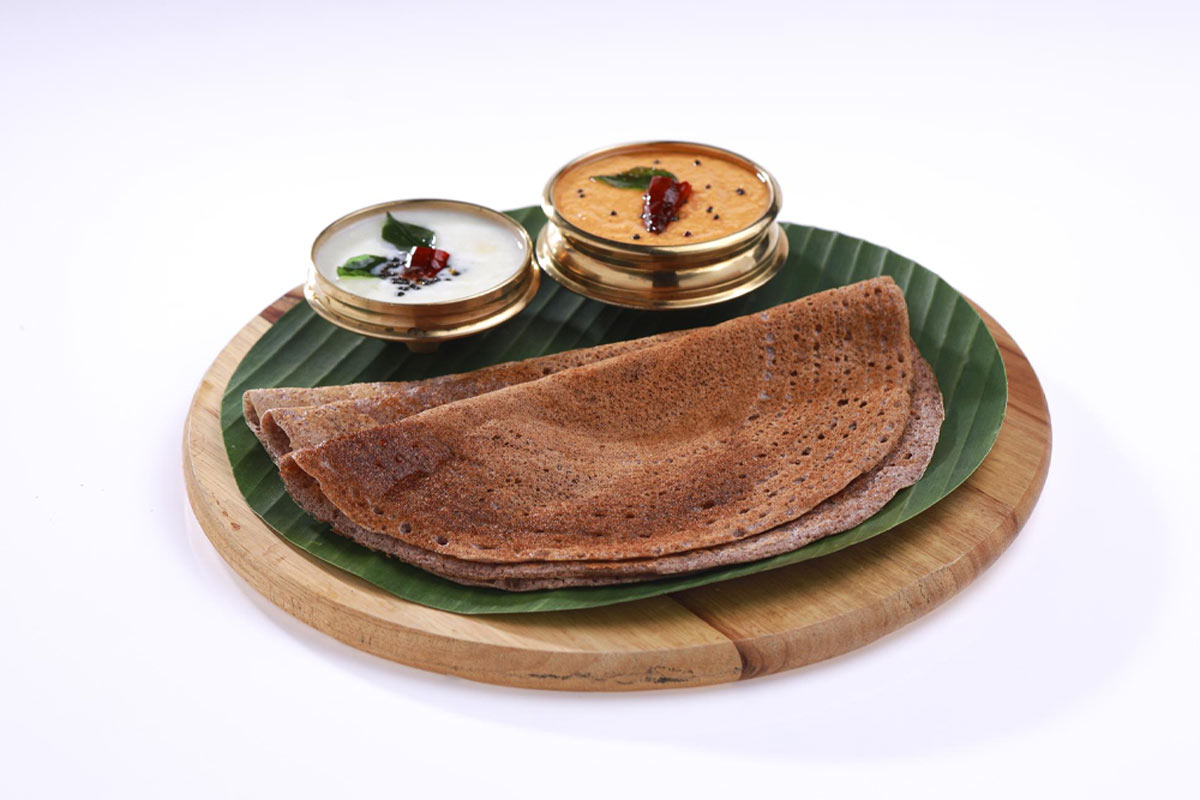 Ingredients
1 Cup Ragi Flour
1 Cup Buttermilk or Curd
Salt To Taste
1 Teaspoon Oil
Method
Take a bowl and mix ragi flour with either curd, buttermilk or water. This is an instant batter recipe for a small family.
On a hot tawa, spread the batter in a circular shape.
Add oil or ghee to the edges and surface of the dosa.
Once you see the dosa batter taking shape and getting crispy, flip it over to cook it on the other side.
You can also add the masala aloo mix to amplify the flavours.
Serve the dosa hot with coconut and tomato chutneys.
Ragi Ladoo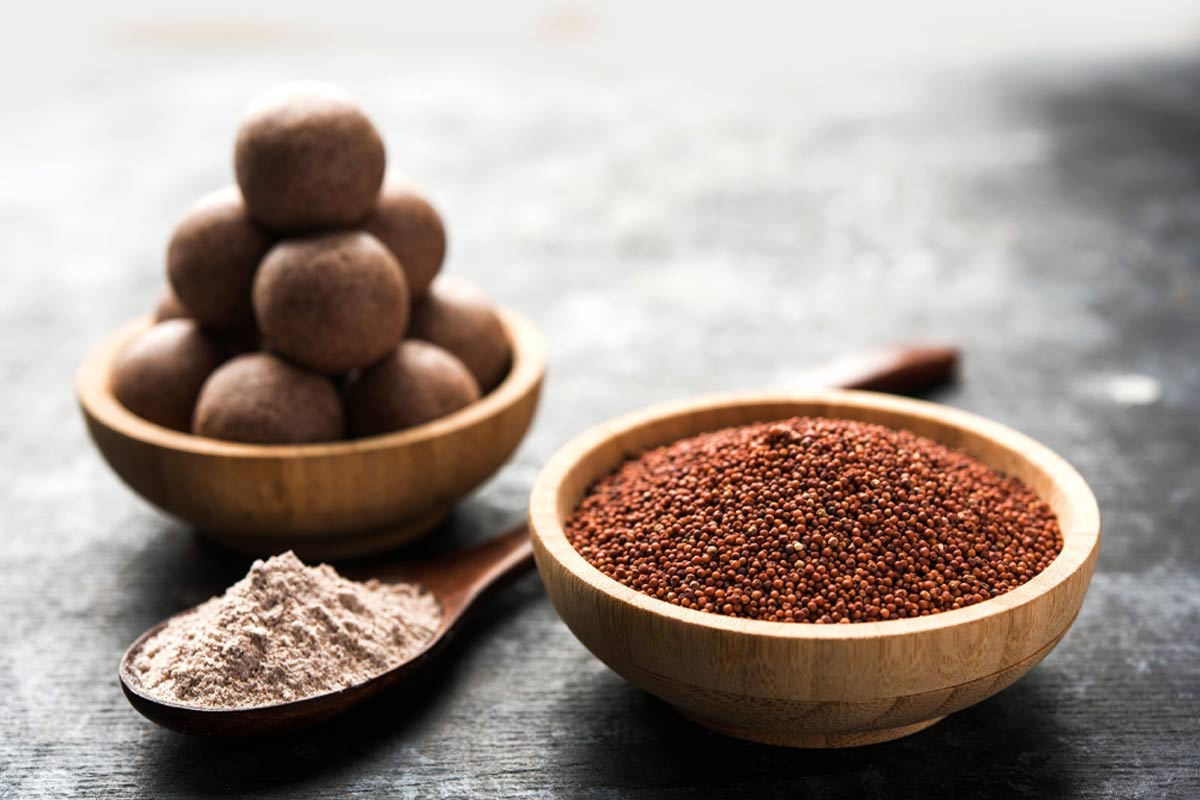 Ingredients
1 Cup Ragi (Millet) Flour
1/2 Cup Palm Sugar
1/4 Cup Grated Fresh Coconut
1/4 Teaspoon Cardamom Powder
8-10 Almonds
2 Tablespoons Black Sesame
1/2 Cup Ghee
2 Tablespoons Groundnuts
Method
Roast grated coconut, groundnuts and sesame seeds separately in a shallow pan. Keep them aside to cool off.
Remove the skin of the groundnuts.
Toast almonds in a tablespoon of ghee.
Roast ragi flour in two to three tablespoons of ghee for about 15 to 20 minutes. You can add more ghee if needed.
Add sugar and cardamom. Stir the mixture until you can bind a handful (use a spoon to check).
Once the mixture is cool, take a handful of the mixture in your hand and turn it into laddoos.
Ragi Cookies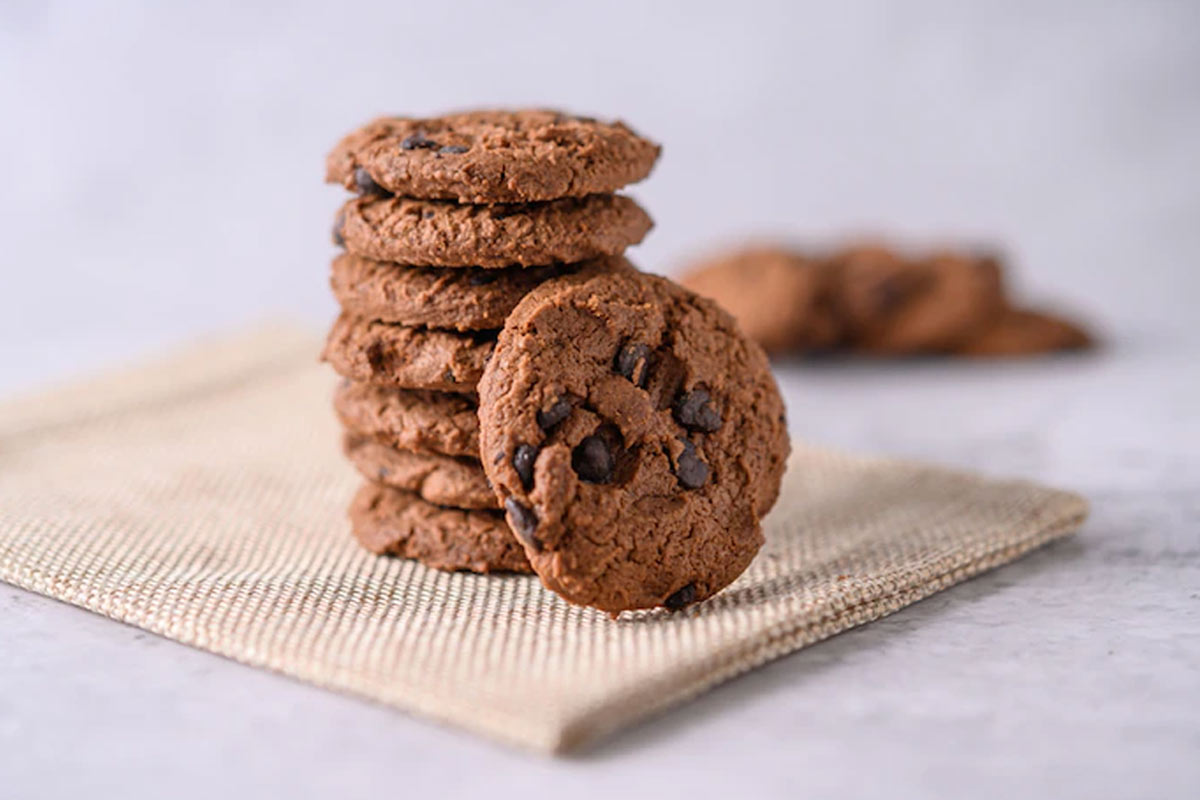 Ingredients
1 Tablespoon Yogurt
1/2 Cup Butter
1 Teaspoon Vanilla Extract
2/3 Cups Ragi Flour
1/2 Cup Brown Sugar
1/4 Teaspoon Baking Powder
2/3 Cups Whole Wheat Flour
1-2 Teaspoon Freshly Ground Cardamom
Method
Mix ragi and wheat flour and spread them on a tray.
Roast the flour in a preheated oven at 180°C for about six to seven minutes. Keep stirring in between to ensure even cooking and prevent the burning of particles on the surface.
Beat the butter and sugar together to form a soft yet creamy paste.
Mix yoghurt (DIY yoghurt face scrubs), baking powder and other spices together.
Once the flour mixture is cool, add the yoghurt and butter pastes. Mix everything together into a thick paste. You can also add chocolate chips at this stage.
On a baking tray, spread the butter paper and start adding cooking balls. Using a fork, you can flatten them and add a bit of texture to the surface.
Bake the cookies for about 12 minutes at 180°C.
Take out the cookies and keep them to cool off. Enjoy them with milk or serve them to guests.
Image Courtesy: Freepik
Did you like this article ?