Burmese food is heavily influenced by the neighbouring cultures of India, China, and Thailand. They use common spices and ingredients yet the way those spices and ingredients are mixed make it unique. Being a little different in culinary culture and style and that is why the food is always shared with family, friends and tends to begin with rice followed by various curry dishes.
Burma is one of those Asian countries, roughly the size of Texas and wedged between Bangladesh to the west and Thailand and Laos to the east. It's important to note that the nation also goes by the Myanmar name, depending on who you ask. Political turmoil over the last several decades has seen not only a tug-of-war with regards to its national title but a struggle to define itself. Generations of British colonialism faded into brutal military rule and several uprisings.
This is the land of large pythons and precious stones. Some ninety percent of the globe's rubies come from Burma. Rice is Burma's biggest export and the landscape is dramatic, with towering mountain ranges, verdant jungles, and incredible old towers from bygone civilizations. With tons of coastline thanks to the adjacent Bay of Bengal and Andaman Sea, Burma's cuisine is, unsurprisingly, seafood driven. This is the land of fish sauce and dried prawns. One of The national favourite dish is Mohinga, a popular breakfast dish made with rice noodles and fish soup. Inland, there's more in the way of pork and beef and plenty of fresh fruits and vegetables. However, there are also recipes which can be done without fish and seafood as well to suit the palates of foodies and connoisseurs from around the globe!
Simplicity and no fuss cooking methods, relatively good to go with concepts and adaptable nature of the food here makes it a foodie's perfect choice! Here are a few Easy to make Burmese Recipes without the use of seafood to start with in your kitchen & Relish The Taste of Burma!
"THE COOKING OF BURMA IS NOT ONLY INTERESTING, COLOURFUL & NUTRITIONALLY ENRICHED BUT ALSO HAS A LOT OF VARIETY AND FLAVOURS TO OFFER A FOOD CONNOISSEUR ON THE WHOLE FOR A GREAT CULINARY OFFERING" – DR. KAVIRAJ KHIALANI- CELEBRITY MASTER CHEF.
Here are a few recipes from Burmese Cuisine to try out and relish.
Recipe-1] BURMESE SAMOSAS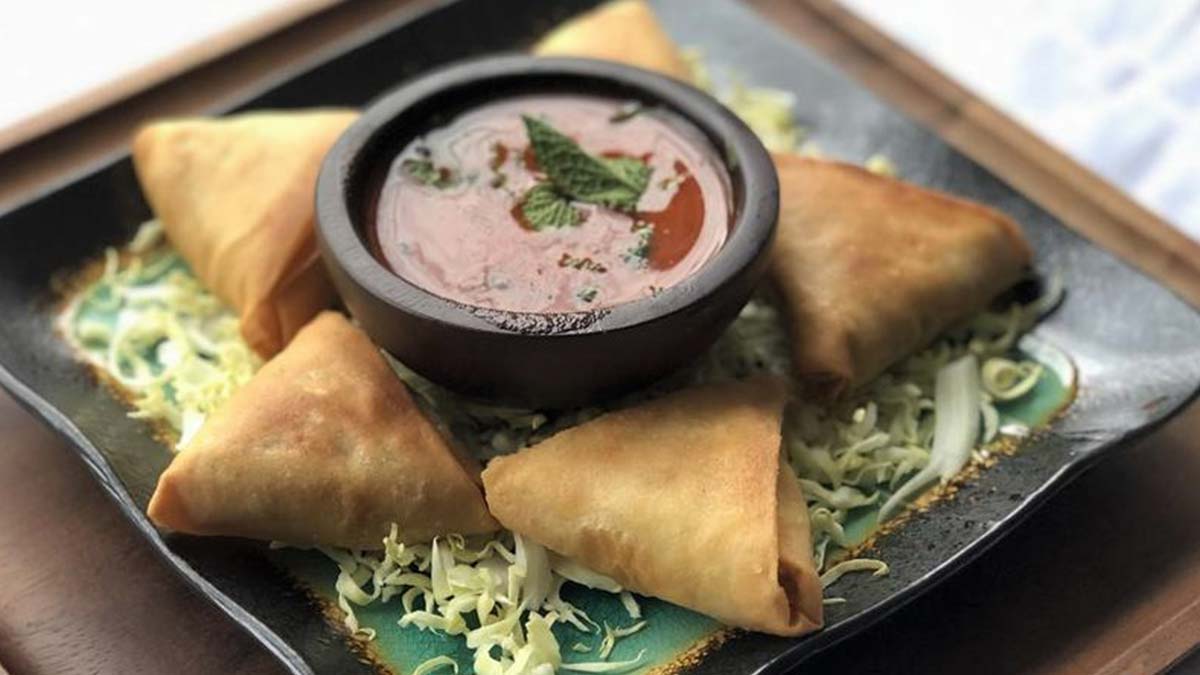 Ingredients:
Samosa wrappers- 10-12 pieces, readymade or home-made
For home-made wrappers:
Maida-1 cup
Oil-2 tsp
Salt- ¼ tsp
Warm water-as needed to make the dough
To serve with:
Assorted dips/ chutneys/sauces- sweet chilli sauce/ tomato chilli sauce etc
For the stuffing of the Samosa:
oil-2 tsp
curry leaves- 10-12 shredded
green chilies-1 tsp chopped
ginger-1 tsp chopped
shallots/ small onion-1/4 cup fine chopped
carrot- 2-3 tbsp. fine chopped
french beans- 2-3 tbsp. finely sliced
peas-1/4 cup boiled and mashed
potato- ½ cup boiled mashed
salt to taste
turmeric powder-1/4 tsp
red chilli powder-1/4 tsp
coriander powder-1/2 tsp
lime juice-2 tsp
coriander leaves-2 tbsp.
roasted crushed peanuts-2 tsp
oil to deep fry the samosas
Method:
1. Prepare all the ingredients for the samosa snack.
2. Heat oil in a pan and saute the curry leaves, green chilies, onions, add ginger and saute for 1-2 mins.
3.Add in the carrots, beans, peas, and saute, add in salt and all the spices one by one and mix it all up on a low flame add a little water just to cook the carrots and beans if not boiled earlier.
4. Now add in the mashed potatoes, coriander, splash of lime and peanuts and mix well.
5. Remove and cool in a tray and then start with the stuffing of the samosas one by one, place the oil in a kadai to fry the samosas, pre-heat it to save on time.
6. Fry the samosas in medium hot oil until nice and golden in colour on all sides, remove onto kitchen paper and drain off excess oil, and serve hot.
Recipe-2] BURMESE CHICKEN CURRY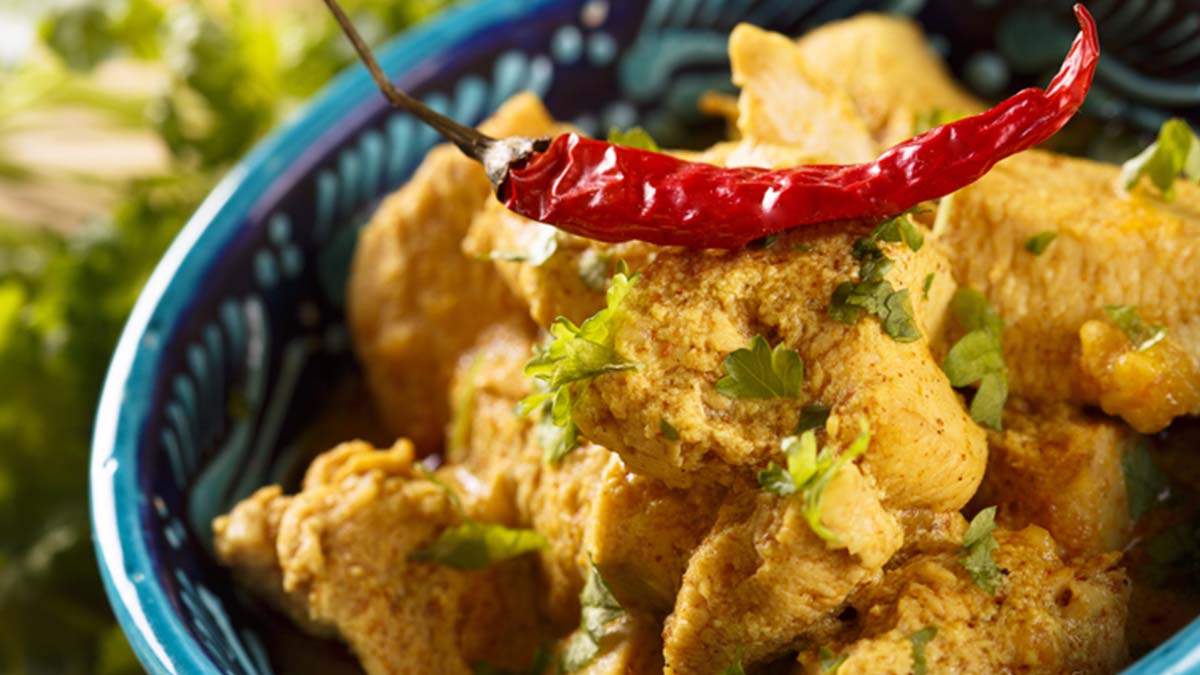 Ingredients:
Boneless chicken curry cuts- 750 gms with bones, skin removed
For the marination:
Oil-1 tbsp.
Ginger paste-1 tsp
Turmeric powder-1/2 tsp
Crushed coriander seeds-1 tsp
Salt to taste
For the curry paste:
Garlic- 4-5 cloves
Ginger- 1 tsp sliced
Shallots/ small onions-1/2 cup roughly cut
Green chilli-2 no
Red chilli- 3-4 no
Coriander leaves- 1 cup
Grind to a paste with little water and keep aside.
Additional ingredients:
Onions-1 cup sliced
Coconut milk-2 cups
Sweet potato-1 cup cubes
Chicken stock/water- 2-3 cups
Oil as needed to cook and saute ingredients:
Salt to taste
Lime -1 no
For garnish:
Fried onions/ fried chilies.
Method:
1. Clean, wash and pat dry the chicken pieces and apply the marination on it and keep in the fridge for 30 mins.
2. Using a food processor combine together the ingredients for the curry paste mixture and using little water make a nice smooth paste of it and keep in a bowl.
3. In a pan, saute 1 cup sliced onions in 2-3 tbsp. oil until nice and golden brown and keep aside, also fry sweet potato cubes and keep aside.
4. In a heavy bottomed pan, heat little oil, put in the marinated chicken pieces and saute for 2-3 mins. Once they start turning brown add in the curry paste and mix well, add little stock and simmer the chicken in it for 8-10 mins.
5. Now add in the fried sweet potatoes and the browned onions, mix well, add in the coconut milk and simmer for 6-8 mins.
6. Finally add in the lime juice, coriander leaves and dish out the chicken curry and garnish with fried onions or chilies and serve hot with steamed rice.
Recipe-3] BURMESE KHAO- SUEY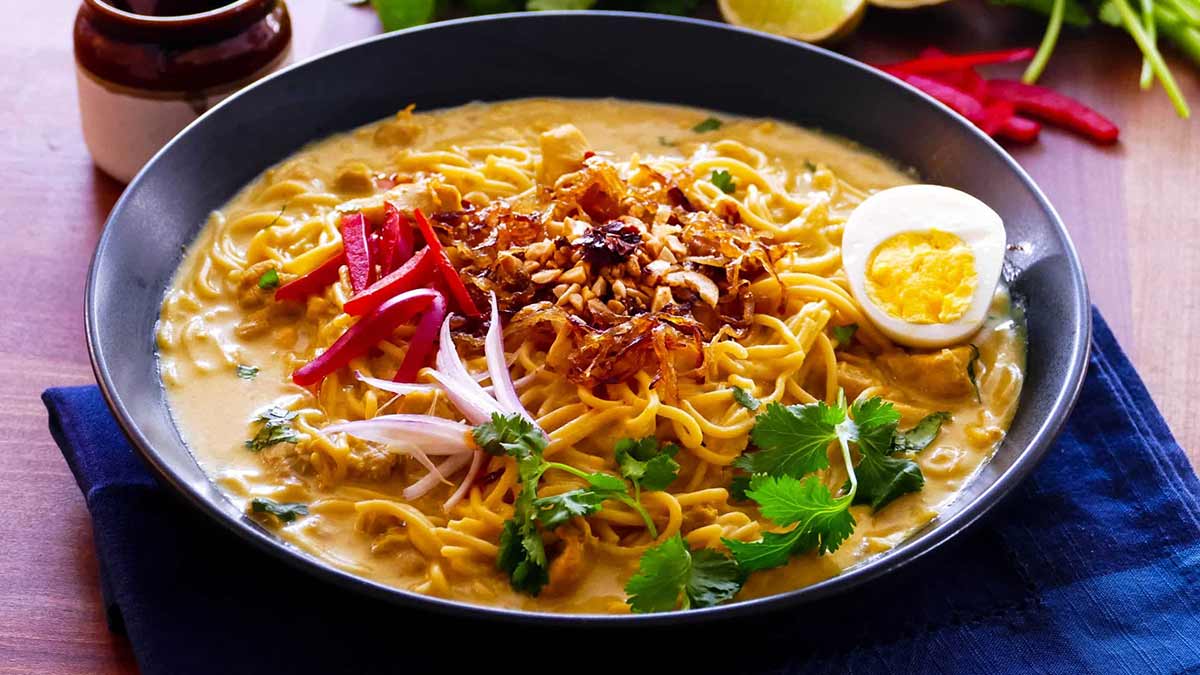 Ingredients:
Oil- 2 tsp
For the curry paste
Whole red chilies- 2-3 soaked
Ginger-1 tbsp. sliced
Garlic- 2-3 cloves sliced
Green chilies-2 no chopped
Coriander stems-1/2 cup cut
Coriander leaves-1/2 cup
Salt and water-a little to grind
For the spices and other ingredients:
Gram flour/besan-2 tsp
Coriander powder- 1 tsp
Turmeric powder-1/2 tsp
Salt to taste
Coconut milk-2 cups thick
Water/stock-1 cup or as needed
Sugar-1/2 tsp
Dash of soya sauce
Fresh basil leaves-4-5 no
Lime juice- 2- 3 tsp
Rice noodles/ veg noodles-2 cups boiled
Garlic cloves- 10-12 sliced, fried golden
Peanuts-2-3 tbsp. roasted and crushed.
Fried onions-1/2 cup
Coriander leaves-2-3 tbsp. chopped
Spring onion greens-2-3 tbsp. chopped
Chilli flakes-1-2 tsp
Fried cashews- 2-3 tsp
Boiled egg-1-2 no sliced/wedges
For the choice of veggies:
Carrots/ beans/ Baby Corn/ mushrooms/ broccoli/ capsicums/ water chestnuts
For the choice of non-veggies:
Boiled chicken cubes, saute prawns, poached fish, cooked sliced meat etc
Method:
1. Pre-prep all the ingredients as needed for this recipe.
2. Prepare the curry paste and keep aside, prepare all veggies, cut them into small pieces and blanch them/ boil them to save on assembling time later. Boil the noodles as well and keep it ready.
3. Prepare all the garnishes for the Khow-Suey from fried onions, to nuts, chopping of the greens, lime slice, boiling of egg etc.
4. Heat oil in a pan, add in the curry paste, fry it for a few seconds, add in the besan and cook it on a low flame for 2-3 mins, then add in little water/stock all the powdered spices, salt and bring to a nice boil.
5. Add in the coconut milk and simmer for 6-8 mins, add in a little cornstarch solution to thicken up a little and for a shine, add a pinch of sugar, little soya sauce and adjust the taste of the curry.
6. Now to get ready for assembling we need to have all the garnishes sorted in separate bowls in case of full service set up, in case of being portioned and served we can top it up as we go along.
7. Using a deep soup plate, place the boiled hot noodles at the base, top with the hot curry, place in your cooked veggies/ non-veg ingredients, add more curry, place a little of all the garnishes as made and place a sliced boiled egg in case of non-veg and a slice of lime and serve hot.
Don't miss: Try The Comforting Bowl Of Goodness With Curd Rice Recipes By Chef Kaviraj Khialani
Recipe-4] BURMESE COCONUT RICE WITH CREAMY TOFU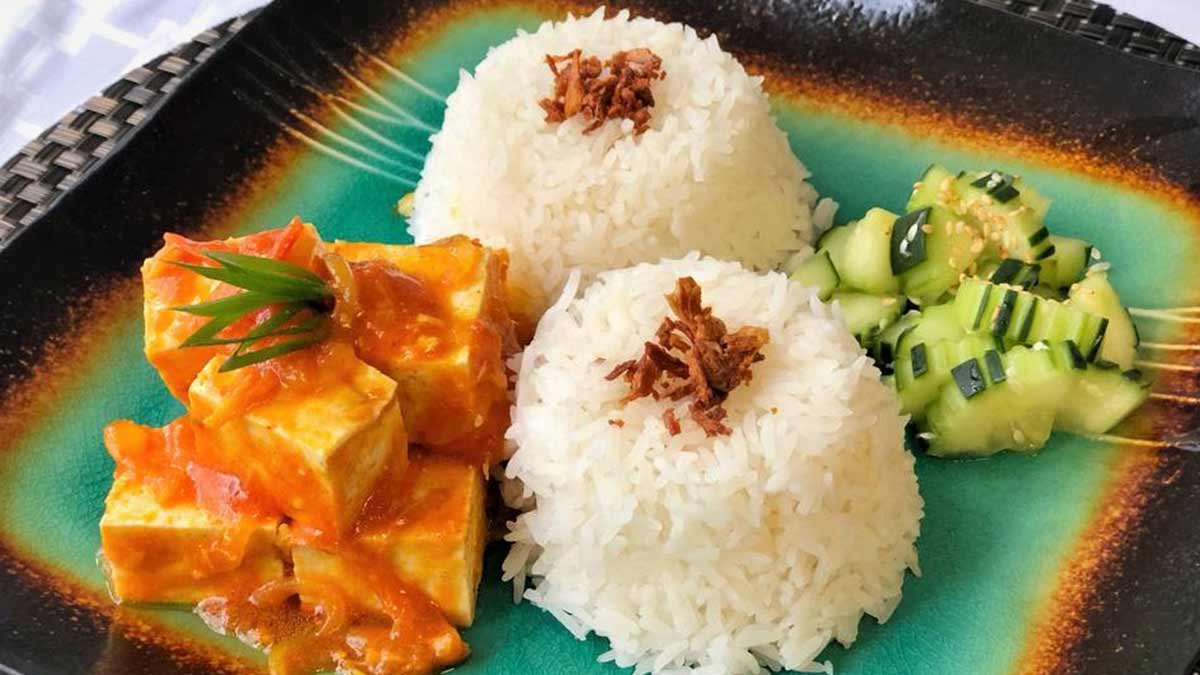 Ingredients:
For the Coconut Rice:
Rice- 1 and a half cup, cleaned, washed and soaked for 20 mins.
Oil/ghee-2 tsp
Bay leaf- 1-2 no
Peppercorns-2-3 no
Garlic-1-2 cloves, sliced
Salt to taste
Coconut milk-1 and a half cup
Water-1 and a half cup
Assorted sliced nuts-2 tsp
Golden fried onions-2-3 tsp
Golden fried garlic-2-3 tsp
For the Creamy Tofu:
Firm or extra- firm tofu variety- 250 gms cubes
Oil-2 tsp
Ginger-garlic paste-1 tsp
Green chilies-1 tsp chopped
Onion paste-1/2 cup
Salt to taste
Tomato puree-2-3 tsp
Cashew paste-1-2 tsp
Fresh cream-2-3 tbsp.
Turmeric powder-1/4 tsp
Coriander powder-1 tsp
Cinnamon powder-1 pinch
Green cardamom powder-1 pinch
Dash of lime juice
To serve with: a cucumber – coriander tossed salad with a dressing of lime juice, oil, salt, pepper, mint and roasted crushed cumin.
Method:
1. Prepare the coconut rice to start with, heat oil or ghee in a pan add in the whole spices, and add in the pastes one by one and saute them well until change in colour and aroma, add in the drained rice, little water, salt and simmer and cook, once the water gets absorbed add in coconut milk and continue cooking until done, add the nuts and fried onions and mix.
2. Now start with the tofu recipe, heat oil/ghee in a pan add in the whole spices, the pastes one by one and cook well add in the tomato puree, salt, spices to taste and mix well, add cashew paste and cream, add in the cinnamon and cardamom powder and simmer the mixture, add a little water if needed just to coat the tofu pieces.
3. Once the gravy starts leaving oil at the sides add in the tofu cubes and simmer in the sauce for 3-4 mins. Start with the plating of the recipe with rice being moulded and garnished with fried garlic, at the side place some tofu with creamy sauce and a small portion of the tossed salad and serve immediately.
Recipe- 5] BURMA TOMATO TOSSED SALAD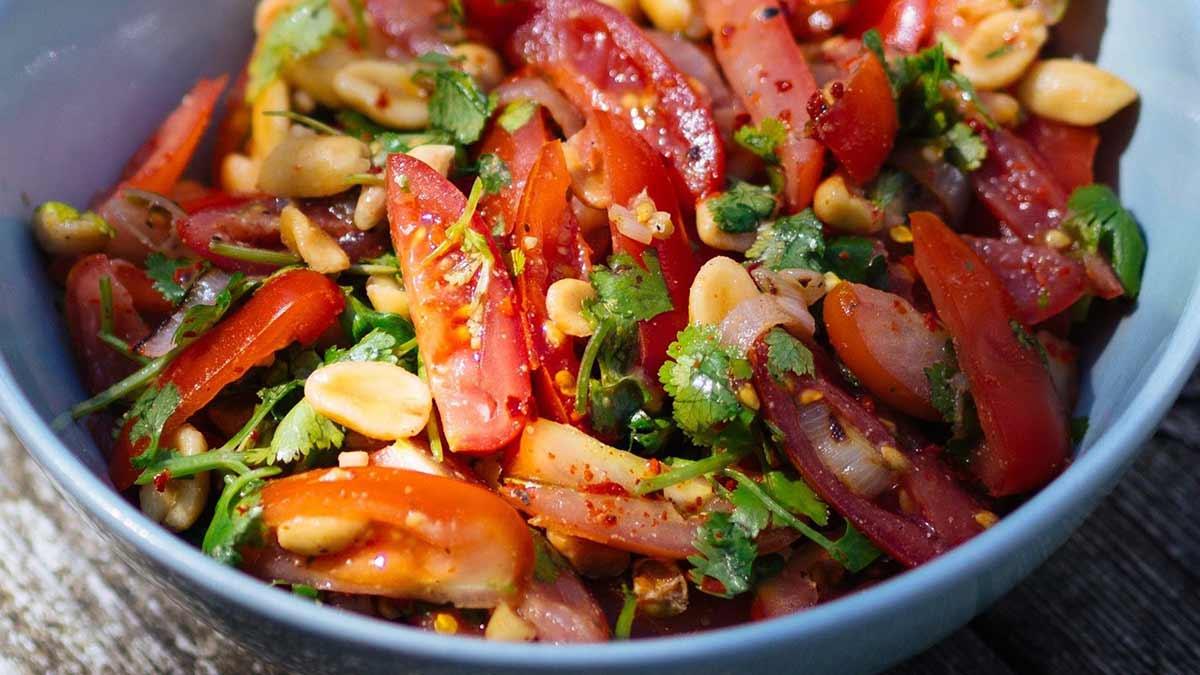 Ingredients:
Red-ripe tomatoes- 2-3 med sized, cut into small slices, de-seed them.
Onion-1 small, sliced
Garlic-2-3 cloves, chopped
Peanuts- ½ cup boiled or roasted
Mint leaves- 2-3 tsp cut
Coriander leaves- 2-3 tbsp. chopped
Lime juice- 2-3 tsp
Salt to taste
Red chilli powder-1/4 tsp
Crushed black pepper- ¼ tsp
For additional add ons:
Cucumber-1/2 no sliced
Roasted eggplant cubes- ½ cup
Assorted capsicums-1/2 cup cubes
Method:
1. Prepare all the ingredients for the Burma tomato toss salad.
2. This recipe is usually served alongside meals like a kachumber concept.
3. Prepare this a little before eating time and keep chilled.
4. In a mixing bowl, combine together the tomatoes with the other ingredients and add in the salt and other dressing elements into it and give it all a nice mix.
5. Add in the peanuts- either roasted/ boiled groundnuts and mix well, dish out into serving bowls, add coriander and mint toss, and serve with meals.
Don't miss: Quick Fix Tiffin Recipes By Chef Kaviraj Khialani
Recipe-6] SWEET RICE CAKE SQUARES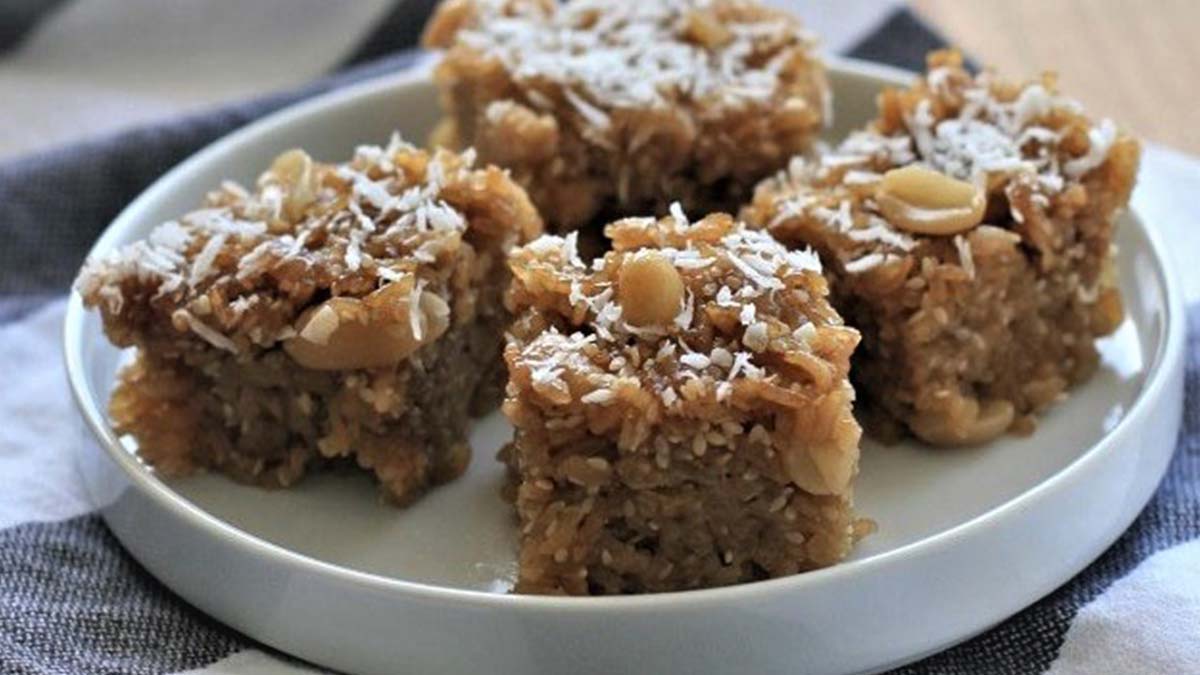 Ingredients
Sticky rice- 1 cup or regular cooking rice
Peanuts-1/2 cup roasted/crushed
Toasted White sesame seeds- ¼ cup
Brown sugar-1/2 cup
Jaggery-1/4 cup grated
Salt- ¼ tsp
Butter/ ghee -2-3 tsp
Cinnamon stick-1-inch piece
Desiccated coconut-1/2 cup
Water-2 and ¼ cup
Raisins-2-3 tsp
Walnuts-2-3 tsp
Almonds-2-3 tsp
Method:
1. Assemble all the ingredients for the dessert rice preparation.
2. Rinse the sticky rice or thai style quality of rice if being used or else for regular rice we can soak it in water for 20 mins and drain it.
3. Warm a little butter or ghee in a pan, add in the cinnamon stick, add in the drained rice/sticky rice and saute for a minute.
4. Add in water and allow to cook for 8-10 mins, once the rice starts cooking half way through, now add in the brown sugar, jaggery, half the quantity of peanuts, sesame seeds, and allow to cook until well cooked and mash up in texture now add in a little coconut and mix well.
5. Turn off the flame and grease a cake mould to set the sweet, place the crushed peanuts and coconut at the base of the cake tin/mould and drop in the cooked rice mixture, add in the chopped/sliced nuts press it down well with a spatula, set in the fridge for 2-3 hours, remove and cut into squares or fancy shapes and serve.
Stay tuned to HerZindagi for more such recipes by chef Kaviraj Khialani who is not just a celebrity Master Chef but has a varied experience with hotels and airlines. He is an author, food writer, food designer, consultant, and creative cuisine specialist.
Did you like this article ?
Disclaimer
Your skin and body like you are unique. While we have taken all measures to ensure that the information provided in this article and on our social media channels is credible and expert verified, we recommend you consult a doctor or your dermatologist before trying a home remedy, quick hack or exercise regime. For any feedback or complaint, reach out to us at compliant_gro@jagrannewmedia.com