Easy Recipes With Just Tomatoes And Onions At Home
Have you run out of vegetables? Here are some quick and delicious recipes you can make with just onions and tomatoes.
Delicious food with multiple ingredients and flavours is a weakness of all. However, what to cook when you have no vegetables at home? What can you serve when onions and tomatoes are the only veggies in your kitchen? In this article, we will discover snacks as well as meal recipes that you can make with just onions and tomatoes at home.
Make A Simple Onion & Tomato Grilled Sandwich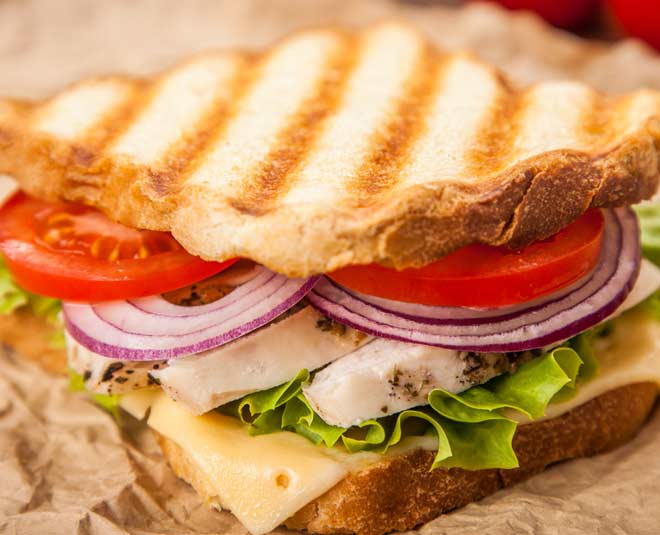 A sandwich is a quick breakfast and snack choice that you can eat on the go. Onions and tomatoes add both flavours and taste to this quick recipe. If you have extra veggies at home, you can add them as well. It will be a nutritious yet tasty meal that your kids will never no to.
Ingredients
1) One onion
2) One tomato
3) One and a half tablespoons mayonnaise or sauce of your choice
4) Salt to taste
5) One teaspoon oregano spice mix (optional)
6) A pinch of red chilli powder
7) Half a teaspoon black pepper powder
8) One cheese slice (optional)
Method
1) Slice tomato and onion into thin circles or cut them into thin slices of any shape.
2) Spread mayonnaise on the inner side of the bread.
3) Put lattice between the slices of the bread. It is an optional step. You can skip if you don't have lattice or don't like the leafy vegetable.
4) Put onion and tomato slices between the two pieces of bread.
5) Sprinkle salt on the top of the vegetable slices.
6) Add oregano if you have it at home and like its flavours.
7) Sprinkle some red chilli powder and black pepper on the top of the vegetable slices.
8) Spread a cheese slice. This step is also optional. You can skip it you do not like cheese or don't have it at home.
9) Put butter on the top and base of the sandwich.
10) Lay the sandwich on the grill pan or put it in the sandwich maker until both sides turn golden brown.
11) Enjoy the delicious sandwich with red tomato sauce or green coriander chutney.
Tip
You can also choose not to grill the sandwich and carry it in your lunch bag. You can also give it to your kids as an evening snack. Cut the square sandwich into four triangular parts and serve the mini sandwiches to guests.
Make A Quick And Creamy Onion And Tomato Vegetable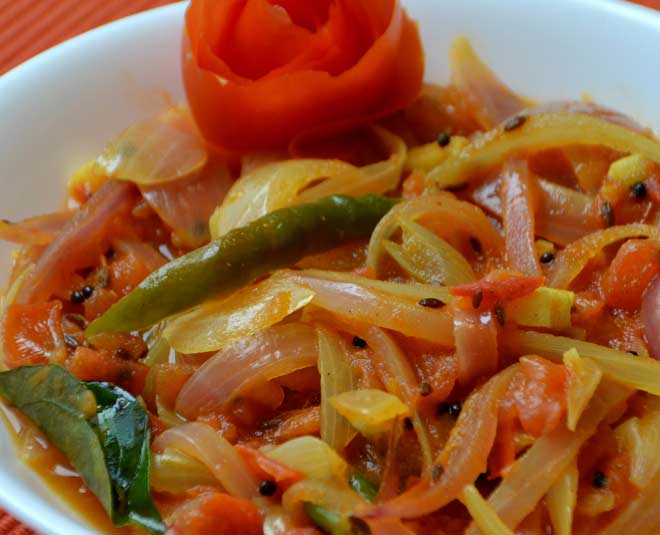 Image Courtsey: YourHungerStop
We cannot eat a paratha, roti or naan without gravy, pulses or dry vegetables. If you do not have any vegetables at home, this simple onion and tomato vegetable will help you make a complete meal in just 10 minutes. It is easy, tasty and flavourful.
Ingredients
1) One medium onion
2) One medium tomato
3) Salt to taste
4) Half a teaspoon mustard seeds
5) One green chilli
6) Quarter of a teaspoon turmeric powder
7) Quarter of a teaspoon black pepper
8) Quarter of a teaspoon red chilli powder
9) One teaspoon coriander powder
10) Quarter of a teaspoon garam masala powder
11) One tablespoon lemon juice
12) Quarter cup coriander leaves (optional)
Method
1) Cut tomato and onion in half and slice them into thin pieces.
2) Add a tablespoon of butter or olive oil to a hot pan.
3) Add mustard seeds once that pan is hot and wait for them to burst.
4) Add turmeric powder and finely chopped green chilli.
5) Add sliced onion to the pan.
6) Once the onion pieces become translucent, add tomato slices and stir them well.
7) Add salt to taste and leave the vegetable until the tomatoes become mushy or creamy.
8) add red chilli powder, black pepper powder, coriander powder and garam masala powder.
9) Stir everything well. Cook the vegetables until the oil separates.
10) Add lemon juice and chopped coriander leaves for garnishing.
11) Serve it hot with paratha, naan or roti.
Tip
To make the dish more delicious, you can also add cylindrical-thick sev. They enhance the chilli flavour and add depth to this dish. It tastes lip-smacking with a hot paratha and green chutney. This quick recipe is good to go for an office or a small journey.
Don't Miss:Tomato Seeds: Things You Should Know About
Make A Tangy Salsa With Tomato And Onion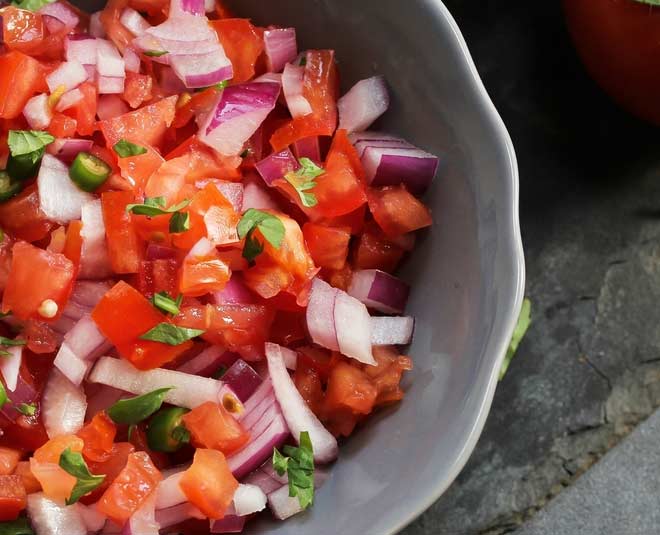 Salsa is a side dish that you can present with tacos, tortilla wraps or paratha. The tangy taste and juicy texture make your mouth water with just its mention. It comes under Mexican cuisine and is quick to make.
Ingredients
1) One medium tomato
2) One medium onion
3) Salt to taste
4) One tablespoon lemon juice
5) Half a cup coriander leaves (optional)
6) Three or four slices of jalapeno (optional)
Method
1) Chop tomato and onion. Add the vegetables to a bowl.
2) Add finely chopped pieces of jalapeno. You can skip this step if you do not like its taste or do not have it at home.
3) Add salt to taste, lemon juice and finely chopped coriander leaves.
4) Keep it aside or in the refrigerator for 15 minutes.
5) Serve it with hot paratha.
Don't Miss:Tackle Your Hair Woes By Adding Onion To Hair Care Routine
Tip
The salsa is a rounder mixture that you can serve on the side of any meal. You can add it between the slices of bread and make a sandwich. You can top long bread slices with salsa, olives, corns and cheese to make bruschettas and serve them as appetizers or snacks. You can also serve the salsa with quesadillas.
For more quick, interesting and delicious recipes, stay tuned with Her Zindagi.