Tendli also called Ivy gourd, tindora is one of the most commonly available vegetables found in our local markets. while most of us do include it in our diets and recipes occasionally it is a very nutritious ingredient to include in various ways with a touch of innovation and little creative ideas Tendli or tindora regulates blood sugar levels in our system, improves digestion, prevents constipation, and also is a heart-healthy vegetable.
Tendli is rich in Vitamin C and is also regarded as good for the eyes, and also assists in detoxifying our system as well. It is also known to increase metabolism levels in our body and is a good ingredient to consume for weight-watching since it is low in calories.it is also rich in fiber, Vitamin B & iron content.
While most recipes with Tendli start with basic tempering with Indian spices and with a touch of hing, jeera, and chilies, some also combine ingredients like coconut and curd too when working with Tendli based preparations. I enjoy Tendli aloo sukha subzi with a mild touch of home spices to accompany a nice dal fry and hot phulkas, besides having included in recipes with pasta, baked dishes, stuffing's for parathas and continental dishes, Tendli is one ingredient which also goes well with Mexican, Spanish, Chinese and Thai recipes as well. Here are some easy to make and healthy recipes with Tendli:
Tendli Tamatar (Milan) Mix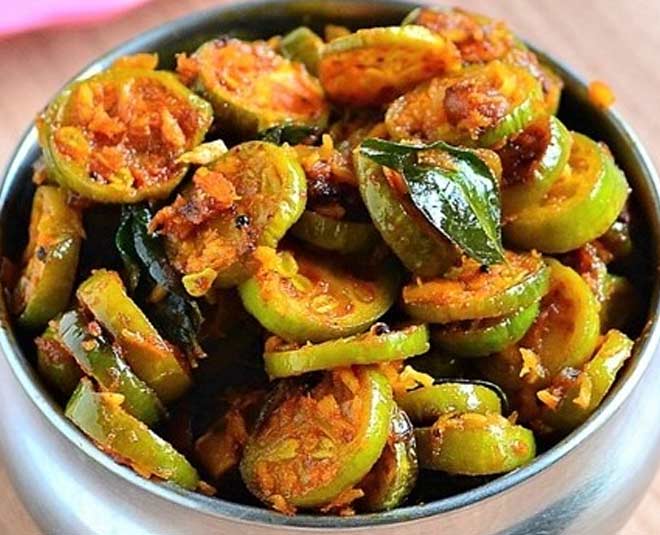 Ingredients
Tendli- 200 gm- Cut Into Round Slices
Oil-1 Teaspoon
Ghee-1 Teaspoon
Hing- ¼ Teaspoon
Curry Leaves- 8-10
Slit Green Chilies- 3-4
Tomatoes- 2 Medium Size, Grated
Salt To taste
Turmeric Powder-1/2 Teaspoon
Red Chili Powder-1/2 Teaspoon
Dhaniya Powder-1 Teaspoon
Kasoori Methi- 1 Teaspoon
Water- ¼ cup
Roasted Crushed Peanuts- 2 Tablespoons
Chopped Coriander- 2 Tablespoons
Lime Juice- 1 Tablespoons
To Serve With –Chapattis, Phulkas, Ideal For Tiffin.
Method
Prepare all the ingredients and keep them aside.
Heat oil add in the ingredients for the seasoning and cook for 10 seconds, add in the sliced Tendli and tomatoes.
Now add in salt and all powdered masala, methi, and fry for 2 mins, add in the roasted crushed peanuts.
Add little water cover and cook in steam for 10-15 mins, add lime juice and coriander leaves mix, serve hot with Rotis, raita, and salad.
Tendli Khush Mijaaz Pulao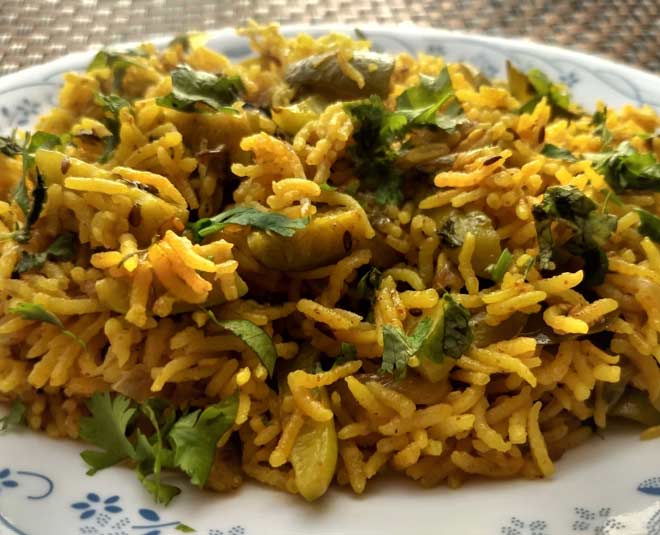 Ingredients
Tendli- 200 gms- Sliced Vertically.
Basmati Rice- 1 And Half Cup
Oil- 1 Teaspoon
Ghee-1 Tablespoon
Shahi Jeera/ Jeera- 1 Teaspoon
Ginger- 1 Teaspoon Sliced
Green Chilies- 2-3 slit
Onion- 1 Small Sliced
Tomato- 1 Med Size Chop
Salt To Taste
Turmeric Powder- 1/2Teaspoon
Red Chili Powder-1/2 Teaspoon
Methi Leaves- ½ Cup Fresh
Coriander Leaves- 1/2 Cup Fresh.
Garam Masala Powder-1/2 Teaspoon
Water As Needed
To Garnish-Fried Brown Onions/Fried Nuts
Method
Prepare all the ingredients for the pulao.
Soak the rice, heat oil, and ghee in a pan add the ingredients one by one, and saute for 15 seconds.
Add in the Tendli and fry them for 1 min, add in the drained rice, salt, and all the masala and methi-coriander.
If desired add some more veggies like carrots, peas, capsicums, soy chunks, etc.
Add in double the amount of water cover and cook in dum, or use a cooker and allow 2 whistles.
Serve the pulao hot garnish with fried onions/nuts with a bowl of chilled boondi aloo raita, papad, and pickle.
Tendli And Vatane Vegetable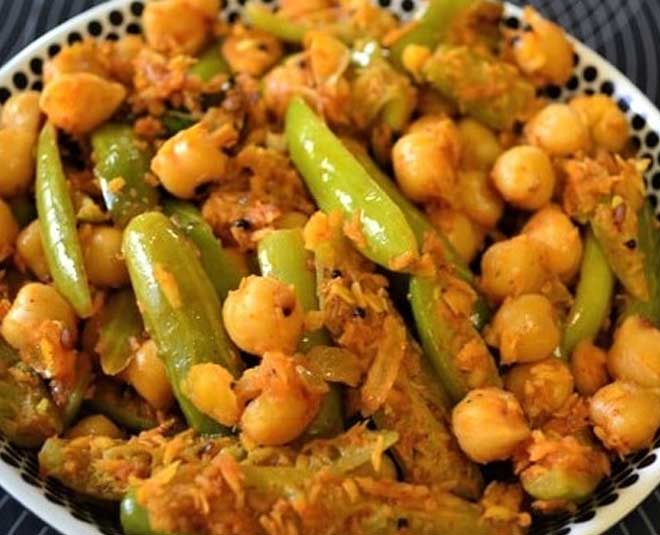 Ingredients
Tendli- 150 gms Sliced
Boiled White Vatana- 1 Cup
Oil- 1 Tablespoon
Ghee- 1 Teaspoon
Curry Leaves- 10-12
Red Chili- 2 No Slit
Hing- 1 Pinch
Ginger- Chili Paste- 1 Teaspoon
White Sesame Seeds/til- 1 Teaspoon
Mustard Seeds-1 Teaspoon
Chopped Onion- ½ cup
Chopped Tomato-1/2 cup
Fresh Coconut- ½ cup
Curd- ½ Cup Beaten
Salt To Taste
Turmeric Powder- 1/2Teaspoon
Aamchur Powder- ½ Teaspoon
Dhaniya Jeera Powder-1 Teaspoon mix
Garam Masala Powder-1/2 Teaspoon
Fresh Coriander- 2 Tablespoon chopped
Method
Prepare all the ingredients for the recipe.
Heat oil and ghee in a pan add in the ingredients for the seasoning one by one and add in the onions and saute until light brown, add tomatoes, salt and masalas, add in the coconut and beaten curd, boiled vatana, and sliced Tendli.
Mix all well and allow to cover and cook for 15-20 mins in steam, stir occasionally, and add little water if needed.
Serve hot garnished with fresh coriander leaves, roasted peanuts, enjoy this recipe with hot rotis/parathas, kulchas along with a bowl of salad and papad.
Dr. Kaviraj Khialani is a Celebrity Master Chef, cuisine specialist, author, food designer, food writer and consultant, who is based in Mumbai. He has diverse experience with airlines and hotels and is the master of over 33 types of cuisines. He is also a recipient of several National Awards and has received recognition at international platforms too.
Stay tuned to Her Zindagi for more such recipes.