Holi is less than a week away and many of us are looking forward to that extended weekend when we can prepare for an intimate party and serve homemade snacks and sweets. When we think of sweets, we immediately go for gujiyas, thandai and jalebi. So how about making jalebis but with a twist?
Jalebi are first love of many individuals and it gets better when you serve them with a twist. Here are 3 recipes that you can try at home.
Jalebi Chaat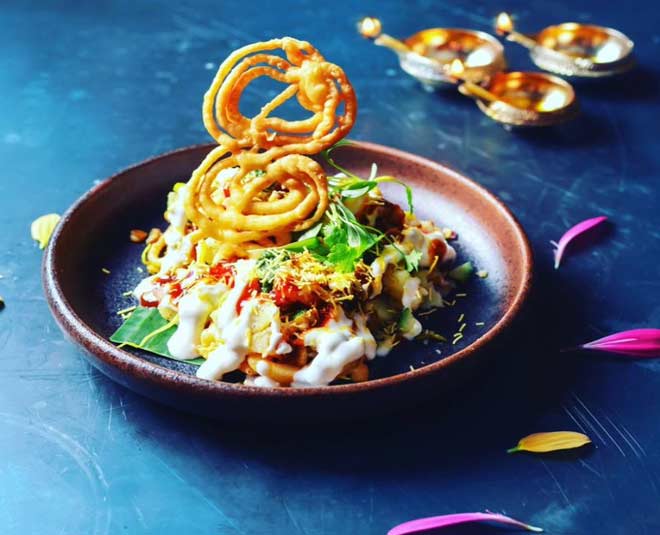 Ingredients
1/2 Kg Maida
100 Gms Urad Dhuli Dal Pethi
<p1/4 Cup Ghee
3.4 Tsp Baking Soda
1 1/2 Cup Water
1/4 Tsp Edible Food Colour
Oil To Fry
1 Tbsp Mint Chutney
1 Tbsp Tamarind Chutney
2 Tbsp Fresh Curd
Pinch Of Rock Salt
Chaat Masala As Per Preference
Some Boiled Potato and Chana Mix
Method
In a bowl, mix baking soda and maida in a bowl.
Add ghee to the mixture and make a thick batter by mixing in urad dhuli dal peethi and water. The batter must have a pouring consistency. Keep it aside for half an hour.
Heat some oil in a pan on medium flame and pour in the jalebi batter in a pattern in the hot oil for deep frying. Do so with a muslin cloth and make concentric circles.
Fry the jalebi until golden brown and then take them out n a kitchen towel to soak the extra oil.
Now, to make the chaat, take a platter and place the jalebi in it and toss in the chutneys, salt and chaat masala,
Serve with some curd, the potatoes and chana mix.
Rose Jalebi
Ingredients
1/2 Cup Maida
1/4 Cup Curd
11/2 Tbsp Rose Water
1/2 Tbsp Baking Powder
Water
Ghee For Frying
To Make The Sugar Syrup:
1/2 Cup Sugar
1/2 Cup Water
1 Tbsp Rose Water
For Phirni
1/2 ltr Milk
1/8 Cup Rice
1 1/2 Tbsp Rose Water
1 Tbsp Dried Rose Petals
Method
Grind washed and patted dry rice grains, into a coarse powder.
Boil milk with rose water.
Add the rice powder to milk and cook on low to make it creamy which will rake around 15 minutes.
Add in the sugar and cook to thicken it and keep stirring.
Add dried rose petals but keep some to garnish and then remove the dish from heat.
Boil sugar, water and rose water to make the rose syrup.
Cook for 5 minutes and remove from the heat.
Now take a bowl and mix rose water, flour, curd, and baking powder.
Make a thick batter but it should be of pouring consistency. Add in water as needed.
Fill the batter in a muslin cloth and make a hole to pour the jalebi in a shape.
Heat ghee in a pan and then make concentric circles with the batter.
Cook until crisp on both sides.
Then drain them off to get rid of the extra oil and drop them in the rose sugar syrup.
Serve with phirni and chopped nuts as garnishing.
Don't Miss: This Holi, These Nachos Recipes For Kids Will Be A Hit!
Whole Wheat Jalebi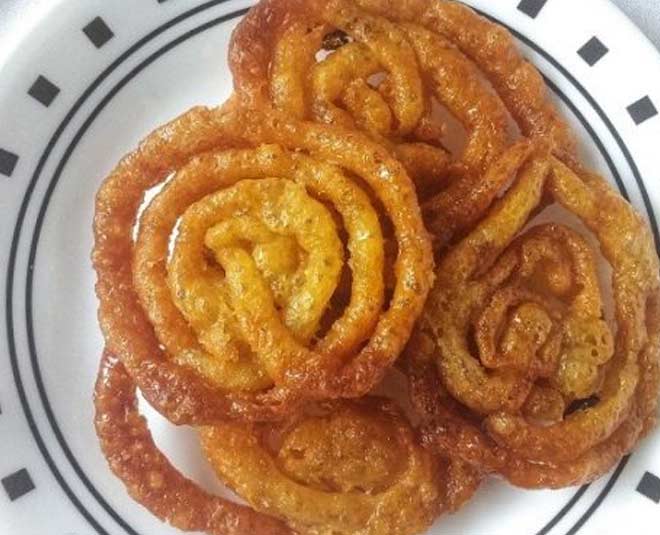 Ingredients
3 Cup Warm Water
4 Tbsp Ghee
2 Cups Atta
1/2 Cup Besan
1/2 Cup Curd
Oil To Fry
For Sugar Syrup
2 Cup Sugar
2 Cup Water
2 Crushed Cardamom
Few Drops Of Lemon Juice
Don't Miss: Prepare Lip-smacking Thandai Gulab Jamun Mousse This Festive Season
Method
Make the sugar syrup amd then add the crushed cardamom to it and keep it aside.
Mix the flour, curd, ghee and haldi powder in a bowl and add warm water to it slowly to make a smooth but thick batter.
Let the batter sit overnight.
In the morning, heat the ghee and then make jalebis by pouring the batter in a muslin cloth and drawing concentric circles in the pan.
Cook till golden but in a medium flame.
Remove from oil and dip it in sugar syrup.
Serve warm.
Wish you a very Happy Holi and stay tuned to HerZindagi for more such recipes.