How To Make Healthier Alternative Of Snickers Bar: Recipe By Celeb Fitness Instructor Yasmin Karachiwala
You can make healthier version of snickers chocolate at home very easily.
The Snickers bar is one of the most delicious chocolates out there. They're milk chocolates with a peanut butter nougat base and a layer of caramelized roasted peanuts on top. This sweet treat is then covered under chocolate. Everyone, from children to adults, loves its taste. The great part is that you can also make a version of the snickers bar at home. What's even great is that this chocolate is a healthier version of Snickers bar.
Celebrity Fitness Instructor Yasmin Karachiwala introduced us to this yummylicious recipe of healthier Snickers bar by posting a video on her Instagram page. If you also want to make this tasty treat at home, here is the recipe by Yasmin Karachiwala that you must try:
Snickers Stuffed Dates?
Sharing the post on her Instagram handle, fitness instructor Yasmin Karachiwala wrote in the caption, "Snickers Stuffed Dates 🍫 Sharing my version of a healthier alternative to snickers bar🤩 These are super easy and quick to make and taste delicious 🤤"
Ingredients Required:
12 Medjool dates
1/3 cup smooth peanut butter
1/4 cup peanuts chopped
1/2 cup semi- sweet chocolate chips
pinch of sea salt (optional)
How To Make Snickers Stuffed Dates?
Start by slicing each date lengthwise and remove the pit.
Stuff the inside of each date with peanut butter and sprinkle it with the crushed peanuts
Melt the dark chocolate and drizzle the chocolate over the dates to coat. Optional to sprinkle with sea salt.
Refrigerate the stuffed dates until the chocolate has fully hardened. Now ENJOY!!
You can see the post here:
View this post on Instagram
Dates Are Good For Health
Dates are without a doubt one of the most delicious and sweet fruits. Apart from being sweet and tasty, dates, or khajoor, are also beneficial to one's health.
The dates are a good source of iron and have been shown to help with anemia. They are also known for boosting energy, promoting bone health, and helping the digestive system.
The fibre content of dates also helps in weight loss. Furthermore, dates also contain antioxidants like anthocyanins, phenolics and carotenoids, which help in ridding the body of toxins, improving digestion and increase metabolism, all of which contribute to weight loss.
Don't miss: Try This Delicious Recipe Of Dates & Tamarind Chutney At Home!
Soaked Dates In Milk Everyday Can Help With Cough Related Problems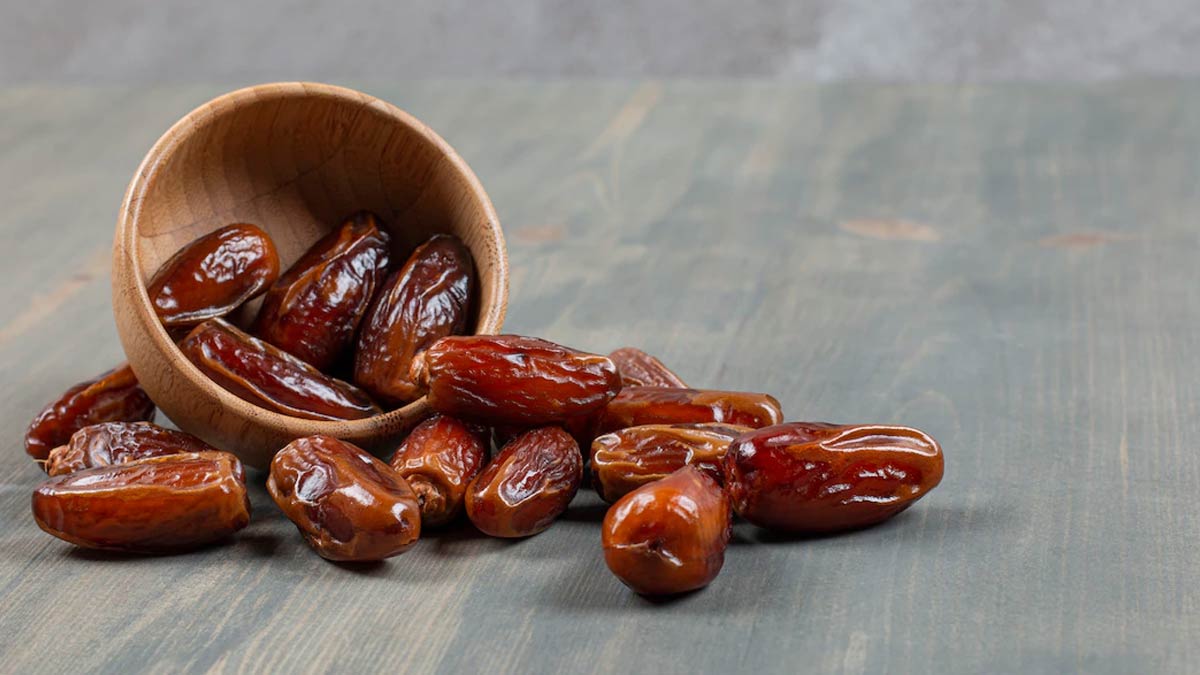 Dates are not only wonderful for your health, but they can also help with cough problems. However, you must ensure that you do not have any allergies to the fruit or any of the other ingredients, as this could result in more harm.
If you have a cough, have some dates with honey and warm milk. All you need to do is boil 5 to 8 dates with milk and then drink it hot. This can help in removing the sputum and may also help in dealing with the prolonged cough.
Don't miss: Have Cough, Insomnia, Constipation? Have Soaked Dates In Milk Everyday
Dates are a wonderful fruit that can be served in a variety of ways and will always surprise you. Try Yasmin Karachiwala's recipe of Snickers Stuffed Dates, a delicious dates version of Snickers chocolate, and let us know if you enjoyed it or not by leaving a comment on our Facebook or Instagram pages.
For more such stories, stay tuned to HerZindagi!