Prepared from soybeans, soya is a protein-rich food. It is one of the best alternates for people who don't eat meat and need to fuel their body with a good amount of protein content everyday.
Soya is available in different forms, chunks, granules, chaap, flour, and granules and can be used in a variety of food preparations. If you wish to make soya a part of your everyday diet and looking for some easy snack recipes then you have landed on the right page.
Soya Fingers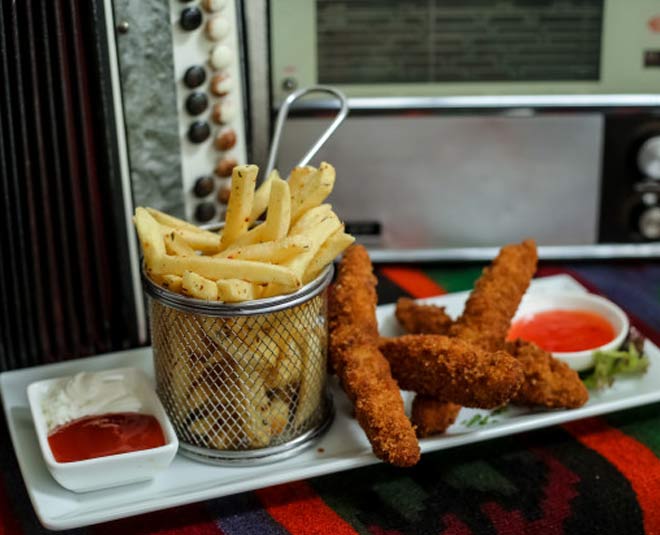 Image courtesy: freepik
If you are bored of frying those regular potato fingers then try this healthy version.
Ingredients Required:
1/2 Cup Soya Granules
Salt To Taste
1/4 Tsp Turmeric Powder
1 Tsp Red Chilli Powder
1 Tsp Coriander Powder
1 Tsp Cumin Powder
1/2 Tsp Garam Masala Powder
1/4 Tsp Black Pepper Powder
1-2 Chopped Green Chillies
1 Chopped Onion
1 Tsp Ginger Garlic Paste
2-3 Tbsp Chopped Coriander Leaves
1/2 Cup Rice Flour
1 Tsp Maida
1/2 Cup Bread Crumbs
Oil For Frying
Directions:
Soak soya granules in hot water for 10 minutes. Drain and squeeze out water.
In a bowl, add soya granules, rice flour, onions, garlic ginger paste, chillies, coriander leaves, and all the dry spices.
Using some oil on your hand, start giving the dough the shape of fingers. Place them in the refrigerator.
Dip the fingers in a mixture of maida and water and then roll them in the breadcrumbs.
Heat oil in a pan and fry these fingers till golden and crisp. Serve hot.
Soya Cheela Or Pancake
Image courtesy: timesofindia
Soya cheela is a healthy and easy to make breakfast option.
Ingredients Required:
1/2 Cup Soya Flour
1/2 Cup Semolina Or Suji
1/2 Cup Grated Vegetables
1/2 Tsp Grated Ginger
1 Chopped Green Chilli
Water As Required
Salt And Pepper To Taste
Oil
Directions:
In a bowl, add soya flour, semolina, vegetables, and spices. Mix well.
Add water as required to create a flowy batter consistency.
On a non-stick tawa, spread some oil and pour the batter. Spread in a circular motion.
Cook on both sides till golden and crispy. Serve.
Soya Poha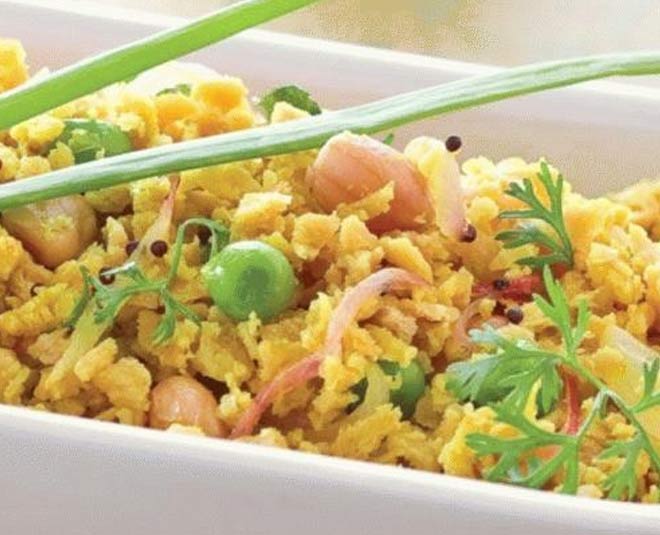 Image courtesy: Tarladalal
A healthier version of your regular poha is this soya poha which is again easy to make and great for weight loss.
Ingredients Required:
1 Cup Soya Granules
1/2 Cup Sliced Onions
Handful Of Curry Leaves
1/2 Tsp Green Chillies
1 Tsp Mustard Seeds
1 Tbsp Boiled Peanuts
1/4 Tsp Turmeric Powder
1 Tsp Lemon Juice
1/4 Tsp Asafoetida
Oil As Required
Salt As Per Taste
Directions:
Soak soya granules in 2 cups of warm water for 15 minutes and then strain. Squeeze all out all the water and keep aside.
In a pan, add oil and mustard seeds. As the seeds crackle, add curry leaves and asafoetida.
Next, add onions and green chilli and saute for a few minutes.
Sprinkle turmeric powder, salt. Add green peas, soya granules, lemon juice and cook on medium flame while stirring in between.
Serve hot.
We hope this guide helps you make healthy and tasty soya snacks at home. Do try making these and share the results with us on our Facebook page. For more such interesting recipes, stay tuned!