In times like these when we are home most of the time, it is important that we eat healthily and not spend all our salaries on food delivery. So here are some recipes using besan which are healthy and at the same time pleasing to the taste buds. They come in handy especially when you are on a weight loss spree. You can tweak the ingredients as per taste and go easy on the oil as well.
Zunka Bhakri
Zunka Bhakri is a traditional Maharashtrian snack made using besan, haldi, onions, ginger-garlic paste, mustard and cumin seeds.
Ingredients
A Glass Of Water
Haldi
3 Finely Chopped Onions
Red Chilli Powder As Per Taste
Handful Of Finely Chopped Coriander Leaves
A Sprig Of Curry Leaves
1 Cup Besan
3 Tsp Refined Oil
1.2 Tsp Mustard Seeds
1 Tsp Ginger-Garlic Paste
1/2 Tsp Cumin Seeds
Green Chillies As Per Taste
Salt As Per Taste
Method
In a bowl, mix the onions, chilli powder, water, haldi, besan, curry leaves, coriander leaves and stir well. Keep aside
Heat oil in a kadhai and splutter both the seeds.
Mix in ginger and garlic paste, green chillies and onions.
Saute untill brown and then add in the batter prepared.
Cook till the water evaporates and you obtain a thick yellow paste like residue.
Besan Dhokla
This Gujarati dish is also known as Khaman Dhokla, is nutritious and light on the stomach.
Ingredients
2 Cups Besan
1 Cup Beaten Curd
Salt As Per Taste
Haldi
1 Tsp Green Chilli-Ginger Paste
1 Tsp Mustard Seeds
2 Tbsp Oil
1 Tbsp Lemon Juice
1 Tsp Baking Soda
Some Freshly Chopped Coriander Leaves For Garnishing
Method
In a bowl, mix together besan, curd in a cup of warm water.
Make sure there are no lumps and mix in salt.
Let it ferment for four hours and then add haldi, green chilli-ginger paste.
Mix and heat the steamer.
In a small bowl, combine baking soda, lemon juice, and a tsp of oil.
Add this mix to the batter prepared and whisk well.
Pour the batter into a greased thali and place it in the steamer.
Cover with a lid and let the steamer do its job for ten minutes.
Once it cools down a little cut into squares.
In a tadka pan, heat oil and splutter the mustard seeds and the pout over the dhoklas.
Serve with chutney.
Don't Miss: Kadhi: Make This Traditional Dish Using This Simple Recipe
Besan Bread Toast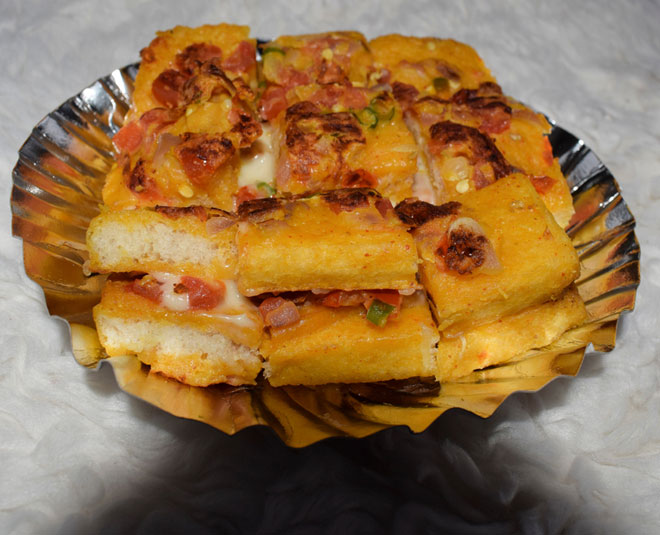 Ingredients
1/2 Large Finely Chopped Onion
1/2 Cup Besan
Salt As Per Taste
Water As Per Need
Oil As Per Need
1/2 Large Finely Chopped Tomato
1/2 Finely Chopped Green Capsicum
Finely Chopped Handful Of Coriander Leaves
1/2 Tsp Ginger Garlic Paste
Red Chilli Powder As Per Taste
1/4th Tsp Garam Masala Powder
1/8th Tsp Haldi
Method
Mix the besan, onions, capsicum, tomatoes, red chilli powder, coriander leaves, ginger-garlic paste, garam masala powder, haldi and salt, in a bowl.
Add water to make a thick batter. It should be able to coat the vegetables and not be runny.
Dip some slices of bread in the batter.
Heat a cast-iron pan on medium heat and carefully place the bread with a spoon.
Drizzle little oil especially around the edges on low flame.
After a few minutes, once the bottom is crisp and cooked, flip it and do the same until golden brown.
Serve hot with green chutney and tea.
Stay tuned to HerZindagi for more such recipes which are great for weight loss and tasty as well.