Citrus Delicacies For The Perfect Summers With Chef Kaviraj Khialani
Learn how to make delightful recipes with citrus fruits with our Celebrity Chef Kaviraj Khialani.
Citrus is a genus of flowering trees and shrubs and the plants in the genus produce citrus fruits, including important crops such as oranges, lemons, grapefruits, pomelos, and limes. The genus Citrus is native to South Asia, East Asia, Southeast Asia, Melanesia, and Australia. Various citrus species have been used and domesticated by indigenous cultures in these areas since ancient times. From there its cultivation spread into Micronesia and Polynesia by the expansion and to the Middle East and the Mediterranean via the incense trade route, and onwards to Europe and the Americas.
Citrus fruits contain many compounds that can help keep your heart healthy. Their soluble fiber and flavonoids may help raise healthy HDL cholesterol and lower harmful LDL cholesterol and triglycerides. The fruits may lower high blood pressure, another risk factor for heart disease. Many citrus fruits, such as oranges, tangerines, grapefruits, and clementine's, are generally eaten fresh. They are typically peeled and can be easily split into segments. Grapefruit is more commonly halved and eaten out of the skin with a spoon. Special spoons (grapefruit spoons) with serrated tips are designed for this purpose. Orange and grapefruit juices are also popular breakfast beverages.
More acidic citrus, such as lemons and limes, are generally not eaten on their own. Citrus fruits are considered superfoods! This means that they included in a special category of foods that are calorie sparse and nutrient dense. The rich vitamin C content of citrus fruits can effectively fight the free radical action, which prevents skin ageing. The citric acid present in the citrus fruits helps curb the bacterial action and pathogens present under the skin, which helps your skin glow naturally. Citrus fruits are high in vitamin C, a nutrient known to help give your immune system a boost. It encourages your immune system to produce white blood cells, which are necessary to fight infections. Citrus fruits are rich in multiple nutrients such as vitamin C, flavonoids, and fiber which confer vascular protection, reduce inflammation, improve gastrointestinal function and health, and play an important role in preventing conditions like diabetes, cancer, neurological disease.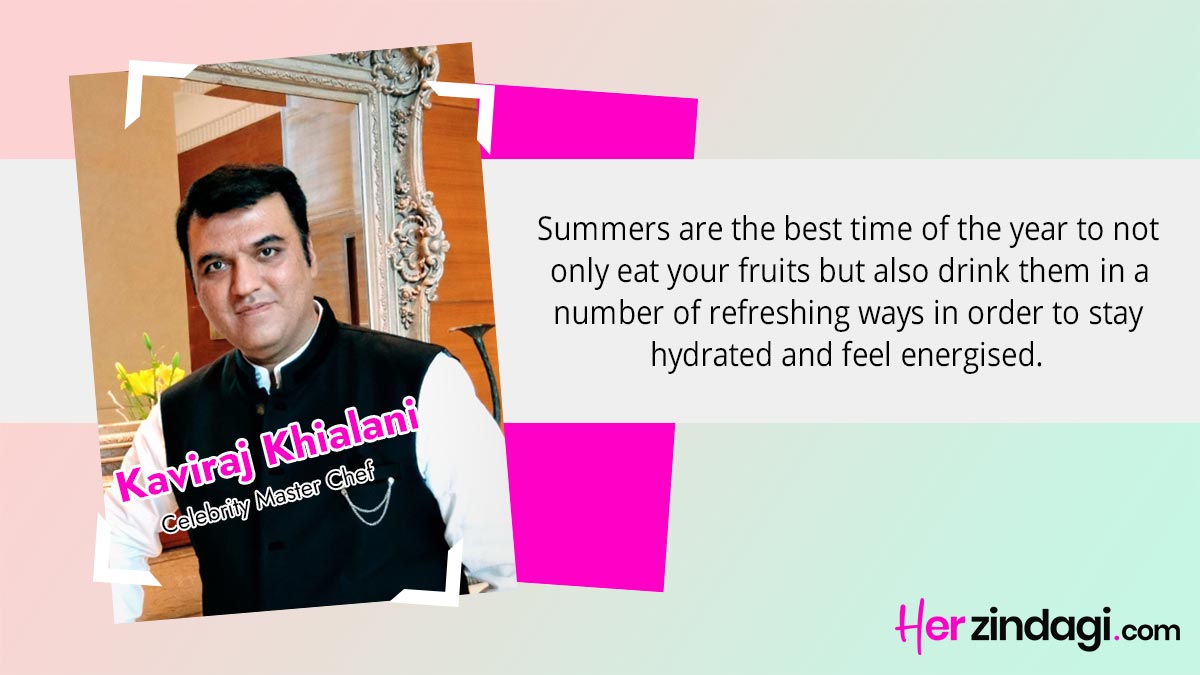 Although few of the lemons can be eaten out of hand with the fragrant skin; they are both sweet and sour. Lemonade or limeade are popular beverages prepared by diluting the juices of these fruits and adding sugar. Lemons and limes are also used in cooked dishes, or sliced and used as garnishes. Their juice is used as an ingredient in a variety of dishes; it can commonly be found in salad dressings and squeezed over cooked fish, meat, or vegetables.
A variety of flavours can be derived from different parts and treatments of citrus fruits. The rind and oil of the fruit is generally bitter, especially when cooked, so is often combined with sugar. The fruit pulp can vary from sweet to extremely sour. Marmalade, a condiment derived from cooked orange and lemon, can be especially bitter, but is usually sweetened with sugar to cut the bitterness and produce a jam-like result. Lemon or lime is commonly used as a garnish for water, soft drinks, or cocktails.
Citrus juices, rinds, or slices are used in a variety of mixed drinks. The colourful outer skin of some citrus fruits, known as zest, is used as a flavouring in cooking; the white inner portion of the peel, the pith, is usually avoided due to its bitterness. The zest of a citrus fruit, typically lemon or an orange, can also be soaked in water in a coffee filter, and drunk.
Here are a few ways of how to involve this goodness loaded ingredient list to benefits from the Citrus Fruits:
"Summers are the best time of the year to not only eat your fruits but also drink them in a number of refreshing ways in order to stay hydrated and feel energised, refreshed and staying active in spite of the high temperatures around and the heat"- Dr. Kaviraj Khialani- Celebrity Master Chef.
Recipe-1] ANARI PUNCH OF ENERGY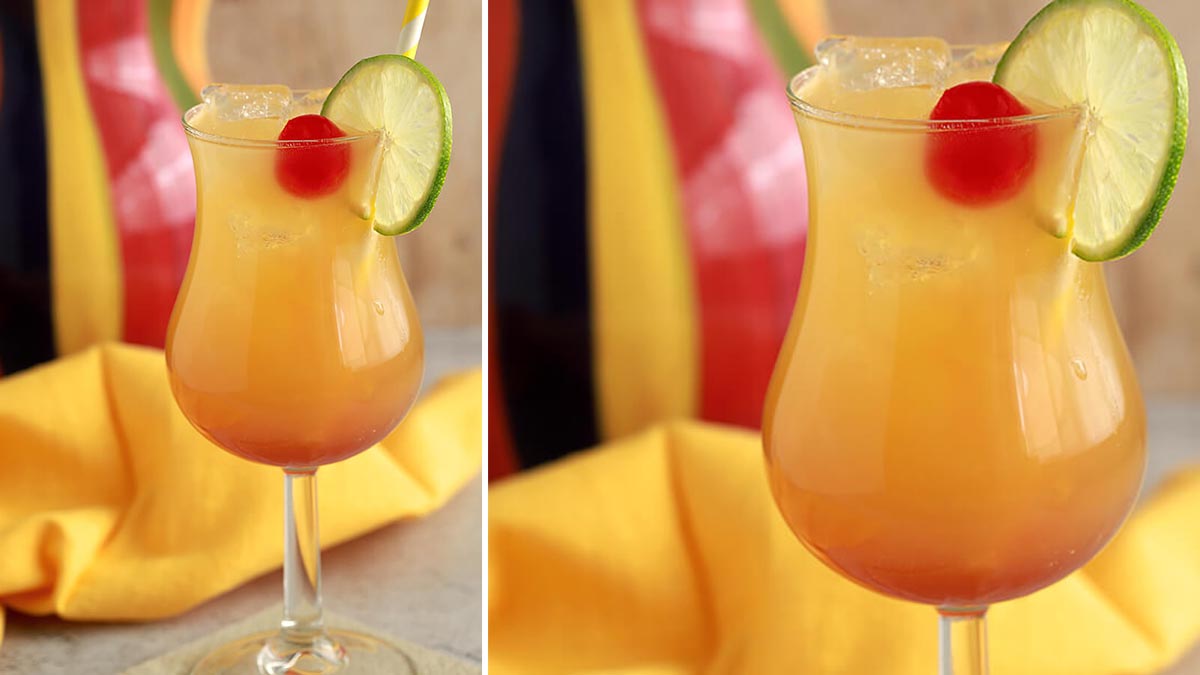 Ingredients:
Orange juice- 150 ml
Sweet lime juice- 150 ml
Lime juice- 15 ml
Sugar syrup- 30 ml
Ginger juice- 10 ml
Salt- 1 pinch
Capsico sauce-5 ml
Mint leaves- 5- 6 no
Crushed ice- ½ cup or as needed
Pomegranate syrup- 15-20 ml
Method:
1. Prepare all the ingredients and keep them ready for the cooler to be prepared.
2. Using crushed ice, chill the glass as well, to start with the recipe add a bed of crushed ice, add a pinch of salt, pour in the pomegranate syrup, add in the sweet lime, orange juice, dash of Capsico, ginger juice, lime juice, little sugar syrup and assemble it all in the glass.
3. Do not stir or shake the drink, it can be offered with a stirrer to the guest and can be mixed just before drinking it so that the colors remain more visible and colorful. The drink can be garnished with mint, a pineapple and cherry skewer at the top.
Recipe-2] CITRUS COMBO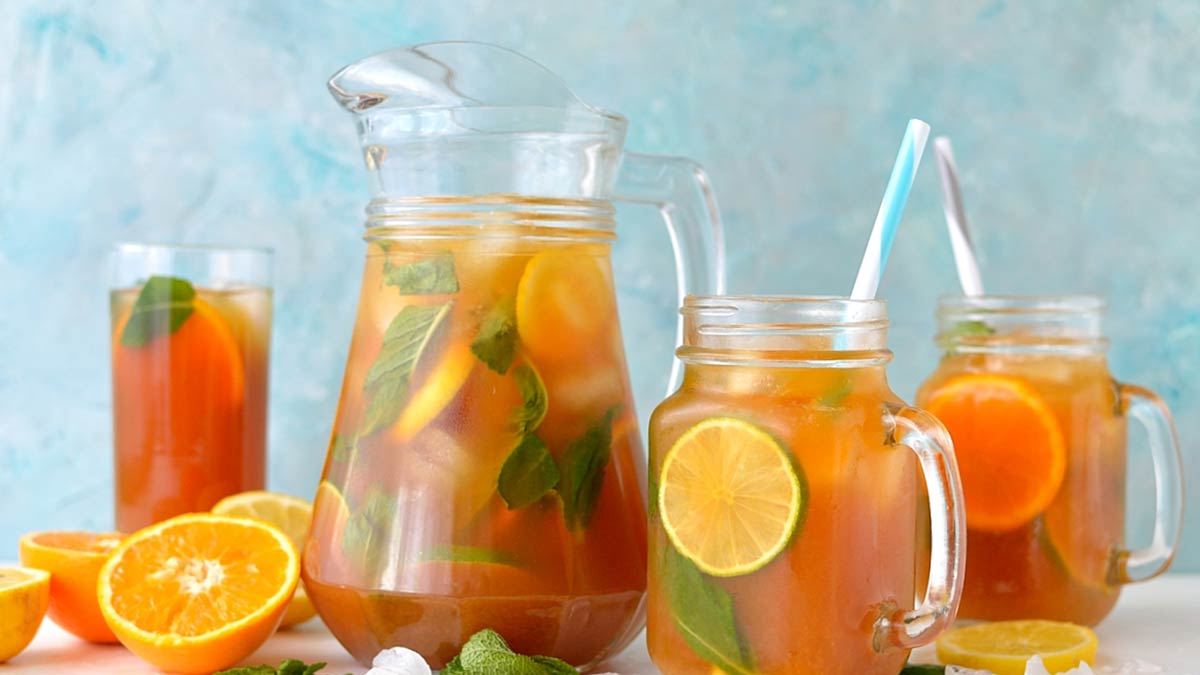 Ingredients:
Apple juice- 120 ml
Cranberry juice – 100 ml
Orange juice- 120 ml
Lime juice- 15 ml
Sugar syrup- 15 ml
Mint leaves- 3-4 no
Chaat masala- 1 pinch
Crushed ice- as needed
Lime slices- 3-4 no
Cherries- 3-4 no
Sweet lime slices- 3-4 no
Assorted fresh herbs like sweet holy basil – 4-5 no
Candied peel / candied ginger- as desired for garnish.
Method:
1. Prepare all the ingredients for the cooler drink and keep it all ready to be mixed/ assembled for service.
2. Chill the glass using crushed ice and refresh it, add in some crushed ice and start with the assembly of the juices and get it all setting up.
3. Check for the taste, adjust the sweetness/tartness as desired to suit the balance on the palate.
4. Garnish the drink appropriately and serve it chilled.
Recipe- 3] DETOX COOLER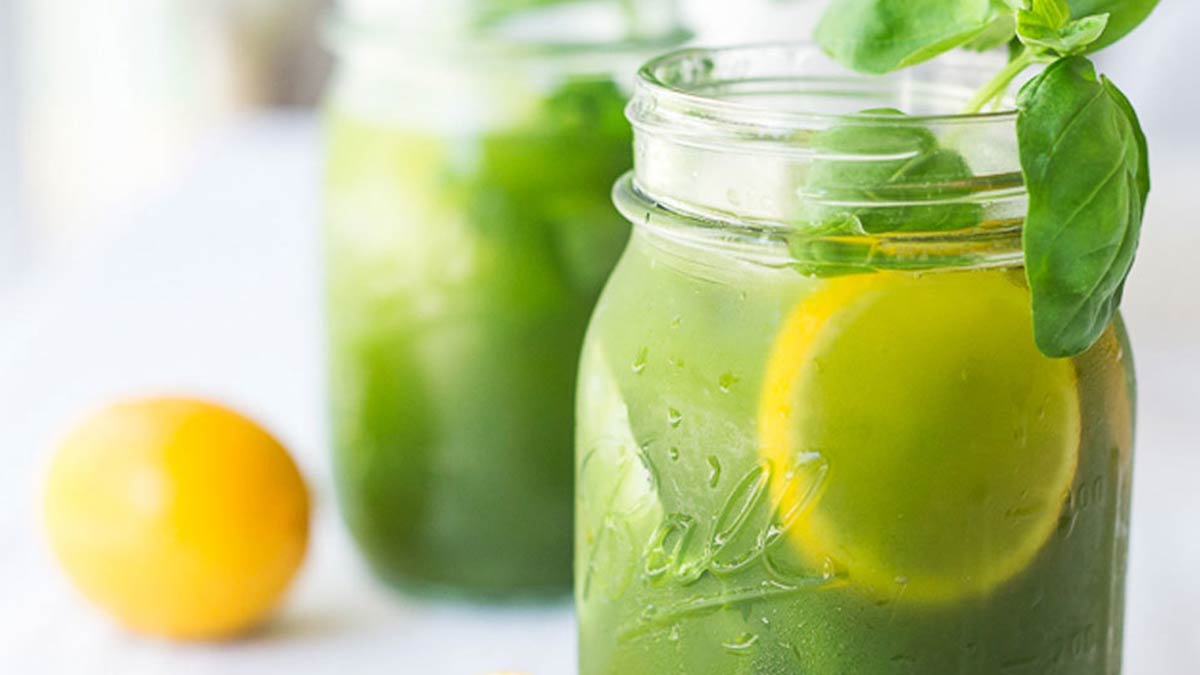 Ingredients:
Green apple juice- 150 ml
Amla juice- 50 ml
Guava juice- 100 ml
Lime juice- 20 ml
Jaggery melted- 2 tsp
Roasted crushed cumin- ¼ tsp
Black salt- 1 pinch
Fresh basil leaves- 10-12 no
Fresh mint leaves- 4-5 no
Green cucumber- 1 small cut
Spinach leaves or kale - 1 cup washed
Crushed ice- as needed
Slice of pineapple/ sweet lime/ cherries/ micro-greens etc for garnish purposes can be used.
Method:
1. Prepare all the ingredients for the cooler and keep them ready to use just before serving.
2. Using a blender jar, combine together some crushed ice, the spinach leaves, cucumber, some mint, basil and churn them up well.
3. Chill the glass using some crushed ice and start with the drink recipe, place some crushed ice at the base, start up with the blended herbed mixture, pour in the other ingredients one by one and top it up.
4. A splash of lime, a dash of chaat masala, black salt etc can be added optionally as per taste as well. Garnish the drink with choice of garnishes as available and serve it.
Recipe- 4] MANGO TANGO SIPPER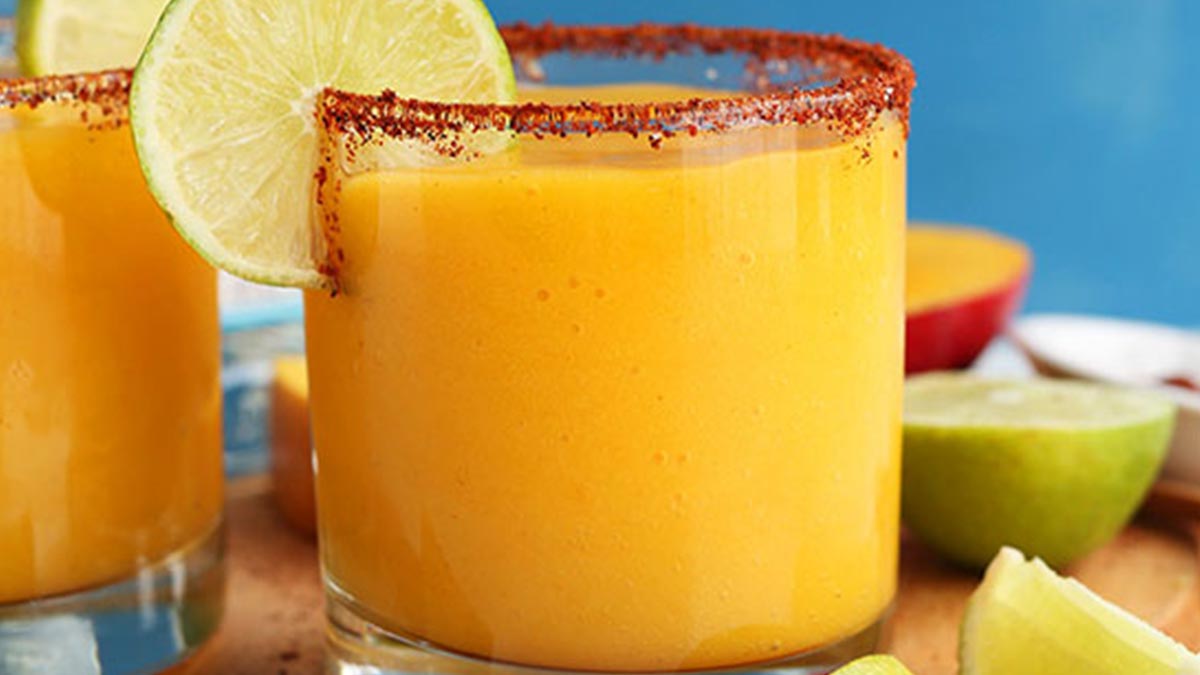 Ingredients:
Mango pulp -150 ml
Ripe papaya puree- ½ cup
Orange juice- 100 ml
Sweet lime juice- 100 ml
Roasted crushed jeera-1/4 tsp
Mint leaves- 4-5 no
Crushed ice- as needed
Dates- 2-3 chopped
Brown sugar- 1-2 tsp
Assorted nuts- 1-2 tsp chopped
Assorted seeds- 1-2 tsp, flax seeds/ pumpkin seeds.
Cherry/ pineapple sticks/ stirrer/ straw/ mocktail umbrellas- as needed.
Method:
1. Prepare all the ingredients for the drink and keep them handy.
2. Work on the chilling of the glass, refresh it with crushed ice.
3. Add a little crushed ice to start with and continue with the mango pulp and other juices, ingredients along the way.
4. Continue adding them all and finally add a touch of garnish on the drink and serve it immediately.
Don't miss:Try These Tempting Evening Snacks Recipes By Kaviraj Khialani
Recipe-5] SUNRISE SOLACE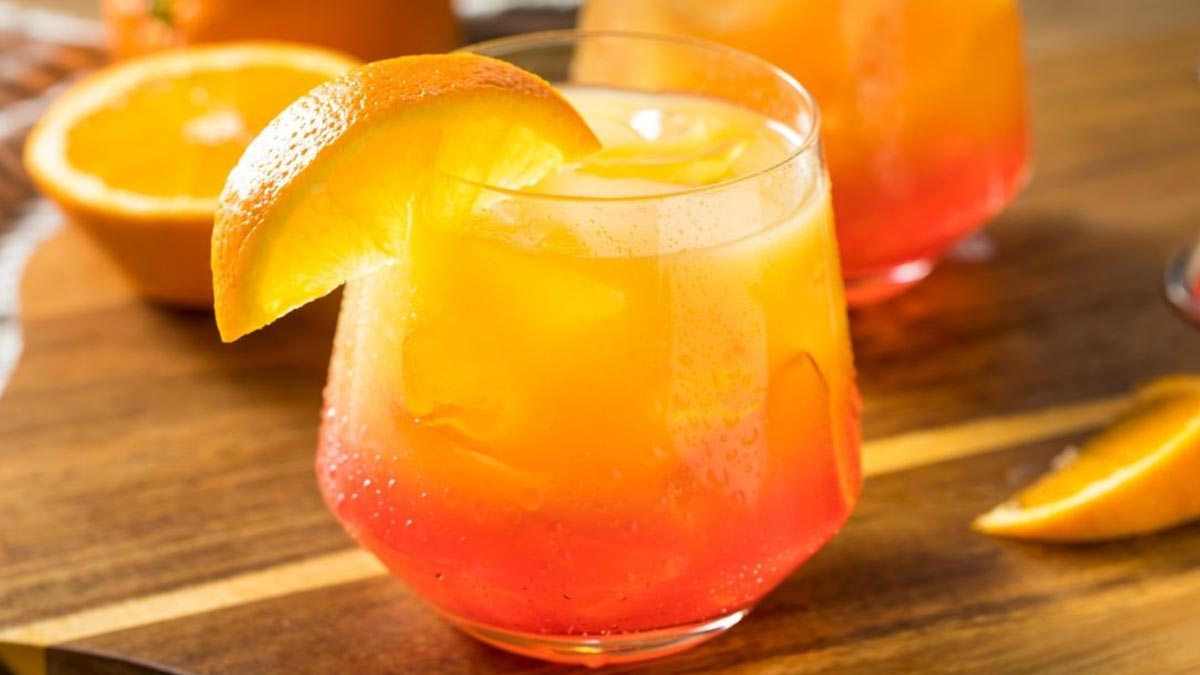 Ingredients:
Orange juice- 150 ml
Peach crush- 30- 45 ml
Mixed fruit juice- 120 ml
Sweet lime juice- 100 ml
Lime juice- 2- 3 tsp
Sugar syrup- 15 ml
Dash of Capsico
Salt and pepper to taste
Tomato juice-1/2 cup
Crushed ice- as needed
Celery- 1 stalk cut into pieces
Lemon grass- 2-3 pieces
Fresh basil- 3-5 no
Lime slices- 3-4 no
Cherries/ pineapple/ kiwi/ caramel coated cherry tomatoes etc for garnish and presentation.
Method:
1. Prepare all the ingredients for the drink.
2. Start with refreshing glass with crushed ice and creating a layer of crushed ice at the base, continuing with peach crush, the juices one by one, seasonings, Capsico, lemon grass, basil, lime slices etc.
3. Add the heavier contents in the liquid form at the base followed by the lighter ones in order to maintain some layer and visibility.
4. Do not stir the drink immediately but add in the assortment of garnishes as needed or desired and offer a stir stick/ straw if the glass is not rimmed. Stir and enjoy the cooler.
Don't miss:Cool Cucumber Delights With Chef Kaviraj Khialani
Recipe- 6] SWEET LIME SURPRISE
Ingredients:
Sweet lime juice- 150 ml
Watermelon juice- 150 ml
Orange juice- 100 ml
Grapefruit juice- 100 ml if available
Lime juice- 15 ml
Crushed ice- as needed
Mint leaves- 4-5 no
pinch of sea salt
Ginger juliennes/ juice- 1 tsp
Slit green chili-1 no
Honey- 1 tsp
For garnishing- mint/ basil/ cherry/ stick of cherry and pineapple/ fresh berries/ assorted nuts caramelised and powdered.
Method:
1. Prepare all the ingredients for the drink and as needed keep them all ready and chilled.
2. Work on the assembly of the drink, chill and refresh the glass with ice just before making the drink.
3. Start with a bed of crushed ice, pour in the juices one by one and add in the flavourings to taste, seasonings etc to add some balance as needed.
4. Do not stir the drink immediately but add in the final garnishes and present the drink with a stir stick and straw. The person consuming it should be giving it a nice mix and then relishing the cooler.
Stay tuned to HerZindagi for more such recipes by Chef Dr Kaviraj Khialani who is not just a celebrity Master Chef but has varied experience with hotels and airlines. He is an author, food writer, food designer, consultant, and creative cuisine specialist.