Pureed Broccoli Soup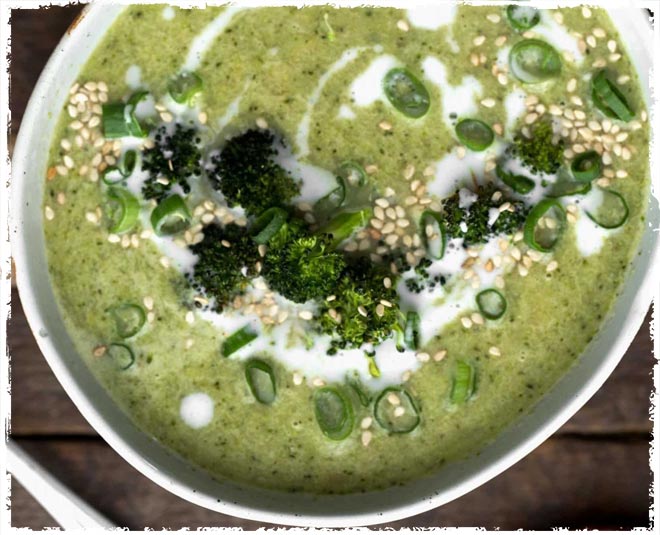 Ingredients:
8 cups chopped broccoli (stems and florets)
2 cups water
4 cups reduced-sodium chicken broth
½ teaspoon salt
1 tablespoon butter
1 tablespoon extra-virgin olive oil
1 medium onion, chopped
1 stalk celery, chopped
2 cloves garlic, chopped
1 teaspoon chopped fresh thyme or parsley
Method:
Heat butter and oil in a Dutch oven over medium heat until the butter melts.
Add onion and celery; cook, stirring occasionally, until softened, 4 to 6 minutes.
Add garlic and thyme (or parsley); cook, stirring, until fragrant, about 10 seconds. Stir in broccoli.
Add water and broth; bring to a lively simmer over high heat.
Reduce heat to maintain a lively simmer and cook until very tender, about 8 minutes. Puree the soup in batches in a blender until smooth. (Use caution when pureeing hot liquids.)
Stir in salt and pepper.
Read More: You Should Be Eating Broccoli Everyday, Here Is Why
Potato & Broccoli Soup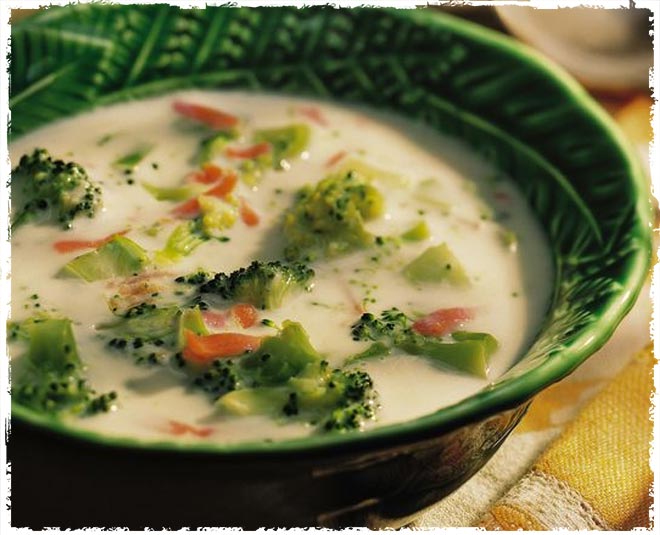 Ingredients:
2 tablespoons butter
1 onion, chopped
2 cloves garlic, minced
Broccoli thick stems peeled and diced (about 2 cups),
Tops cut into small florets (about 1 quart)
Boiling potatoes (about 5), peeled and cut into 1/2-inch cubes
3 cups canned low-sodium chicken broth or homemade stock 3 cups water
3/4 teaspoons salt
1/4 teaspoon fresh-ground black pepper
1/2 cup grated Parmesan
Read More: Best Homemade Soup Recipes To Try This Winter
Method:
In a large pot, melt the butter over moderately low heat.
Add the onion; cook, stirring occasionally, until translucent, about 5 minutes.
Add the garlic, broccoli stems, potatoes, broth, water, salt, and pepper. Bring to a boil. Reduce the heat and simmer until the vegetables are almost tender about 10 minutes.
In a food processor or blender, pulse the soup to a coarse puree. Return the soup to the pot and bring to a simmer. Add the broccoli florets and simmer until they are tender about 5 minutes. Stir 1/4 cup of the grated Parmesan into the soup, and serve the soup topped with the remaining cheese.
If you'd prefer a completely smooth soup, add the broccoli florets to the pot after the potatoes have cooked for five minutes, and continue simmering until all of the vegetables are tender, about five minutes more. Puree the soup until smooth. This would also make a great first course for six people.
Broccoli Cheese Soup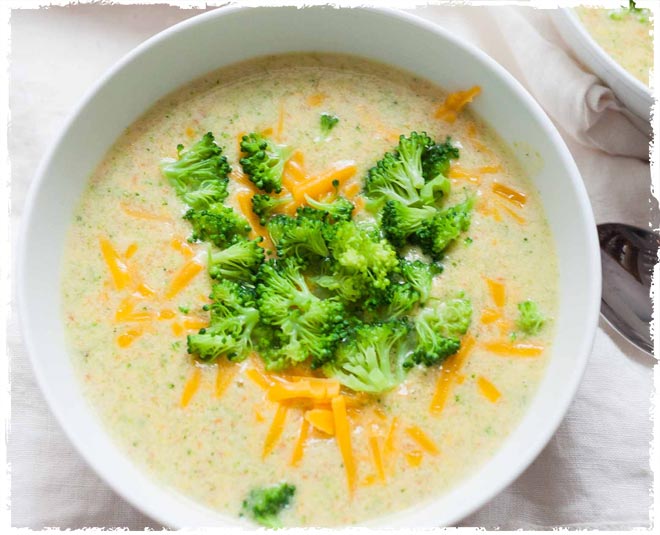 Ingredients:
1 onion, peeled and chopped
1 tbsp olive oil
4 medium potatoes, peeled and cubed
1 head of broccoli, stalks trimmed and cut into florets
1-litre chicken stock
250ml single cream
175g mature cheddar cheese, grated
Sea salt and cracked black pepper
Method:
Warm the olive oil in a large soup pot and add the onions.
Cook until soft and golden in colour.
Add the potatoes and continue to stir for a few minutes.
Add the chicken stock and bring to the boil.
Add the broccoli florets and reduce to simmer.
Continue to simmer for around 20 minutes or until the potatoes and broccoli are soft.
Blend until smooth and then stir in the cream.
Continue to simmer on a low heat and gradually add the cheddar stirring continuously for around 10 minutes. Season and serve.
Have these healthy variations of broccoli soups as these are nutritious and good for the winter season!