Are you trying all the weight loss methods like diet & exercise but still not getting desired results? Then you should consider using slimming oils for weight loss. Using slimming massage oils will help you in toning down the fatty areas and also, helps the skin to maintain its elasticity too so that weight loss does not leave you with sagging skin. So, here are some best oils in the market which you can try out. Read on!
VLCC Shape Up Slimming Oil
A known name in wellness and beauty, VLCC offers a slimming oil that promises to tone down flab from the typical areas where fat gets deposited. Massage the slimming oil for about 15 to 20 minutes onto flabby areas, especially over the belly fat, upper arms and legs. For better absorption of the oil, cover the massaged area with a hot towel for 10 minutes. Do it regularly to see visible change in a few weeks. A bottle of VLCC Shape Up Slimming Oil is available for Rs 500 but you can buy it here for Rs 397 only.
Blue Nectar Ayurvedic Anti Cellulite Oil & Slimming Oil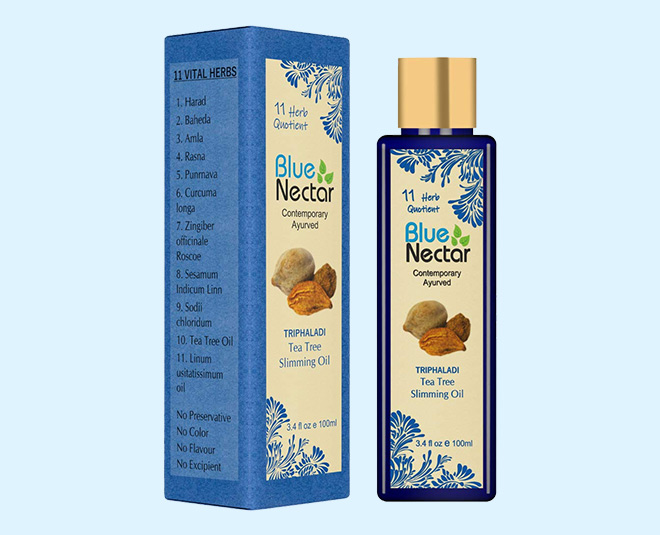 Containing a blend of various natural ingredients, the Blue Nectar Ayurvedic Oil promises to remove cellulite and tone down the fat from body. The Harad or Hartaki present in this slimming oil helps to get rid of waste product of digestion from bowels. It also detoxifies body thus helping in the process of weight loss. The oil also contains Amla which helps to reduce constipation thereby supporting weight loss when combined with healthy lifestyle. Rock salt present in the slimming oil is a laxative which helps to keep the digestive tract clear. The MRP of a bottle of Blue Nectar Ayurvedic Anti Cellulite Oil & Slimming Oil is Rs 445 but you can get it here for Rs 365.
Truveda Slimming Oil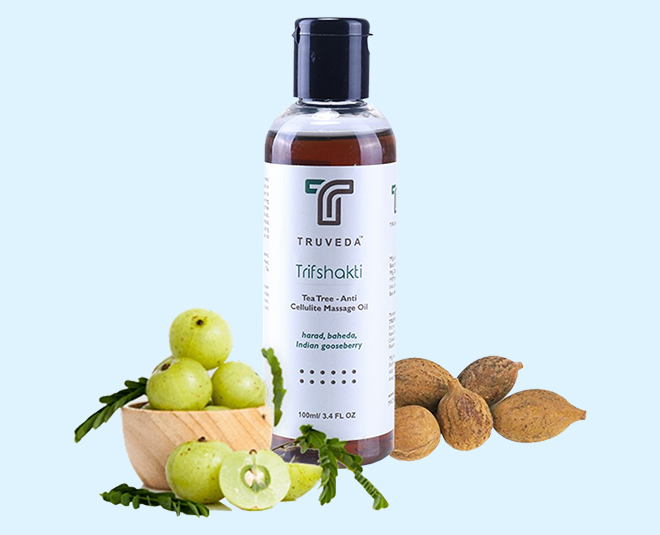 Performing the triple task of firming, toning and moisturising, the Truveda Slimming Oil has a lightweight formula that easily penetrates skin after a massage. This alcohol/parabens/suphate free oil is approved by the Ministry of AYUSH and has a non-greasy formula. Massage it on the stomach, thighs and hip area while maintaining a healthy lifestyle to see results. Priced at Rs 395, you can get a bottle of Truveda Slimming Oil for a discounted price here at Rs 330.
Kayos Botanicals Anti Cellulite Massage Oil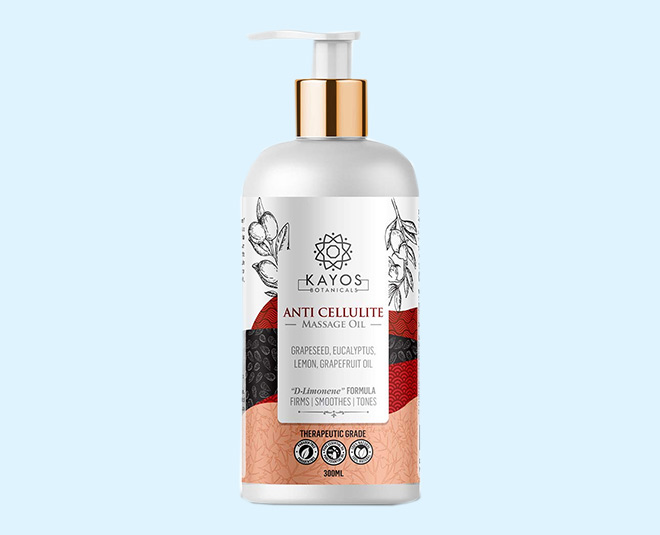 With the goodness of Grapefruit, Lemon, Eucalyptus, Grapeseed Oil, the Kayos Botanicals Anti Cellulite Massage Oil promises to slim down the body while detoxifying it. The D-limonene formula of the oil due to the presence of lemon oil in it works as a metabolism booster and helps to burn fat. The oil promises to penetrate deep into the skin to eliminate unwanted fat tissues. The grapefruit extract containing anti-inflammatory enzyme bromelain cuts down the appearance of cellulite while anti-oxidant rich vitamin E takes care of the skin. Eucalyptus oil works on the subcutaneous fat and castor oil boost the lymphatic system functionality while olive oil hits cellulite too. The cost of a bottle of Kayos Botanicals Anti Cellulite Massage Oil is Rs 990 but you can get it at an offer price of Rs 799 here.
Don't Miss: How To Get Energy Naturally And Say Goodbye To Stress
Shahnaz Husain's Vedic Solution Slimcal Plus Oil
The brand is famous for its solutions for beauty and wellness and its slimming product promises to slim down by reducing fat from the body in an all natural manner. Shahnaz Husain's Vedic Solution Slimcal Plus Oil contains plant extracts and active ingredients that remove cellulite and also hinders fat storage. Best for stomach area and thighs, the slimming massage oil should be applied while maintaining a proper diet and exercise program for best results. Shahnaz Husain's Vedic Solution Slimcal Plus Oil is available for Rs 610 but you can buy it here for Rs 580.
So get started on your weight loss regime with a good diet, exercise and with some herbal slimming teas plus natural slimming oils like this to stay toned and beautiful. To know more about weight loss tips and tips to detox your body, keep reading Her Zindagi.