Headstand or Sheershashan is one of the most fun and easy exercise that does not require you to be a gymnast or a perfectionist to attempt it. Headstand is often called the king of Yoga asanas because of its multiple health benefits. It is great for calming your mind, relieving stress, and strengthening your upper body and spine along with enhancing your lung capacity. While a headstand may seem to be a simple exercise but if not done correctly it can lead to serious injury in your neck and head. So before performing this wonderful asana let's look at the points that you need to follow while performing it.
How To Do A Headstand?
First of all, if you are suffering from any injury in your neck, back, head or arms you should avoid performing this exercise till you are fully recovered. Always consult a doctor before including a new exercise in your routine.
Don't miss: 5 Minutes Yoga Routine For Sleep By Expert
Start With Using A wall
Place your mat near a wall for support, you don't have to lean too much on the wall but initially, it's a good option for perfecting your headstand position. Make use of the wall until you are sure that you have gained enough strength in your arms to hold your body in one perfect alignment.
You can even place cushions around you to prevent injury from a fall.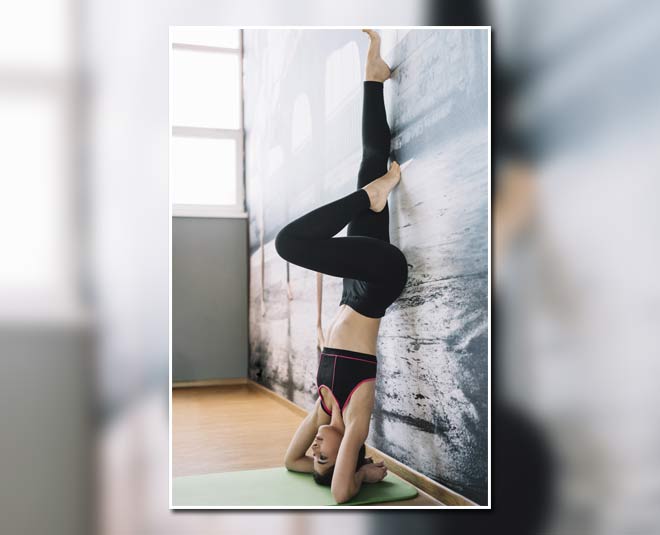 Positioning of body
On a mat bring your hands down and go into a kneeling position, get your hands together and lace your fingers, your thumb should be facing the ceiling.
Your arms should form a triangle at a shoulder apart distance. Now bring the crown of your head in between your clasped fingers. Support the back of your head with your hands to prevent any strain on the neck.
Now, lift your knees and bring your toes in facing inward position
Your legs should be straight and your body should be in an inverted V shape
Push up through your feet and bring your body in a straight alignment. Make sure your arms are strong to handle the weight of the body. Take help of the wall to support the body and balancing the weight.
Stay in this position for 10 seconds and come back to a neutral position slowly.
Don't miss: Expert Suggests Easy Yoga Poses To Boost Blood Circulation
Common Mistakes While Performing Headstand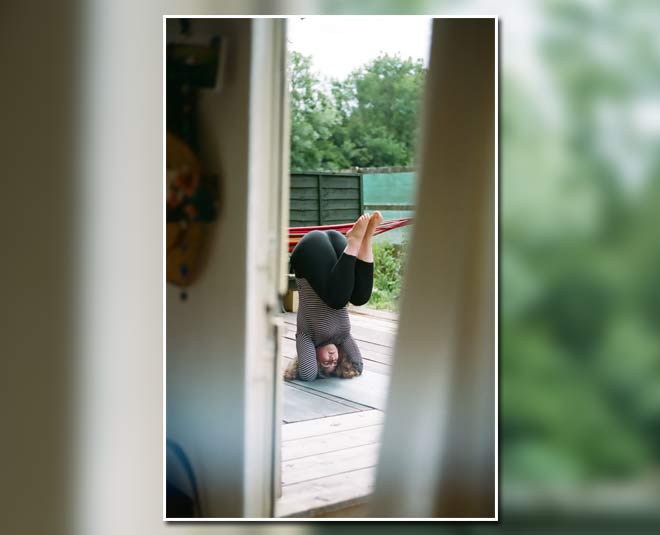 The distance between Arms or elbows
Your arms should be in a shoulder apart distance and not wider than this as it will be difficult to lift and balance your body.
Putting weight on the head
Ideally, the weight of your body should be on the arms and shoulders and not on your neck or head as it can lead to injury or ache.
The shape of the body
The position of the shape on your body in the inverted V position is very important as it will help you to lift your weight and put it in the right alignment. While in the inverted position keep your legs straight and engage your core muscles for a stable position.
We hope you have found these tips and ways to do a Headstand useful. Stay tuned to Herzindagi for more.
image courtesy: unsplash