While work from home has given us the convenience and comfort of our sofas and beds, it has also led to the unending season of Binging- both watching and eating. At the beginning of the lockdown,given the busy schedules of working individuals, exercise had taken a back seat. However, with the recent increased awareness of fitness, the trend of choosing PILATES is on the rise with more people increasingly opting for this at-home workout routine. However, Pilates does sound too good to be true - no pumping, no pounding, no burn, doesn't it? Dr. Rupa Mehta, Co-Founder, Head of Physiotherapy Department, Healthspace Clinic told HerZindagi all about Pilates and its benefits for people of all ages, shapes and sizes.
A workout regime that helps transform your body without pain. A complete body-conditioning programme, Pilates Physio exercises are designed to build something called a 'girdle of strength' by focusing on core and postural muscles. It is a system built to suit people of all ages, shapes, irrespective of their sizes and levels of fitness.
Pilates is a regimen that helps the body from the inside out. It also emphasizes breathing techniques to ensure that lungs are used to maximum capacity. The basic principles of pilates work on alignment, breathing, coordination, concentration and relaxation to give you a longer, leaner shape, better posture, a strong back and more mobility. You can either perform exercises on a machine known as a Reformer or carry out floor-based exercises referred to as "mat work".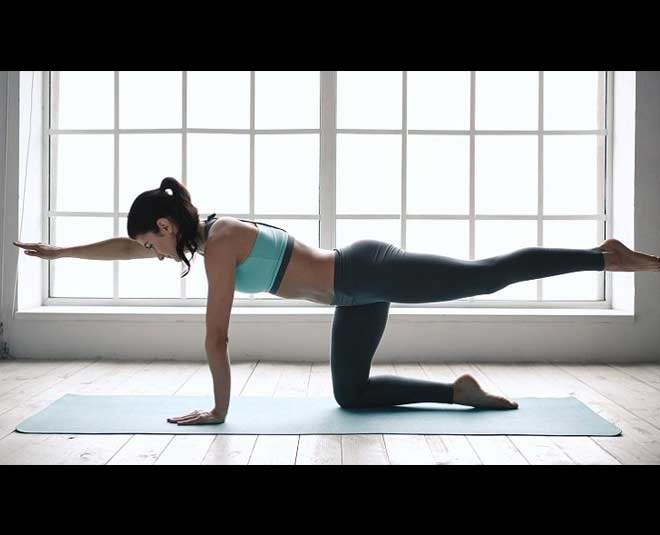 Another form of Pilates that is gaining popularity is the High-Intensity Pilates. This includes all the core principles of Pilates, but with a little spice from high-intensity exercise bursts. Think lunges, squats and kicks that are done with instructions on foot placement, knee alignment and specific muscle activation, all backed by the knowledge of physiotherapists. Incorporating HIP in your routine helps build an understanding with your body that changes the way you move and the relationship you have with your body.
Let's now take a look at some of the specific benefits Pilates can bring to clients of all ages, shapes and sizes:
Strong legs for the longer run
Being a low impact exercise, Pilates is the perfect choice for many patients who find exercising painful due to knee or hip pain. The low resistance level of Pilates reformer springs decreases the load on the joints. Most exercises are performed horizontally, making it great for those with leg/knee problems and may find weight-bearing strenuous.
Best moves for core strengthening
The core consists mainly of the deep abdominals and back muscles along with the glutes and pelvic floor muscles. The gluteal muscles assist with core stability and pelvic alignment. These muscles are usually found to be weak among patients with back pain. Pilates training often focuses on strengthening the glutes so that it can take pressure off the spine and help improve posture. The pelvic floor muscles support the bladder, bowel and reproductive organs. All Pilates movements start with engaging the pelvic floor muscles and deep abdominal muscles.
Be humble, sit well
Posture can be a difficult issue to treat due to the long-term nature of forming guilty habits. Pilates can be used to rectify movement patterns, especially focusing on shoulder movement, thoracic stability, and stretching the chest muscles, which, when tight, can cause a 'hunched' posture. It is a great choice to treat hypermobility as it helps to strengthen and stabilise the joints in a low impact manner. Some people claim to have grown by as much as an inch, due to their improved posture.
Don't Miss: Expert Approved Advantages Of Walking To Cure Knee Pain
Pregnancy and Self-care
Pregnant women have a hormone called relaxin circulating in their bodies during and after pregnancy (approx. 12 months post-birth). While this hormone helps the ligaments of the pelvis loosen and prepare for delivery, it has the same effect on all ligaments in the body. This makes them prone to injury and also make high impact exercise unsuitable for the new mother. However, the gentle nature of Pilates is the perfect choice for expectant and new mothers while their joints (especially the pelvis and lumbar spine) are adapting to the constant changes in their bodies.
Don't Miss: Have Wrist Pain Due To Constant Typing? Here's How You Can Tackle It
Lose the stubborn love handles
Pilates exercises give you a longer, leaner shape, a flatter, firmer stomach, improved posture, a strong back and increased mobility. And unlike weights or other forms of strenuous exercise, Pilates helps develop well-toned, elongated muscles without adding bulk. In fact, you end up using muscles you don't know you had. Pilates helps you lose weight without producing over-developed muscles. So, the bottom line is you end up looking great!
So stop with the excuse of gyms being shut. All you need is a mat, some loose clothes and a will to learn. It doesn't matter how young or old you are, this lockdown pilates your way to fitness!
For more such stories from our experts, stay tuned to HerZindagi!
Did you like this article ?
Disclaimer
Your skin and body like you are unique. While we have taken all measures to ensure that the information provided in this article and on our social media channels is credible and expert verified, we recommend you consult a doctor or your dermatologist before trying a home remedy, quick hack or exercise regime. For any feedback or complaint, reach out to us at compliant_gro@jagrannewmedia.com