Invest In Slip Dresses This Season, Style Them Like Your Favourite Bollywood Divas
Carry the versatile and comfy '90s slip dress this summer season.
Do you know, slip dresses were traditionally categorised as nightwear? However, now they are not only limited to the bedroom walls. 90s favourite silhouette is making it big in the fashion world today.
The coronavirus pandemic has changed the way we look at fashion. Our mantra for our everyday sartorial picks has changed and now most of us hunt for versatility and comfort over anything else. Agree? Slip dresses are a win-win combo, a single comfortable garment that is unarguably versatile.
The 90s slip dress can be styled in endless ways and if you invest in it for once, you aren't letting go of this wardrobe essential for sure. We have a quick guide inspired by your favourite Bollywood celebrities which will help you wear the versatile silhouette this season.
Priyanka Chopra Jonas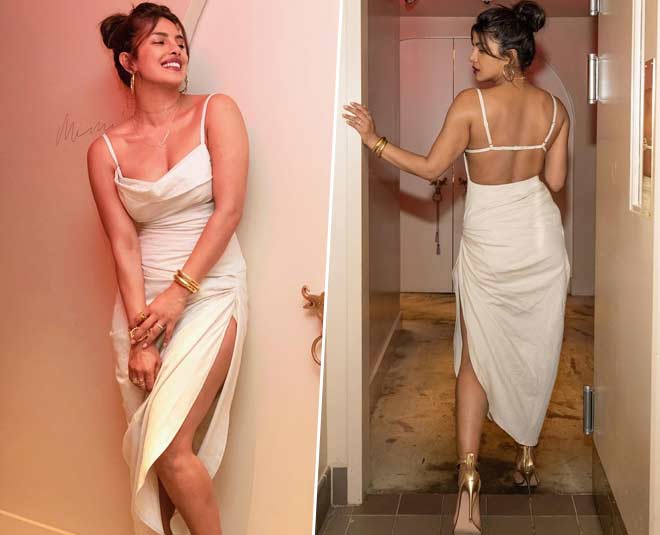 Peecee's pick for her visit to her NYC restaurant Sona was this white slip dress with a cowl neckline and an open back with a single adjustable strap. On days you want to make a statement without going OTT, pick a slip dress like this one. Carry it as is or with a checkered shacket. To amp up your look, pick delicate gold jewellery pieces like hoops, bracelets and a necklace just like Priyanka Chopra. Love how Priyanka Chopra rounded off her look with chunky gold heels. Go for a messy top knot, pull out some hair strands from the front and you are good to go for the date night.
Alia Bhatt
Done with pyjamas? Your pick for the next all girls Netflix night should be a short black slip dress like this one. Alia Bhatt posted this picture of hers on Instagram and captioned it, "casually flexing..(sic)." Well, there is no colour like black and you won't regret investing in a satin silk slip dress like this one. Comfy, chic, just perfect for your BFFs date night. If you wish to layer the look, carry a crop denim or leather jacket over it and you are good to go. Don't forget to complete your look with some highlighter on the high points of your face, a nude lipstick and lots of mascara.
Malaika Arora
Dress up for the party night in a metallic slip dress like Malaika Arora. Malaika Arora's slip dress should be your pick if you wish to go OTT. With a thigh-high slit and crushed detailing a the waist, this dress will make you stand out at any party. When you have a statement outfit like this one, you can ditch the accessories and let the dress do all the talking. Malaika Arora's choice of footwear with the look was a pair of contrasting gold pumps. Her hair were waved and left loose on both sides.
Don't Miss: Different Dresses That A Woman Must Have In Her Closet
Ananya Panday
Ananya Panday's summer blue satin slip dress is just perfect for a casual day out around with friends. If you have a thing for the pastel palette then a pretty shade like this one will be a good pick. Ananya Panday's dress had a little detailing at the waist and a slit on the front. Team it with a jacket, chunky slides and you are ready for a brunch date. While Ananya Panday skipped carrying any jewellery, you can pair the look with a dainty necklace.
Round off your look with bushy brows, kohl-rimmed eyes and a pink lipstick for a coffee date. Let your hair loose or tie them up in a messy side braid.
Don't Miss: Tips And Tricks To Look Slimmer When You Dress
Mira Kapoor
Mira Kapoor opted for this timeless outfit for a dinner outing with BFF Kanika Kapoor. She posted a picture of herself carrying this satin blue dress with a cowl neckline and spaghetti straps. Mira Kapoor teamed her midi slip dress with statement heels which featured polka dot bows. Her comfy slip dress looked just perfect for a girl's night out. She went low-key with the accessories and only carried a pair of diamond studs with the look.
Mira Kapoor left her hair natural and open on the sides with minimal makeup like always. If you wish to lift your look, you can carry it with a chunky piece of necklace or hoops.
Slip dresses have made a comeback into the closets of your favourite Bollywood divas. They are available in a variety of shades and necklines which make them a versatile pick for just any event.
If you aren't comfortable carrying slip dresses as is, feel free to layer them up. If you wish to cover up a little, wear your slip dress over a black high neck tee or don a loose crisp white shirt over it. The possibilities are just way too many when it comes to layering your slip dress.
Tell us how would you like to style them this summer season on our Facebook page. For more such fashion related stories, stay tuned!