When it comes to the most stylish Bollywood actresses, Sonam Kapoor definitely makes the cut! Be it red carpet or the airport look, the actress knows exactly how to dress to impress. While we were scrolling down her IG profile, we found a couple of stunning hairstyles.
Something that can go with all your outfits, including traditional attires, party wears, and even work dresses. Hence, we thought of giving you easy tutorials of Sonam's three hairdos. Read steps and learn how you can master the actor's hairstyles easily.
Temple Braid Hairstyle
The summer season is almost here. You can protect your mane from the sun's harmful rays in style. This hairdo is not just uber-chic, but also something that is great to keep hair strands from becoming frizzy and dry.
Steps
Begin by combing your hair to remove knots.
Part your hair sideways. You can pick any profile that you feel is your best.
Divide a handful of hair strands from the temple of your forehead.
Tie the rest of your hair.
Divide the front hair into three parts; A, B and C.
Cross A and B. Then cross A to C to make the first stitch.
Pull the sections to make tight stitches.
Keep making more stitches following the same steps.
Once done, bring all the hair to your right.
Divide your pony into three parts and start braiding.
Use the same technique. Cross A and B sections, then cross A and C.
Secure with a hair tie and you are done.
Side Twin Twists

When it comes to wearing traditional outfits, there is hardly any other hairdo that looks as elegant as this one. It suits all the face type and enhances beauty in the most perfect way.
Steps
Detangle your hair, using a comb.
Make a middle parting.
Comb your hair again.
Use a tail comb to separate hair strands from the temple of your forehead.
Tie hair strand on one side and start working on the second.
Use your fingers to keep twisting small sections of hair.
Keep repeating until you make a crown-like twist on your forehead.
Secure it at the back of your head.
Repeat the same on the other side.
Once done, adorn your hairdo with gajra (how to make gajra at home), just like Sonam Kapoor.
Crown Braid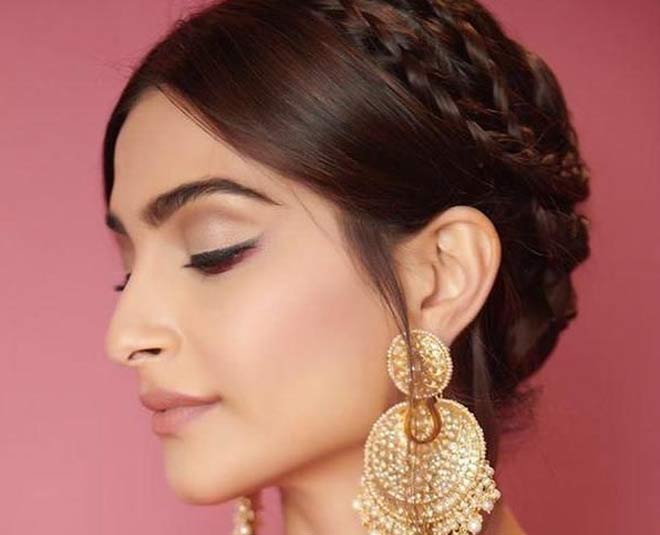 If you follow fashion weeks and runways, you must have seen many models walking with crown braids. The hairstyle is classy and super easy to achieve.
Steps
Remove knots from your hair using a detangler.
Straighten up your hair strands using a flat iron (how to straighten your hair without flat iron).
Divide your hair from the centre.
Leave approximately two-inch space from the temple of your forehead and separate sections of the hair from each side.
Tie the rest of your hair to work on the separated hair strands.
Start braiding the section on any side.
Divide the hair strands into three parts; A, B and C.
First, cross A and B and then cross A to C to make the first stitch.
Repeat the same on the other side.
Once you have braids on both sides, Cross while twisting them to create a crown on your head.
Secure well at the back of your head.
Finish off with a setting spray.
Do let us know which of these hairstyles you liked the best by commenting on our Facebook page. Stay tuned to HerZindagi for more such stories.