Among all the Bollywood newies, Janhvi Kapoor is one of the most stylish. She has a massive fan following, with many a major fan of her wardrobe and dress sense. Other her couture, the actress also garners attention for sharing some amazing home remedies and makeup tips.
While we love her for those useful tips, we also are totally crazy about some of her chic hairstyles. We thought, you might want to recreate her hairdos, that's why we bring you a simple tutorial. With the help of this, you can exude glamour in Janhvi's braid hairstyles.
Triple Mermaid Braid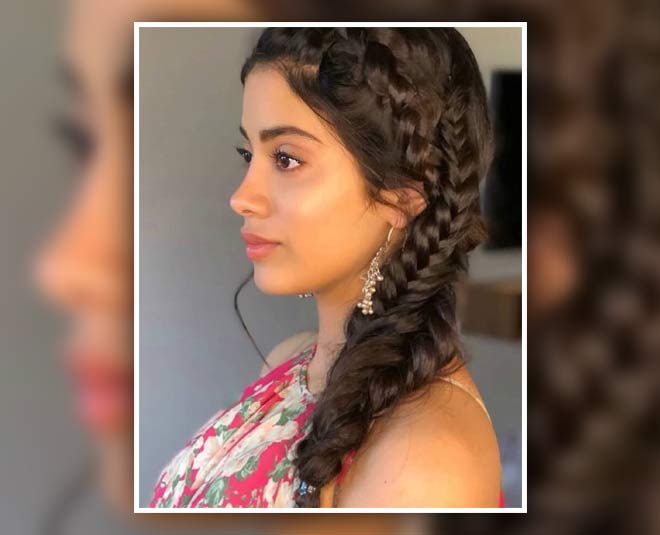 This is an extremely versatile hairdo, that you can carry with any ensemble. Be it an ethnic attire, or western wear, theirs is no doubt you will be making others sit and take notes with this.
Steps
Begin by detangling your hair with a hairbrush.
Roughly part your hair from the left side. Make sure that you transfer maximum volume towards the left.
Divide your hair into three sections from the top.
Click the front and the middle section separately, using hair clips.
Start working from the bottom-most section.
To make a fishtail braid, split your hair into two equal sections.
Then began braiding by taking a piece from the left side and passing it over to the right one.
Next, take a new piece from the outside of your right section and then pass it back to the left side.
Keep repeating these steps until you reach the end.
Secure your braid with a clear band.
Make the second fishtail with the help of the same steps and secure it with a clear hair tie.
For the last braid that will create the look, start braiding from the temple of your forehead.
Once done, combine all three braids and tie it with a rubber band.
Dutch Braids

We love how Janhvi Kapoor has is slaying the desi girl look in the stunning Patiala suit, clubbed with high-fashion Dutch braids. You can nail this look even with western attires. Here's how to make it:
Steps
Detangle your hair well and divide it into two equal portions.
Start working on the left section. Separate the hair strand into 3 equal sections.
From the top of your head take the left section and pass it with the middle one.
Then take the right section, and pass it under the middle.
Once you make the first stitch, start adding more hair into our braid.
You will need a small section of the hair and combine it with your left section. Also, cross both the sections under the middle one.
Keep doing this, until you reach the end of your left side hair strand.
Repeat the exact same steps to braid the right side and your Dutch braids will be ready in no time.
Dual Side Twists

For a white wedding or for any other simple occasion, you can sport this hairstyle with a gorgeous gown. It is really easy to make and will hardly take time, once you attain utter finesse!
Don't Miss: Hair Tutorial: Try Out Sara Ali Khan's 3 Fun Hairstyles
Steps
Comb your hair well to detangle it completely.
Make a side parting on either part of your head.
Bring all your hair to that portion and comb for a slightly neat look.
From the temple of your forehead, take a section of your hair and start twisting it towards your hairline.
Bring it to the back of your ear and secure with a bobby pin.
Just below the first twist, take another section of your hair (how to take care of hair at the beach) and twist it.
Secure it above the first twist.
Once done, adorn it with flowers and pins.
If you liked this article, do comment on our Facebook page. Stay tuned to HerZindagi to read more such stories.