In recent time, Nora Fatehi has become a household name in our country. The talented Canadian dancer has won hearts with her skill and talent. Nora made her debut in the Bollywood film Roar: Tigers of the Sundarbansdebut. She garnered popularity by doing several dance numbers in films like Temper, Baahubali: The Beginning, Kick 2 and much more.
The actress-dancer is not just known for her amazing dance moves. Her couture and style sense are also to die for. While we were scrolling down her IG profile, we found a couple of hairstyles that we simply fell in love with. These are so versatile that one can carry them to party, office and even festivities. Hence, we decided to give you a quick tutorial.
Top Knot

Not into making those complex hairdos? This Nora Fatehi's top knot is exactly what you need. It takes less than 5 minutes to make, and look stunning on all.
Steps
Start by brushing your hair. You need not be very clean for this, just roughly comb your hair.
Using a tail comb, separate your fringes from the rest of your hair.
Make a side parting using your fingers and then bring all your hair back to make a top knot.
Before tying, comb your hair using your fingers.
Use an elastic hair tie to secure the bun.
Comb your bangs and you are good to go!
Low Fishtail Braid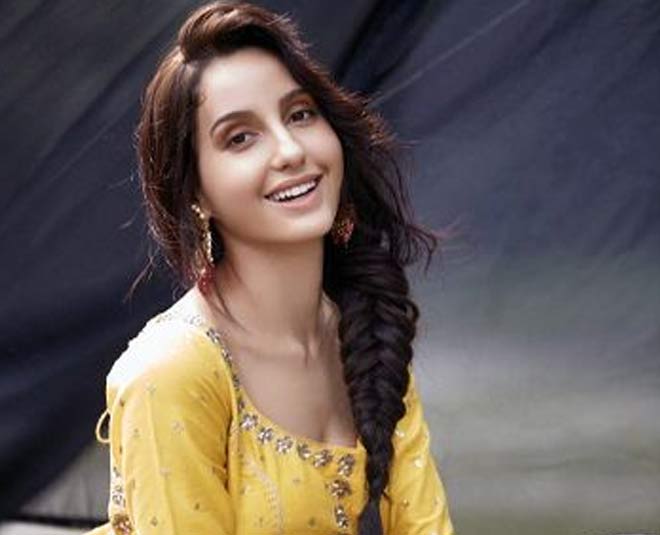 We ladies not only love to exude glamour in our salwar suits, but also in those chic tuxedos. If you are someone who often carries both of these looks, this low fishtail braid is for you.
Steps
Begin by detangling your hair.
Once done, bring all your mane to the right side.
Make a ponytail if you are a beginner. You will cut the hair tie towards the end.
Divide the ponytail into two equal parts; A and B.
Take a small section of hair from the outside of A section.
Cross this small section over B section and incorporate it there.
Then again take a small section from B, and cross it over A.
After making your first stitch, make more by following the same steps.
Secure your braid using a hair tie.
Cut the elastic band you used to make the ponytail.
Using a curling iron, curl your bangs to achieve Nora's look.
Voluminous Pigtail Braids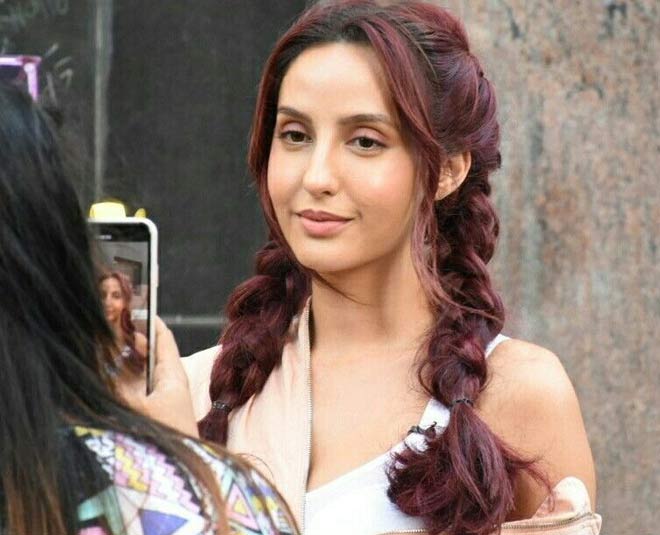 Hot summer days are just around the corner and we all will be needing to protect our hair from the sun's UV rays, dust, and other harmful agents. The best way to do that is by tying our hair. Try this trendy hairdo and protect your mane.
Don't Miss: Hair Tutorial: Try Out Sara Ali Khan's 3 Fun Hairstyles
Steps
Start by combing your hair to remove any knots.
Part your hair into two equal portions.
Tie the first half, and start working on the second one.
From the crown section of your hair, divide the first half into three segments; A, B and C.
Take section A, pass it under section B and cross with section C.
Then pass section B under the C and cross with section A.
After making the first stitch, follow the same steps to braid your hair until the end. Secure with a clear elastic band.
Do the same on the other side and make another pigtail braid and secure with a hair tie.
Once done, using your fingers pull your braids gently to make them look fuller.
Also, pull your bangs out from the front to complete the look.
Do let us know which of these hairstyles you liked the best by commenting on our Facebook page. Stay tuned to HerZindagi for more such stories.