Mira Rajput Kapoor is a favourite of many. Right from her skincare to beauty to hair care and habits, everything is aped especially by women who under 30 years of age as they all relate with her. From being the perfect wife to looking classy and the way she manages her kids, everything is a source of inspiration for young women. When we speak of her wardrobe, whatever she wears becomes a trend be it her kurta suits or dresses. One key point I noticed is that she is not very big on jewellery but, if she wears any, she keeps it simple and minimalist. So I dug through her Instagram posts and have put together all those cool jewellery pieces she has in her stash and how she carries them. Checkout Mira Rajput Kapoor's jewellery collection and see what inspires you as well.
Hoops & Rings
The golden hoops in both frames scream out the fact that she likes to keep it simple but classy. The jewellery choice here consists of de-shaped rings and beaten gold look which gives them a very modern look. These can be paired with any kind of outfits be it beach clothes or a suit.
A Classic Pendant
An unusual but matching pendant for sure, Mira is wearing no other piece of jewellery except for the neckpiece. The emerald based stone jewellery looks classy and grabs enough attention that is needed.
The Citrine Diamond Cocktail Ring
Ditch everything else and wear a cool cocktail ring like Mira in the picture above. But make sure it has clean cuts and finish as this will be the only point of attraction in your look besides a radiant smile.
Don't Miss: Mira Rajput's Priceless Beauty Tip For Soon-To-Be Brides Will Make You Wonder Why You Never Thought Of It!
Chunky Modern Earrings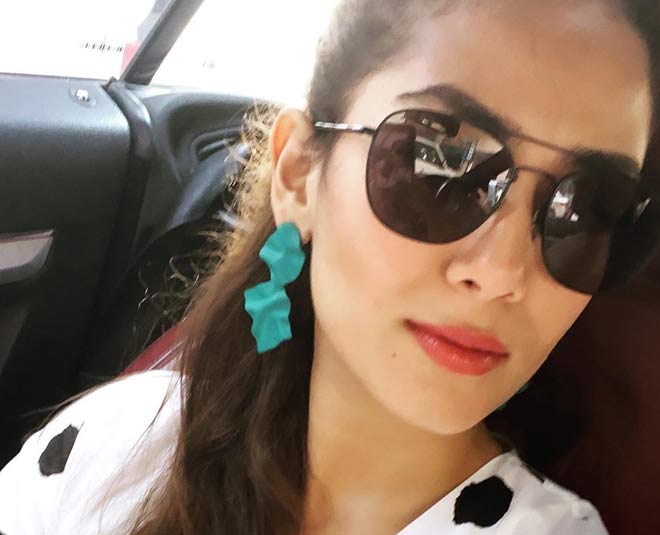 In her jewellery collection till now, you will notice that silver jewellery or tribal finished ornaments are definitely not her style but what she doe slike are different shaped and modern touch pieces which make a statement and not just blend in. Here she is wearing a teal green pair of earrings which look like hammered and moulded teal plates of metal, which are in contrast to her black and white polka-dotted outfit.
Don't Miss: Mira Rajput Kapoor Cooked This Healthy Grand Meal For Her Family Over The Weekend!
Kundan Pearl Touch
Generally, when we wear ethnic clothes, we tend to hunt for kundan jewellery but in big size like long drops or chaandbaalis or even chandelier cuts but here, Mira has kept it really simple. More like an understatement, she has worn a high neck kurta and with that, a simple kundan finished earring with a pearl drop, just to look "put-together". He lipstick is a nude shade and as always, she has just put a simple eyeliner to accentuate her eyes a tad bit. Her youthful skin does the talking, doesn't it?
Don't Miss: HZ Exclusive: Mira Rajput Kapoor Reveals Her Fitness, Skincare Regime!
Stone Bracelet
We rarely see Mira wearing anything in her wrists but this time in this shot which she called "candid" has her wearing a chunky golden bracelt with a green square stone in the middle. The finish is golden as usual with a few twists and turns in the strap. In her fingers, it is just her soliataire engement ring which is enough to complete a look probably.
So if you like to keep it simple and want to look classy like her, maybe you can take inspiration from her collection and see what works for you.
Stay tuned to HerZindagi for more on celeb jewellery collection.