When it comes to tasty and healthy snacks, bread is the first ingredient that comes to our mind. It is not only used to prepare a plethora of dishes but can also be prepared in a jiffy. With people opting for healthier food options, brown and multigrain bread too have gained popularity over the years. Read on to know the nutrient content present in these three varieties, along with their popularity and health benefits.
White Bread
As the name suggests, white bread is the one that's white in colour and is made from wheat flour (maida). As compared to brown and multigrain, white bread is softer and lighter. It is used to prepare various dishes and is an important part of various recipes.
Nutrients: White bread is loaded with fiber, calcium, and vitamins. It also provides a dose of protein carbohydrates to your body. Along with this, this bread also contributes to calories and fat, which is why it must be consumed in considerable quantities.
Popularity: White bread is widely preferred by people because of its colour and softness that comes due to the presence of maida, making it suitable for sandwiches and other bread-related recipes.
Good Or Bad For Health? White bread is usually considered bad for health as it consists of highly processed flour. Regular consumption of white bread can make you prone to health problems such as obesity, heart disease, and diabetes.
Don't Miss: Top Tips For Buying Garlic Bread & Right Ways Of Consuming It
Brown Bread
Brown bread is usually preferred by people who buy them thinking it to be atta or wheat bread. However, brown bread and atta bread might not be the same always. Make sure you check the atta content in your bread before blindly picking it up. Usually, people mix very little quantity of atta and add food colouring to a bread of this sort. Make sure you always check your bread's content for atta before purchasing it.
Nutrients: Compared to white bread, brown bread is healthier as it is made of wheat flour rather than pure refined flour. It is rich in calcium, protein and vitamin A, D, C.
Popularity: Though brown bread is not as soft as white bread, it is still considered to be a healthier alternative. It will give you your daily requirement of carbs but won't add much to your weight. It can be used in place of white bread for all the dishes that one plans to make. You must opt for brown bread if you are planning to ditch maida, as it is anyway a better option.
Don't Miss: Adopt A Healthy Lifestyle By Eating Wholesome Alternatives Of Your Favourite Junk Foods
Bad Or Good For Health? Brown bread is definitely healthier than white bread. Though it is not as healthy as multigrain but is still better compared to white bread. However, it should be consumed in moderate quantity as excess carbohydrates add up to your weight.
Multigrain Bread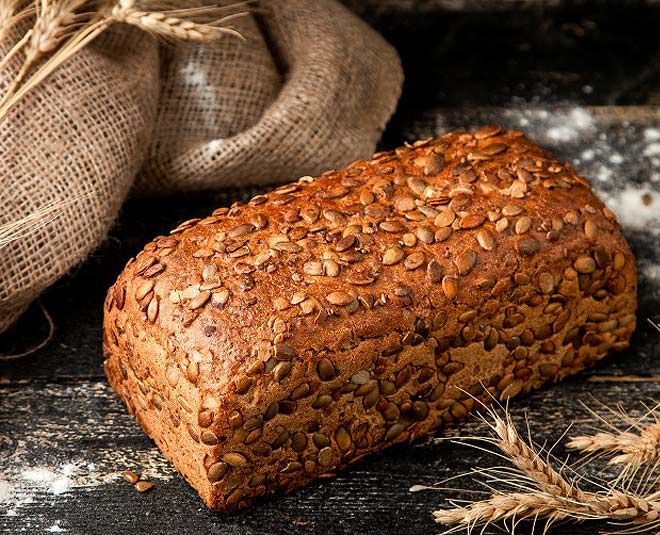 Multi-grain bread contains different types of grains and seeds along with wheat flour. It is usually not preferred by people because of its texture and distinct taste. When it comes to health, multigrain is the healthiest of all.
Nutrients: This bread is made by adding sunflower seeds, raw flax seeds, rolled oats, and barley to wheat flour, which gives the bread a coarse texture. It is high in fiber, proteins, vitamins, and minerals. Being comparatively low in fat content, multigrain is widely preferred by people on a diet.
Popularity: Multigrain bread not only keeps you full for long but also gives you a dose of nutrients. It can be consumed by people of all age groups and helps in keeping a check on your weight as well.
Good Or Bad For Health? Multigrain bread definitely wins the race, when it comes to healthy bread options because of the goodness of nutrients. If you wish to switch from white bread, you can first opt for brown bread and then include multigrain bread in your diet.
If you liked this information, do share your feedback with us. For more such stories, keep reading HerZindagi.