We all have brinjal as a vegetable. Even if we do not like it, our mothers would make sure we finished it all in our plates because of its nutritional value. But did you know that the juice of brinjal as well is extremely good for us and can help deal with many health uses?! It can also be counted in when we speak of weight maintenance. Here is a list of reasons why we must have it.
Heart Patients
Brinjals or eggplants are extremely rich in vitamin C, B6, fiber, potassium and phytonutrients. These elements are important for our hearts. Baingan also helps in reducing strokes and heart attacks due to the number of flavonoids present in it.
Cholesterol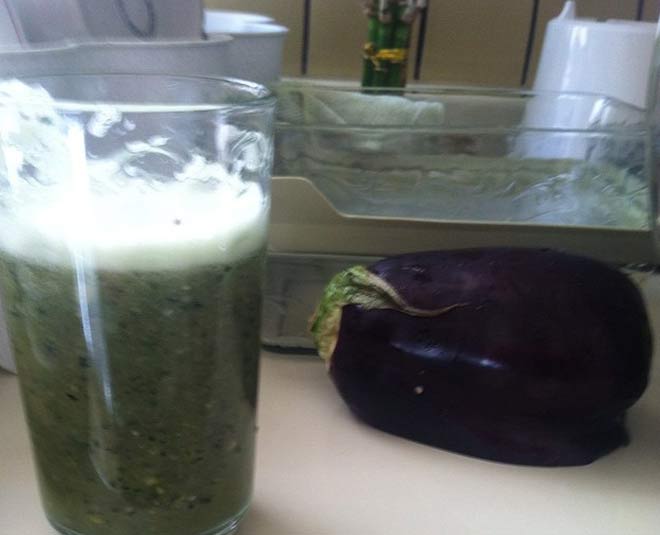 Brinjal is great for lowering cholesterol level in our blood. The juice of brinjal leaves is said to be excellent for that purpose.
Diabetes
Control blood sugar levels with some brinjals in your life. It has a lot of fiber which helps in the process. This includes soluble carbs. If you are diabetic then brinjal juice can be had every day.
Blood Pressure
The perfect amount of potassium in brinjal can be excellent for those with high blood pressure. It is recommended to have potassium-rich diets to control blood pressure. Therefore this drink must be had regularly.
Don't Miss: Have Bhindi Water For Weight Loss, To Treat Sore Throat & More
Obesity
Baingan is said to be great for accelerating metabolism and burning body fat. It helps in reducing weight by just having 1 cup of juice daily. The presence of fiber makes you feel full. If you want to lose weight then this juice is the best. It also has saponin which prevents fat absorption.
Having this vegetable is good for all. However, before making it a regular part of your diet, it is best to consult your doctor.
Stay tuned to HerZindagi for more on healthy juices.