Best Cold Getaways In India For This Winter Season
If you love travelling to cold regions of India for a lovely getaway then this list is just the one for you!
The winter seasons are upon us which can mean only one thing; grabbing a soft blanket and settling in with your favourite novel with a cup coffee or tea, whichever you prefer the most. But if you are an adventurer and a bit of cold can not stop you from travelling then there are countless places you can travel off to during the winter season.
As a kid you might have been obsessed with eating cold things during winter; so is the charm of travelling to cold places during the winter season. Here we have a list of the best cold places for you to have the best winter getaway!
Gulmarg, Kashmir
Image coutesy: kashmirheliski.in
Gulmarg in Kashmir is not only absolutely beautiful but is also a paradise for skiers who enjoy skiing with a great view. This hill station is known for beauty; the snow capped mountains, the little ski resorts up the hill, the cool pleasant winter breeze. It all has its own charm and adds onto the beauty of Gulmarg.
If you love skiing the Gulmarg has a lot to offer you; the Aparwath peak of Gulmarg is one of the best skiing places in India and ski lovers from across the country and outside come here to enjoy a ski trip to this winter paradise.
Don't miss:Unique And Eco-Friendly Resorts In India For A Wonderful Experience
Auli, Uttarakhand
Image courtesy: timesofindia.indiatimes.com
If you are not that well versed with the state of Uttrakhand you might actually miss learning about Auli. Auli is one of Uttrakhand's winter wonderland with a scenery you will never forget. The path to this under wonderland is surrounded by oak trees and coniferous forests; as you slowly start getting closer to the hill station you will be able to see a beautiful white snow blanket that convers the whole region.
If you want you try you can even catch a glimpse of the stunning Mana Parbat, Mt. Nanda Devi, and Nar Parbat or you can always take a dip in the cold but sweet water of Chattrakund and if you want to touch the Himalayas you can at the at Kwani Bugyal.
Manali, Himachal Pradesh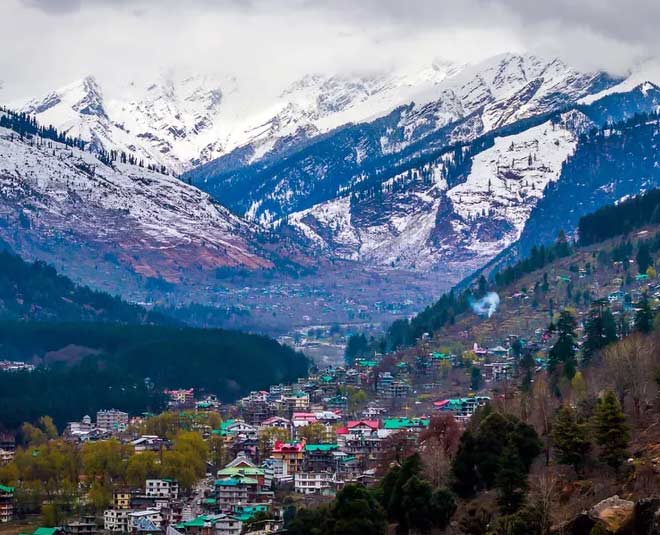 Don't miss:Best Places To Travel In India On A Budget In December
Image courtesy:tripsavvy.com
Manali of Himachal Pradesh is one of the most famous couples destination, even more so than Shimla or Nainital. This place requires no introduction given how famous it is. You can do a lot in the winter paradise from enjoying the view of its beautiful ice capped mountains, going skiing to shopping from the local market and enjoying the local Himachali cuisine.
Tawang, Arunachal Pradesh
Image courtesy: tourmyindia.com
Tawang of Arunachal Pradesh is a hidden jewel, quite a lot like a hidden secret that is kept away from the world. This place is just as beautiful as any other hill station with a rich history and culture to learn from. Tawang is a a beautiful medley of the beauty of the bountiful nature meets the magic of the winter.
If you are a nature lover and also someone who is interested in history and culture then Tawang of Arunachal Pradesh is the one for you. From the beauty of the Nuranang waterfalls to the tranquility of the Sela Pass and the rich heritage of Tawang Monastery; you are sure to find peace in this safe haven of Tawang.
Nainital, Uttarakhand
Image courtesy: insider.in
Nainital, also known as the Lake District of Uttrakhand is known for its tranquil scenery and beautiful lakes. If you want a simple trip with a peaceful and serene scenery then Nainital is the best place for you. The place has some of the best hill top resorts for you to relax in and enjoy the ambiance.
If you want to go out sightseeing then this place can offer you a wide variety of places you can visit. from its peaceful Naini lake to the snow capped Himalayan ranges; you have a wide range of sightseeing places to go to and you can even go on a boat ride or to the recent attraction of the city; the Eco cave which would definitely be a fun place to go with kids or friends.
For more travel ideas stay tuned to HerZindagi.