Who doesn't want to experience the luxury our Kings and Queens enjoyed especially in earlier centuries when they were the only millionaires around in India. Royalty has always been a magnet when we speak of having the best of everything be it their lifestyle, their homes, food and especially the amazing artefacts they possessed. One such famous person was the Nizam of Hyderabad who is well known for the jewellery collection he had which is opened to the public just once every 4 years. If his artefacts and jewellery collection is so mesmerising, imagine what his home would look like. Well, you can experience it even today but at a price. House of the Nizam, Taj Falaknuma Palace in Hyderabad India has now been turned into a heritage hotel and happens to be amongst the most expensive hotels in the world.
This majestic palace is 5 kms away from the famous Charminar and about 11.2 kms from the airport. It boasts 40 beautiful Venetian chandeliers and is also called the Mirror of the Sky. This is just the icing of the cake. The palace which was once Nizam's abode has the world's largest dining table with a seating capacity of 101 people at a time.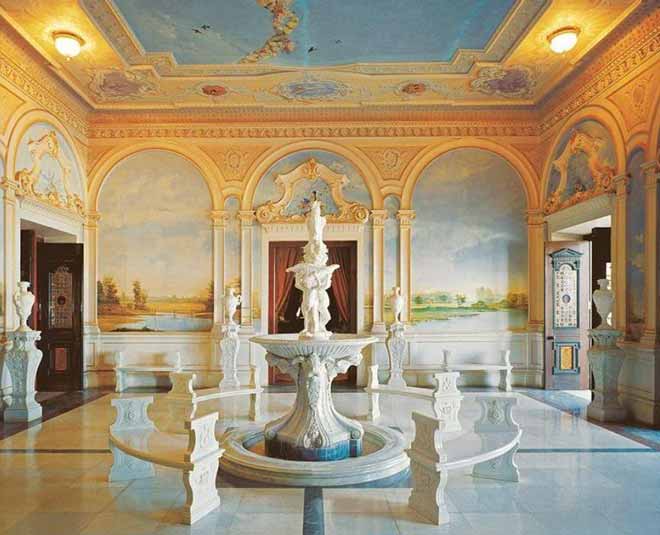 Image courtesy: agoda
According to the reviews shared by people who stayed here and the website, once you arrive, a horse-drawn carriage brings you to the palace and the palace butlers treat you like royalty. Once you enter, there is a grand staircase which was once used by the Nizam.
Don't Miss: See Pics: Grand Interior Of The Laxmi Vilas Palace, The Biggest Indian Residence, Is A Visual Treat You Can't Miss!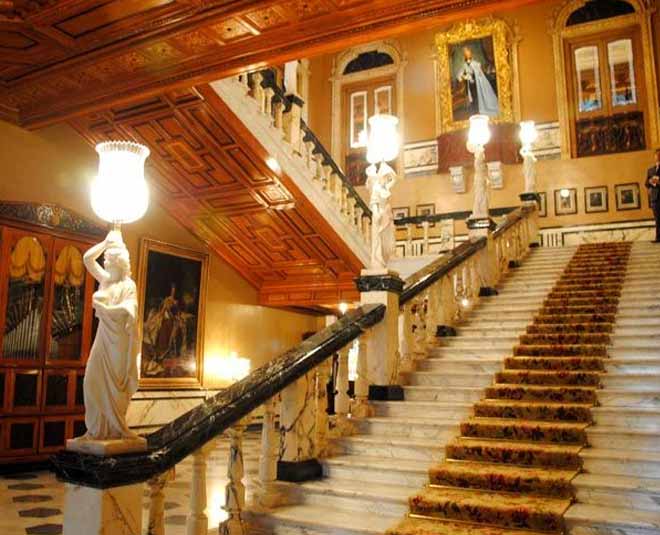 Image courtesy: curlytales
The luxury hotel is spread over 32 acres, with 60 rooms and suites which have been restored and refurbished by Her Highness Princess Esra, the Nizam's Turkish wife. Each room oversees a marvellous view of the palace courtyard and the city.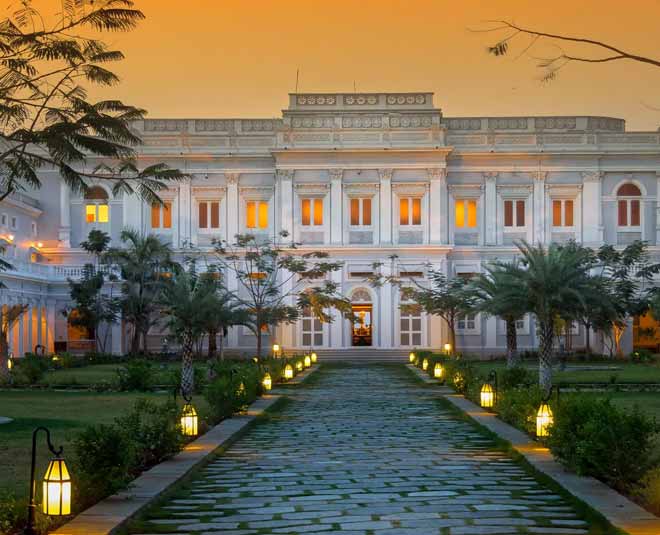 Now comes in the food experience, the unique gastronomic ride that you can experience at their restaurants. The palace has an Indian fine-dining restaurant, Adaa, and Celeste is where you can try their multi-cuisine specialities. Enjoy a lovely breakfast at Celeste & Gol Bungalow and sip on your afternoon tea on the Jade Terrace or private dinners at South East Garden & Jade Terrace. For a majestic dining experience, head to the Gol Bungalow.
Image courtesy: weddingsutra
You can even book a place here for high tea but the catch is that you have to be dressed in formals. So, don't show up in casuals as you won't be allowed to enter.
Don't Miss: Get That Nawabi Feel At These Palaces Turned Hotels In Jaipur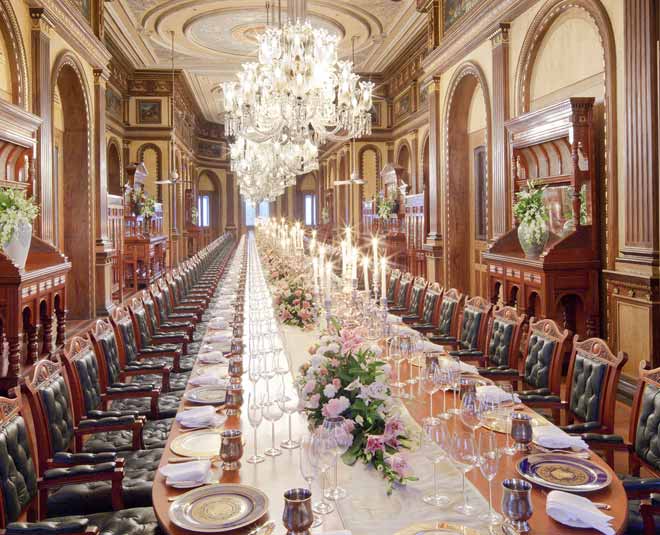 Image courtesy: curlytales
The 101-seater dining hall has assorted gardens, Belgian chandeliers, and terraces where people hold meetings as well.
The palace also has a spa which also has wellness menu that stresses on the principles of Ayurvedic cooking.
If you are staying here, you can take an additional package where they help in arranging tours to shopping, culture and art destinations. They also arrange tours of landmarks like Golconda Fort, Charminar, Mecca Masjid, the Ramoji Film City and Chowmahalla Palace. In case you are not staying at the hotel but want to check out the Nizam's palace itself and take a tour, pay Rs 3300 for an adult and Rs 2480 for each child, a fee which covers the entry tickets, tour guide, tea & snacks, A/c transport.
Taj Falaknuma is also famous for its Jade room and artefacts the Nizams collected from across the world. Now comes the charges of their rooms which begins at Rs 19,500 per night and can go upto Rs 7 lakhs for the Nizam Suite depending upon the season. The rates fluctuate a lot so be on the lookout on their website.
Celebrities like Sachin Tendulkar, Kareena Kapoor Khan and Zubin Mehta have also dined here so it is worth the experience, at least once in a lifetime.
Stay tuned to HerZindagi for more on the astounding palaces of India that have been turned into heritage hotels for tourists.