Indian maharajas and maharanis may not be on the throne today but they still got to keep their homes we call palaces. These palaces have been there for generations and today some of them have been turned into heritage hotels, giving tourists a bite of their royal life. Take a break from work, book a room at any of these luxurious palaces in Jaipur, Rajasthan, and soak in the grandeur. Agreed that these are expensive but no price is more than your mental peace, right? Scroll down and check out which 'nazaara' suits you the best!
Rambagh Palace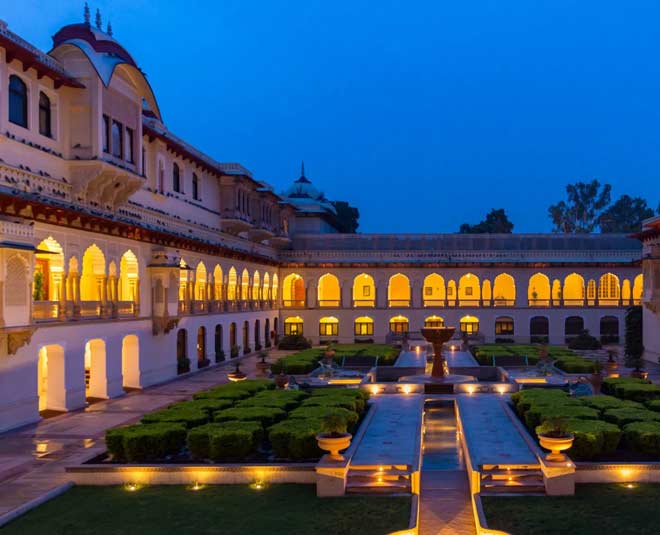 Image courtesy: travelure
Experience the Rajasthani regalness at the Rambagh Palace which dates back to the 19th-century. It was home to royals Sawai Man Singh II and Maharani Gayatri Devi. It boasts 78 intricately designed guestrooms and a vast garden which has peacocks walking around like no one's watching. The rent is almost Rs 20, 000 per night but I believe that we should experience everything once in our lifetimes.
Don't Miss: See Pics: Grand Interior Of The Laxmi Vilas Palace, The Biggest Indian Residence, Is A Visual Treat You Can't Miss!
Jai Mahal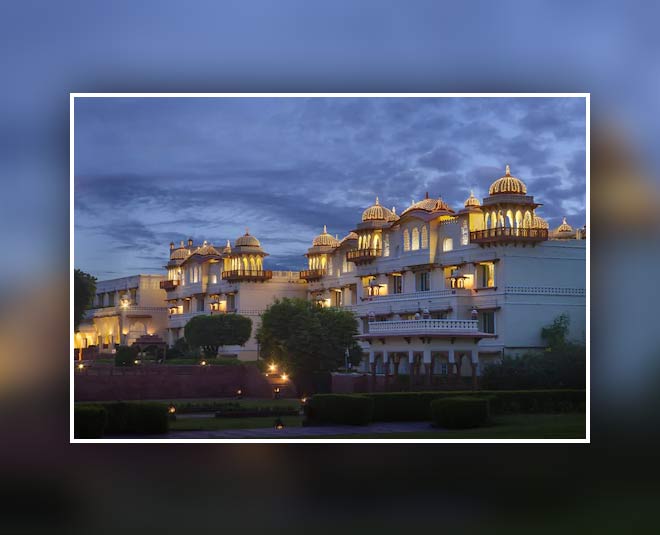 This mahal is near the main shopping center and other historical monuments. You can stay here for two-three days and also look around Jaipur. The majestic palace has a number of regal rooms, pavilions and colonnade set in the middle of 18 acres of landscaped gardens, which date back to 1745. The heritage palace has been carefully restored and refurbished so that guests can experience the royal lifestyle. Book a room here for Rs 8400 approx/ night.
Royal Heritage Haveli
Image courtesy: mrandmrssmith
This palace was built in the 18th century by Maharja Madho Singh ji of Jaipur that too as a hunting lodge. The Royal Heritage Haveli has been turned into a boutique hotel after 200 years. It is now owned by Maharaj Jai Singh of Jaipur, and managed by his niece Angelique and her husband Pradip. The grand hotel is spread over 100,000 sq ft with serene courtyards, lawns, plush interiors and their living areas are unmissable. There are fourteen suites and one apartment available for tourists. The rice per night here is somewhere between Rs 5700 to 6700.
Don't Miss: Meet The Maharani Whom Forbes Called The Most Beautiful Woman Of The Indian Kingdom Dynasty
Samode Haveli
The 175-year-old Samode Haveli is home to Samode descendants who have now converted their majestic abode into a luxury hotel. It has 50 beautiful guest rooms and some common spaces scattered around for guests who have come to loosen up after a hectic time at work. This palace is quite affordable with the rent being just Rs 5000 approximately.
City Palace
Image courtesy: travelandleisureindia
World-known figure Oprah Winfrey and the late Princess Diana have resided here at the Gudliya Suite in Rajasthan. This is a 300-year old palace which is in the middle of the city. They offer airport transfer, lavish meals and well the above pic is not even the tip of the iceberg in terms of what it looks like. You can also take a tour of this palatial property with a member of the royal staff as your guide. The proceeds from your stay go directly to the Princess Diya Kumari Foundation which is an NGO supporting rural women in Rajasthan. A huge amount that can burn a hole in your pocket for sure, a night here costs around Rs 5,69,200.
Stay tuned to HerZindagi for more such travel ideas and destinations to de-stress in life.