Pineapple is a popular tropical plant with an edible fruit indigenous to South America where It has been found for many centuries now. Hawaii has been a popular cultivator of pineapples for America it is also popular with the Philippines which accounts for nearly one-third of the world's production of pineapples. It is known to be an herbaceous perennial with a short stocky stem with tough waxy leaves.
While the flesh and juice of pineapple both have been found and are known to be useful in a number of ways in our food and beverage department from being eaten to being stirred and shaken into mocktails and cocktails from a live pineapple flambe with rum and raisin sauce to the classic pineapple upside-down cake, the Pina colada drink it has a number of health benefits and culinary uses.
Health Benefits of Pineapple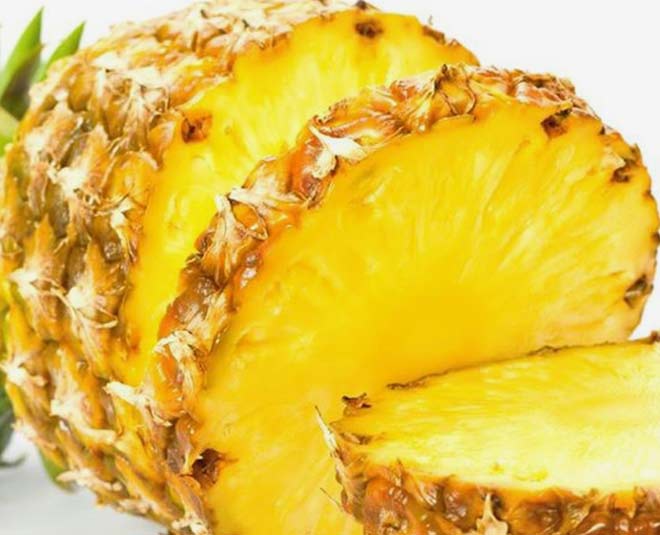 Pineapple is good for bone health and also good for the teeth and gums.
Pineapple is beneficial for the eyes and also reduces hypertension.
It is a good immunity-boosting fruit and must be included in our diets.
This fruit is also helpful to treat sinus and common cold issues.
Pineapple has anti-inflammatory benefits and also aids digestion.
Pineapple is a good source of Vitamin C and also helps with constipation issues as well.
Pineapple is helpful with gout and also promotes natural de-toxification.
It helps with high blood pressure and nausea too.
It is recommended for low-calorie diets and weight loss
Pineapple relieves morning sickness and offers glowing skin.
Culinary Uses Of Pineapple
Pineapple has been a very dear and perfect blend of sweet and sour flavor and has found its place onto a fruit salad plate since a long time now, we also use it to make health drinks, shakes, curries, subzis, smoothies and even pineapple ka jal jeera as well.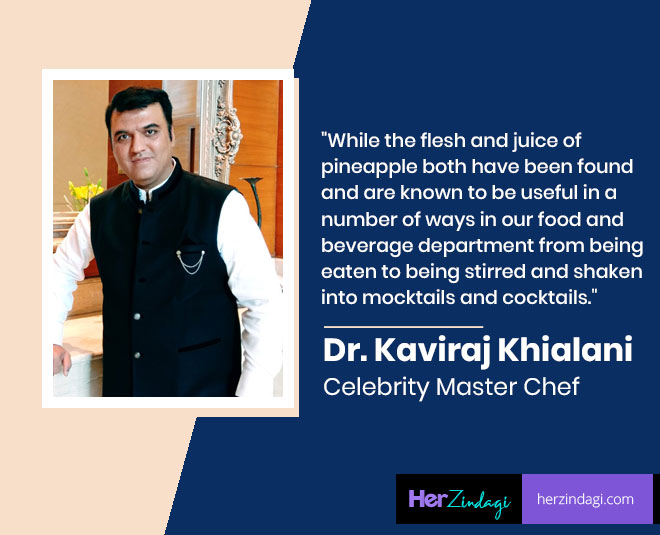 A popular ingredient when it comes to the canning and processing industry as well we have been seeing it in pineapple tins, pineapple juice, pineapple jams, marmalades and jellies as well.
Pineapple is great to go into a salsa as well to be enjoyed in various Mexican recipes like with nachos, inside tacos, with enchiladas, and burritos, it's a great filling for empanadas as well.
Don't Miss: Try Making These Refreshing Summer Cooler Recipes By Chef Kaviraj Khialani
Asian cuisines have been using pineapple in a number of ways from stir fry dishes, to grills, to barbeques, pineapple also features in a live counter cooking concept too like the teppanyaki and teriyaki from Japanese cuisine.
Breakfast pancakes to waffles, from detox drinks to chilled sorbets, from sherbets to soufflé pineapple has many forms and textures to convert itself and be a delight on our tables and shelves.
Don't Miss: Strengthen Iron In Your Body With These Iron Rich Recipes By Chef Kaviraj Khialani
Pineapple goes well into pies, puddings, tarts, cupcakes, muffins, and decorative cakes and pastries too. We usually prefer the tinned or canned varieties in bakery pastry. Caramelised pineapples as well can be used in bakery products for a better flavor and colour.
Now that you know what all pineapple can be used for, stay tuned to HerZindagi for recipes using this amazing fruit by celebrity chef Kaviraj Khialani who is based in Mumbai. He has a varied experience with airlines amd the hotel industry. He is a food designer, author, food writer, consultant, and creative cuisine specialist.