Staying healthy is everyone's ulterior motive today and it all begins with eating right and stying fit. Ditch the junk food for your own sake as immunity building is the key to avoiding COVID. Not just that, if you have different defeciencies like that of iron then it is high time you do something about it. Here are some easy and delcious iron rich recipesby Chef Kaviraj Khialani that may help out.
Prawn Exotica Delight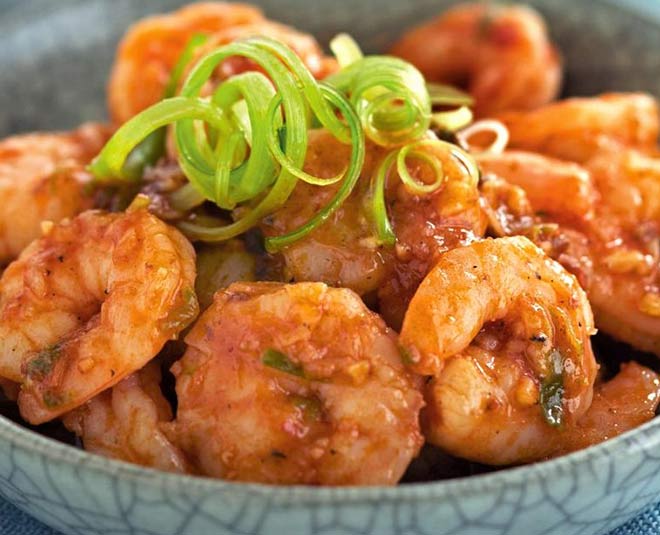 Ingredients
Prawns 12- 16 No Medium- Large Sized, Cleaned, Deveined, washed
For The Marination On The Prawns: Apply And Leave Aside For 15 Mins
Olive Oil/Oil 1 Tsp
Salt & Crushed Black Pepper To Taste
White Vinegar 1 Tsp
Mixed Herbs ½ Tsp
Chili Flakes 1/2 Tsp
Soy Sauce 1 Tsp
To Saute:
Oil 1 Tsp
Lemongrass 4-5 Pieces Cut
Shredded Ginger 1 Tsp
Slit Green Chilies 2
Chopped Spring Onions 2 Tbsp
Salt & Pepper To Taste
Tomato Ketchup 1 Tbsp
Red Chili Sauce 1 Tsp
Water ½ Cup
Spring Onion Greens 2 Tbsp, Chop For Garnish
Corn Flour Water Solution 2 Tbsp
Sesame Seeds 1 Tsp
Method
Prepare all the ingredients for the prawn exotica.
Marinate the prawns and keep aside for 15 mins.
Heat oil in a skillet/pan saute the lemon grass, ginger, chilies and onions for 15 seconds.
Add in the marinated prawns and saute on a high flame for 1 minute add little water or stock and reduce the flame and add the sauces and seasonings to taste.
Allow to cook the prawns for 6-8 minutes and add the corn flour solution to thicken it all up a little.
Finally serve hot garnish with some greens, sesame seeds, micro greens etc.
Curried Chicken Liver
Ingredients
Chicken Liver 250-300 Gms
Oil 1 Tbsp
Garlic 1 Tsp Chopped
Onion 1 Small Chopped
Slit Red Chilies 1 Tbsp
Salt & Pepper To Taste
Thai Red Curry Paste 2 Tbsp
Lemongrass/ Galangal or Ginger/ Fresh Basil Leaves As Desired
Water 2 Cups
Thick Coconut Milk 2 Cups
Tender Coconut Shreds 2 Tbsp
Corn Flour Solution 2 Tsp If Needed To Thicken
Method
Prepare the ingredients for the chicken liver recipe.
Heat oil in a pan add in the Thai elements as listed above and add in the Thai curry paste- red/green/yellow as desired and add little water.
Now add in the chicken livers and saute them well with the Thai flavours in the pan and add little water to allow the livers to cook, simmer for 10 mins. (Add some additional veggies as well of your choice)
Add in the coconut milk and continue cooking the chicken livers for another 4-5 mins, add the corn flour solution and thicken it slightly, garnish with tender coconut shreds, Thai chilies, basil leaves, roasted crushed peanuts and serve with jasmine rice/ brown rice/ brown bread etc.
Healthy Bowl Of Iron Power
Ingredients
For The Base Of The Salad:
Kale/Assorted Greens/Lettuce Varieties 2 Cups
For The Body Of The Salad:
Boiled Chicken Cubes ½ cup
Boiled Eggs 2 No Cut Into Wedges
Cooked/Boiled Chicken Liver ½ Cup
Broccoli/French Beans/ Tomatoes/Cucumbers 1 Cup Cut
For The Dressing Of The Salad:
Olive Oil 1 Tbsp
Lime Juice 2 tbsp
Fresh Orange Segments 1/4 Cup
Mustard Paste 1 Tsp
Date Puree 2 Tbsp
White Vinegar 1 Tsp
Salt & Crushed Black Pepper To Taste
Chopped Parsley 1 Tbsp
For The Garnish Of The Salad
Hemp seeds/Sunflower Seeds/Micro Greens/Raisins/Almonds 2 Tsp As Desired Can Be Used
Method
Prepare all the ingredients for the various parts of the salad.
In a presentation salad bowl or salad plate arrange the base and the body of the salad to ensure all elements are visible.
Combine together all ingredients for the dressing mix them well and keep ready, drizzle it just before serving the salad.
Garnish as desired and serve the salad chilled ideally with some toasted whole grain garlic toasts.
Don't Miss: Simple, Easy Ideas To Use Pumpkin In Our Kitchens, By Chef Kaviraj
Millet & Veggie Pulao
Ingredients
Millets 1 Cup Ideally Foxtail Variety
Carrots/Beans/Peas/Potato/Eggplant/Cauliflower 1 Cup Mix Assorted Cut Vegetables Of Your Choice Can Be Used Here
Oil/Ghee 2 Tsp
Bayleaf 2 No
Peppercorns/Cloves 3-4 No
Ginger Garlic Paste 1 Tsp
Slit Green Chilies 2 No
Chopped Onion 1 Small
Chopped Tomato 1 Medium
Salt To Taste
Turmeric Powder ½ Tsp
Coriander Powder 1 Tsp
Red Chili Powder ½ Tsp
Mint & Coriander Leaves 2 Tbsp
Roasted Crushed Peanuts
Curry Leaves 10-12
Mustard Seeds ½ Tsp
Cumin Seeds ½ Tsp
Hing 1/4 Tsp
Water As Required
Lime Juice 2 tbsp. (Add just before serving and mix well)
Don't Miss: Checkout These Healthy Methi Recipes By Celebrity Master Chef Kaviraj
Method
Clean the millets, lightly dry roast them for a minute or so and keep aside to cool.
Heat oil/ghee in a pan add in the hing and all ingredients for the tempering or tadka and allow to splutter and crackle.
Add in the ginger garlic, chilies, onions and saute well.
Now add in tomatoes and all spices, salt to taste and also add in the millets and bhunao for 1-2 minutes, add warm water double the quantity to start with first, cover and simmer allow the pulao to cook.
Stir and check if more liquid is needed for the millets to absorb and cook, add accordingly and continue cooking. Finally add in the mint and coriander, peanuts and dash of lime juice mix well and serve hot.
Dark Chocolate Fantastica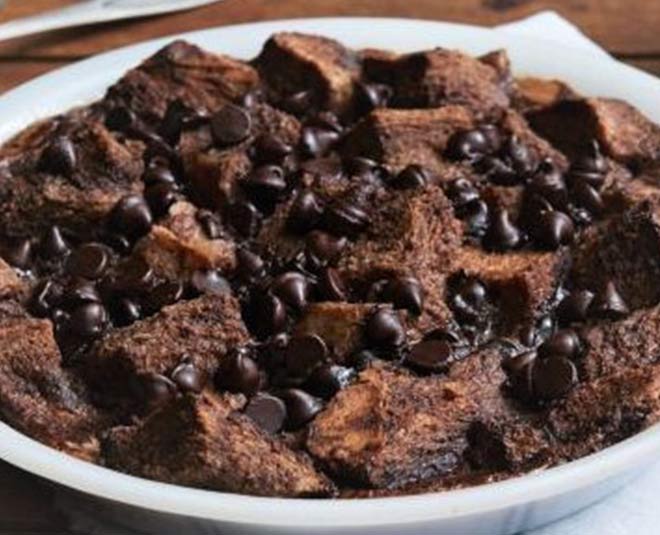 Ingredients
Unsweetened Dark Chocolate 150- 200 Gms Slab Cut Into Small Pieces
Soy Milk/ Low Fat Milk 2 Cups
Honey 1 Tbsp
Raisins 2 Tbsp
Dates 3-4 No Chopped
Brown Bread 2-3 Slices
Peanut Butter 2 Tsp
Almonds 2 Tsp Sliced
Method
Prepare all the ingredients for the warm chocolate pudding.
Grease an oven proof dish with little oil or butter and keep aside.
In a saucepan warm up the soy milk and add in the honey, raisins, dates and mix well.
Apply the peanut butter on the brown bread slices and cut into small cubes add the bread into the soy milk mixture.
Allow to cook the bread in the milk for 2 mins, add in the dark chocolate and mix well, pour the mixture into the baking dish add in the nuts and cover with a foil and bake in a pre-heated oven at 160 degrees Celsius for 20-25 mins and serve warm with a fresh fruit salad on the side.
Stay tuned to HerZindagi for more such amazing recipes by Chef Kaviraj Khialani who is a creative cuisine specialist, food designer, food writer, author and consultant, based in Mumbai. He has also mastered over 33 international cuisines and featured on various TV food shows. A recepient of several National Awards, he has been recognised globally for his valuable contribution to the Food and Hospitality Industry over the past two decades now.