Visiting Kolkata was on my checklist for a long time. So many movies showed some glimpses of the City of Joy and it intrigued me more by the day. The Durga Puja festival that takes place in Delhi is among the factors that encouraged me to save and go for a small trip. Finally, this year, I coordinated my long-pending trip to the city with the help of a dear friend. I booked a place to stay via Airbnb, just before Coronavirus ruined our lives and the lockdown happened. It was the first week of March, right before my birthday and I gifted myself this trip of 3 days and believe me, it gave me memories that will last a lifetime. I bring to you my personal account as a Non-Bengali, a typical Delhite, who fell in love with Kolkata in just 3 days. This is for all those out there who refrain from touristy-sightseeing and love to soak in the culture of new places.
The moment I landed at the Kolkata airport, it looked the same as Delhi's only smaller with Bengali people on the counters. I started gearing up for my trip, expecting the smell of fish wafting in the air (there was none). I booked a taxi which was not yellow and reached my destination which was an old house that we call "kothi" and had an entrance for tourists from its backside. I am a strong tough girl so carried my own suitcase (I pack light) but the owner of the house did send someone to help me out. For a Delhite, the staircase looked too small and the door was rather simple. However, when I entered the house, I knew I had made the right decision to not book a typical hotel.
The furniture was all wooden, seemingly straight out of the film "Parineeta". Their windows were colour stained on one side in hues of blue, magenta and a tinge of red and sunset yellow. There was a swing or "jhoola" hanging down the ceiling in a corner where I sat and was given a welcome drink (lemonade that seriously tasted like heaven as I was so tired).
Don't Miss: Love Sweets? Make This Lip Smacking Bengali Sandesh At Home Now
After a few minutes, I was guided to my room which had an entrance like those small rooms on our Delhi terrace would have. On my way, I crossed a wall full of books with loads of Tagore writings, Shakespear peering out from the topmost shelf, and some board games like chess stacked on each other on one shelf.
I was certainly judging the door to my room (typical Delhite attitude) but was ready to embrace what was written in my destiny. With a small jhola on one shoulder and the other hand holding onto the suitcase handle, I was at the moment more interested in just crashing. The helper opened the door and suddenly my heart, my senses felt so relaxed! There was an old finished wooden cupboard with a small dressing table that had drawers, on one side.
On my right was a huge king size bed and a huge cupboard above for more storage. As I entered the room, there was a cosy corner next to the dressing table which had a stained glass window, and below was a foldable sofa-cum-bed with a small table in front. It was after 15 minutes, I realised, there was a small ladder in one corner that was attached to a bunker bed above! The bathroom was small but enough for me and very clean so I was content.
After an hour or two, came my friend who had made a checklist of what all he wanted me to see in Kolkata and we set out.
The Yellow Taxi
Image courtesy: Arnab Samanta
We Delhites are so crazy about chic cars and excuse me when I say this --showing off -- that Kolkata is a contrast! We ran and caught a yellow taxi which was very roomy and it reminded me of my grandfather's ambassador, transporting me to the time when I was just 5-years-old. That is when my friend turned around and said, "be ready to soak in my city I bet you will love it". The confidence was impressive and well it turned out to be true.
Food
Image courtesy: Kishori Sud
Our first stop was a restaurant which had a cue outside but thankfully my super-obsessive-efficient friend had reserved a table for lunch. Called Bhojohori Manna, it is a famous place where all Bengalis come to satiate their cravings for typical Bengali lunch. We ordered Kosha Mangsho (mutton curry), paper-thin luchis (puri), bhetki paturi (steamed mustard fish cooked and wrapped in banana leaves) and a sweet dish, which I shall talk about next. The mutton melted in my mouth. The luchis were so thin and soft that I felt I could have 6-7 of them easily but I had to control as my friend warned me that there is more he wants me to try and that the sweet dish cannot be missed. Bhetki Paturi is something I had tried in Delhi's Bijoli Grill but this one was good as well.
The other picture you see is that of fish and chips that we had in the evening at Mrs Magpie. A pretty cafe in pink, black and teal green decor that will want you to sit and relax in your own company or with friends.
Nolen Gurer Payesh Icecream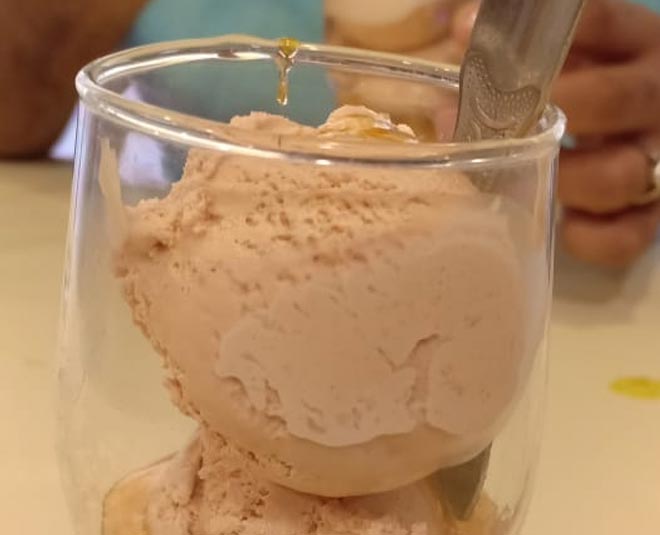 Image courtesy: Kishori Sud
I have had jaggery, jaggery curd (mishti doi) but this was a whole new level. The ice cream was two dollops of heaven which I enjoyed bit by bit. I was enjoying it so much that I forgot I had someone sitting in front of me. For the next half an hour I just walked the old-world streets while my friend took my hand to help me cross the roads I did not care about at that moment. The ice cream just melted like liquid gold in a mold.
Don't Miss: Going To Kolkata? Explore These Places Near The City As Well
British Era Bakery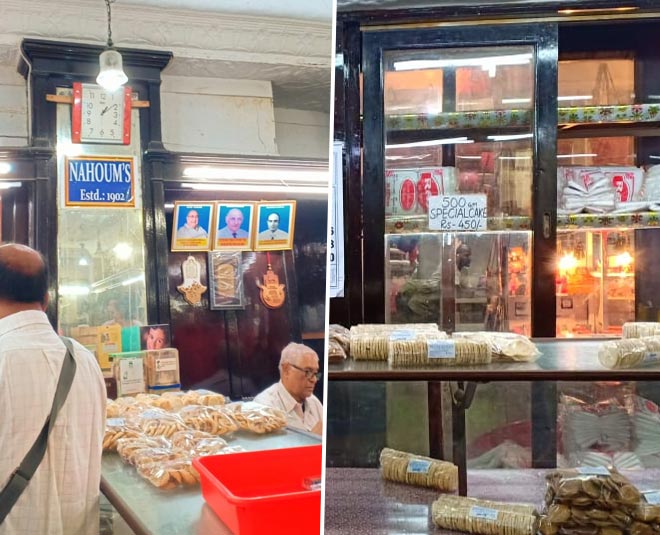 Image courtesy: Kishori Sud
Back in the yellow taxi, he took me to a really old, British Era bakery called "Nahoum's And Sons Confectioners". Full of mirrors and freshly baked batches of biscuits, cakes and loaves of bread, it was an instant love at first sight. Of course I did not understand a word the Bengalis around me said but what I did catch was that the biscuits I was looking at, had just come out of the oven so since I am not from here, the owner asked my friend to buy it for me. It was obviously written across my face that I am not from Kolkata. What they sell, melt in the mouth but be there at the bakery on time (My friend knew when they make fresh batches but he did not tell me so that I don't come without him).
Naya Bazaar
On the way back, my hair clip broke so we took the Kolkata metro to the New Market which he said has everything a girl would ever need. It did not have many people as I think we went at the time when Bengalis love their siesta but the bricks and white paint all around me and the old market on the right, made me feel like I am on some film set with a British era in India theme. There was literally everything I would need but knowing I was on a budget, I just got two clips.
The Sandesh Pink Houses
Image courtesy: Kishori Sud
On our way back from the metro, we did see some rickshaws but what I saw, kind of disturbed me as they were manually pulled by men. The one in front of me had an old man as the puller and I was definitely not going to support that. So my friend suggested that after eating so much we should walk it out as I need to make space for what he planned for my dinner. We walked down the lovely streets which look a lot like Mumbai but without flats. On my either side, were old "kothis" which were mostly in a peachish-pink, sandesh mithai hue. The window frames were teal green and some houses even had fish carvings or wooden decor near the main entrance. They gave such positive vibes that the 3 kms he made me walk were forgiven.
Don't Miss: From London To Kolkata In A Bus: Know About The World's Longest Route In 1950s
Saree Shopping
The only agenda I had on my list was heading for saree shopping. I am obsessed with sarees and a Jamdani drape is what I wanted. My friend called up his mother to ask where I should get it from and took me to Adi Dhakeswari Bastralaya which was 3-4 floors of fabrics and sarees. However, in my case, I generally just go to the shop, take a quick glance and know what I need, so just 10 minutes are enough unless I have to try them out. So we went in, I asked for a black jamdani with some golden here and there. While the salesman hunted for my particular demand, I looked around and wished I was not on a budget. Any saree lover would go crazy in that shop! All corners were arranged as per a shade and fabric card. The display was just like Nalli Silk Sarees in Delhi but the store was way bigger and had a lift so you can even get your mom along.
If this wasn't enough, we went to buy some alcohol to celebrate my pre-birthday and first Kolkata visit. Just outside, was a huge pedestrian market selling only cotton sarees! Ranging from a mere Rs 300 to Rs 1500, I frankly asked my friend to leave me there and go home if he will get bored. I bought myself three sarees from there, which I don't know the authenticity of but had some jamdani stitch work on them. Well even if they were fake, they were certainly very pretty and 3 cotton sarees for Rs 1000 is a steal!
Chai Stalls With Men Discussing Politics
While we walked around in these three days, you just can't miss small tea stalls selling hot tea in terracotta cups. Most of them had someplace to sit like 3-4 chairs, or around the trees. If you pass by them in the afternoon or early morning, men with a newspaper in their hand or a heavy discussion on politics is a common phenomenon that I feel is the essence of Kolkata. The cigarette smoke, cha and politics, is a part of their culture I actually enjoyed observing.
Princep Ghat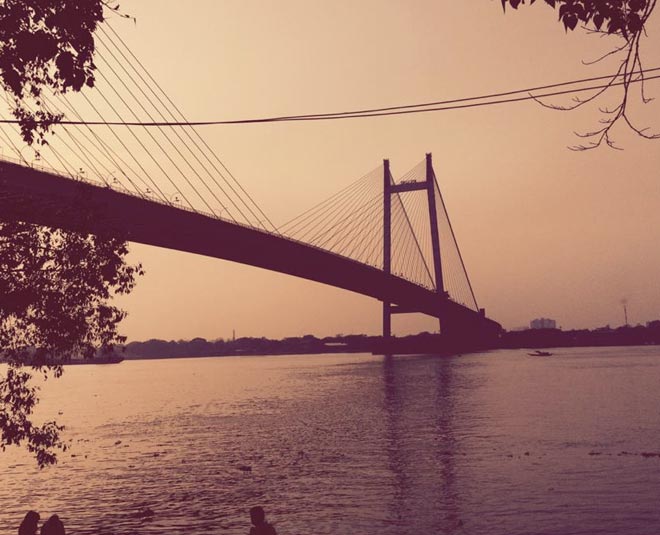 Image courtesy: Kishori Sud
I could not go to Howrah Bridge as it was very far from where I stayed and I was short on time. But, where we went the next day was equally lovely. There was a small cross junction where the train crosses over which I found really interesting (Delhite you see) and then we went over to the other side where the visitors could enjoy the scenery of the ghat. I have been to the ghats of Varanasi but they are completely different so no scope for comparison. You feel at ease here. Be a bit patient to see the sunset and your trip will be successful. Sit there for an hour and just go over the journey of life, seek the meaning of your life and you shall get an answer. The peace there is such and I am not joking. Of course, it depends on your mood and company and thankfully my friend and me were on the same page.
There was loads more to do but I had just 3 days of leave. But these 72 hours gave me memories of a lifetime I shall cherish forever. Do visit Kolkata and keep an open mind. Try not to compare Delhi or your respective metro city with it. I am sure the charm will work on you as well.
I plan on checking out Shantiniketan when COVID 19 bids us goodbye. So, stay tuned to HerZindagi for more.
Did you like this article ?
Disclaimer
Your skin and body like you are unique. While we have taken all measures to ensure that the information provided in this article and on our social media channels is credible and expert verified, we recommend you consult a doctor or your dermatologist before trying a home remedy, quick hack or exercise regime. For any feedback or complaint, reach out to us at compliant_gro@jagrannewmedia.com