We all might have seen how Instagram is flooded with makeup tutorials videos and these days there is a new trend that a lot of us have come across which is that of correcting the colours of your face with red lipstick. From actresses to influencers to might have seen a lot of people do this and it also would have got you thinking if this trend is worthwhile or not? So, talking more about colour correcting with red lipstick, here we are to give all the major insights about this popular makeup trick.
Read on and discover the complete breakdown below.
Colour Correction With Red Lipstick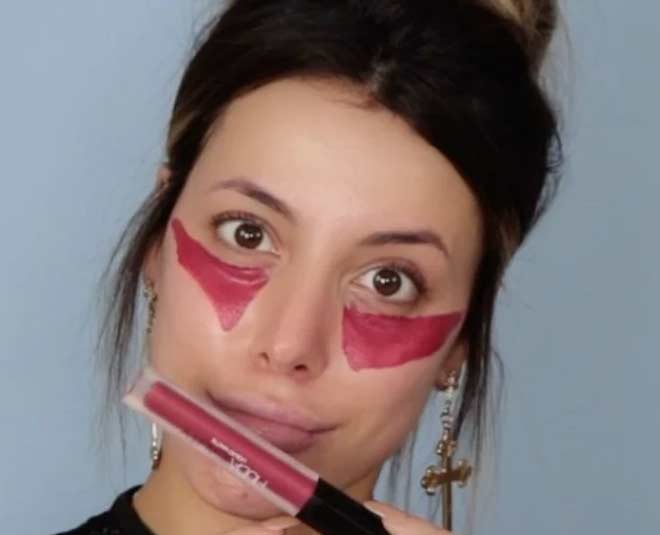 While red lipstick is no less than a magic wand, not only does it make your lips look super bold and defined, but it also works as a blush, eyeshadow and can add to the dramatic appeal of the look.
However, there is one more role this lipstick performs that is super important and that is colour correction. Red lipstick(lipstick application tips) is used for making the face neutral and helping you even out those pesky dark circles and pigmented areas.
The dark circles and other areas of the face that appear blue-purple or even yellow can be neutralised with the colour red and this when further covered with the foundation, makes the skin look naturally even and impeccable.
How To Colour Correct Your Face With Red Lipstick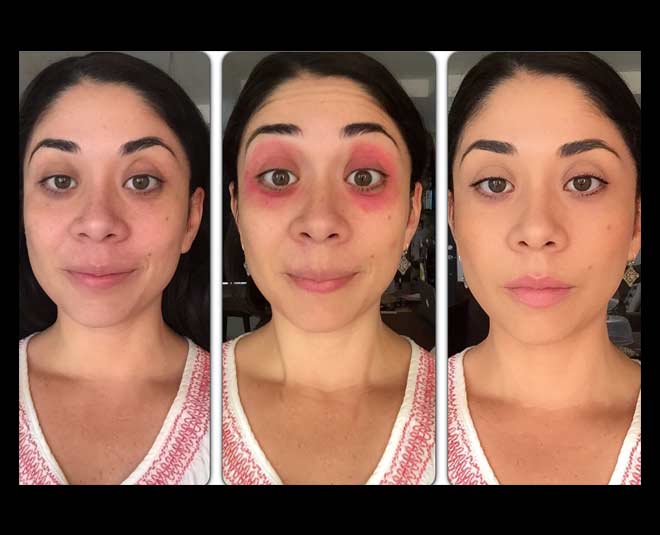 For this process, you will be needing a creamy textured red lipstick and not matte because the creamy lipstick will tend to fit your skin better.
So, let's take a look at the step by step method of colour correcting with red lipstick.
Start by washing your face and moisturising it.
Then take some primer and spread it across your face for a smooth look. Now apply the foundation like you usually do and blend it in with a blender.
Next, take your lipstick and apply it under the eyes in 4-5 small vertical lines.
Make sure you use the right shade of red as per your own skin tone. For lighter skin tones use lighter or pinkish shades and for darker ones use darker shades.
After applying the lipstick under the eyes, apply it over the dark regions of your face and then using a beauty blender, blend it all in the skin nicely.
Once done, apply your concealer over the same areas. Blend again with a different blender and make sure your red colour gets under the concealer.
Finally, go over the face with some translucent loose powder and voila your face will be even-toned and perfect now.
Then after this proceed with your eye makeup, blush, highlighter and other steps to round up your makeup look.
Do Red Lipsticks Really Work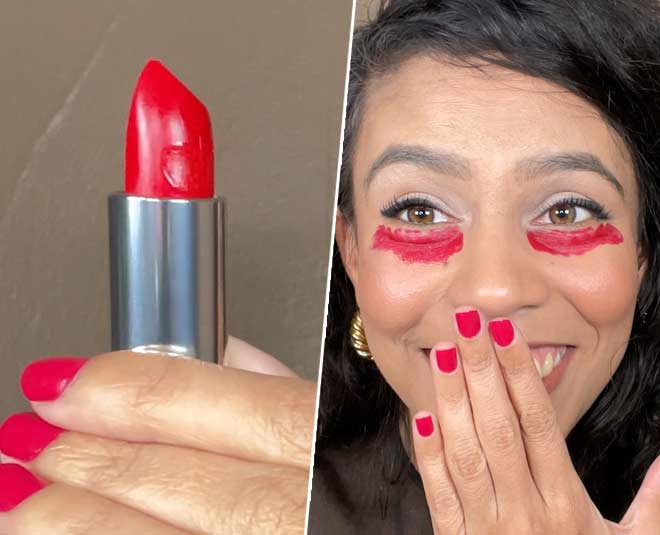 Since lipstick are primarily made for your lips we think it should be used for them only. However, as a part of a hack red lipstick can be used for colour correcting but not like a pro tool. Red lipsticks do not stay for a very long time under the concealer and end up giving a flushed look in the end. That is might you might use red lipsticks on a temporary basis but can't really on in for complete colour coverage. Thus you should only go for good colour correctors for this process.
Don't miss: From Yellow To Purple, Know The Uses Of Different Colour Correcting Concealers
If you too have been willing to try this trend then go ahead and do so, but also remember the red lipstick won't last as long as a good colour corrector. For more such articles, stay tuned to Her Zindagi.