You might be wondering what those different colour concealers are for. Well like all concealers, these concealers also cover the imperfections on your face and skin but there is more to them. Colour correctors are not just for concealing they are actually for correcting the colour or the skin tone to make your face look even without any blemishes. These colour correctors are therefore one of the most important aspects of makeup. And while we all are no pros at doing makeup let us try to understand what colour correcting actually is and how you can go about it.
So, without much ado just read on.
What Is Colour Correcting Makeup?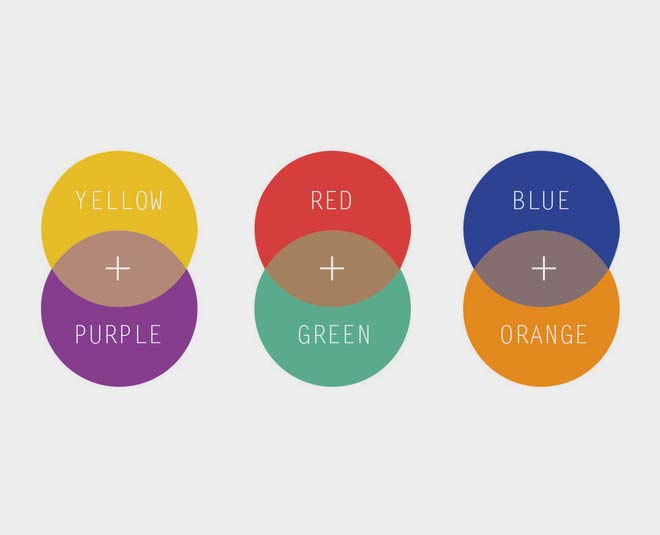 Colour correcting is a method of using skin complementing colours to help you get rid of skin discolouration. The colours used are directly opposite to the colours of the skin spectrum. The colours that are generally used are green, lavender, yellow and a few other coral shades. These concealers are primarily made to target blemishes, redness, under-eye discolouration, pigmentation around the mouth, dullness, dark spots, scars, acne and bruises. Take a look at this guide to understand which colour is used when.
When To Use Which Colour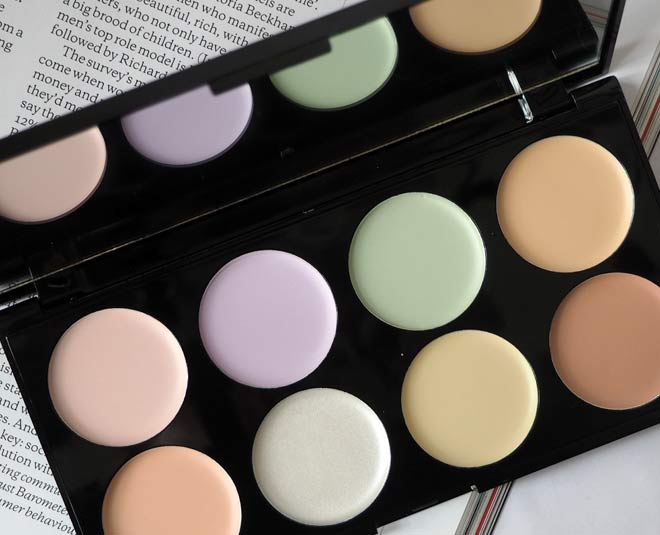 Understanding which colour to use when is one very important part of colour correction. Because unless you are sure if the right shades for your skin problems you might end up messing them up. So, here's a basic thumb rule. We generally use lighter shades for fairer skin and deeper shades for darker skin tones.
To understand it more precisely, take a look at this:
Peach/Orange Colour Correctors: Peaches and oranges balance out the blue tones well. For example, the purple under the eyes (cure dark circles with these foods)or the veins showing through.
Green Colour Correctors: Greens hit the redness on your skin and is very commonly used for sunburns, acne, broken capillaries or the redness due to rosacea.
Purple/Lavender Colour Correctors: Lavender shades are generally used to even out the yellowness or the paleness on the face. The dullness and sallowness on the skin can very well be tackled by using a purple colour corrector.
Yellow Colour Corrector: Again, in case you need to balance out the purple areas of your skin such as bruises or general discolouration then you should use the purple colour corrector.
The Need For Colour Correcting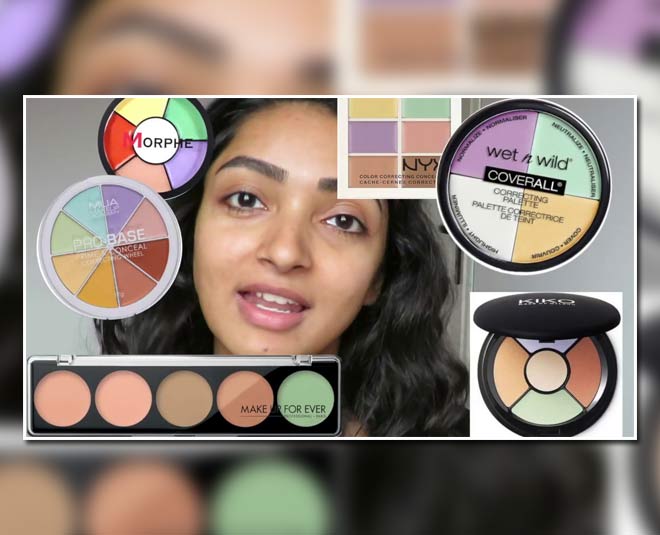 The need for colour correction arises when you want absolutely profession and flawless makeup. One doesn't understand that colour correcting too, plays and important part in balancing out the odds on your facial skin and making it more even. What people think is that finding the right foundation and concealer pair is going to enough. Well, in a way it is complete and you might not need to colour correct on a regular basis, but covering up those imperfections(Five ways of using concealers), make the skin look even more beautiful and smooth.
Colour correcting is one aspect of makeup that professionals and makeup artists never forget. Because the fine lines, dullness and other serious issues such as acne scars, pigmentation etc. Look very unattractive on your face and dull out the shine of your otherwise beautiful makeup.
Don't miss: Best Makeup Setting Powders To Buy In India Under Rs.500/-
If you liked reading this article then stay tuned to Her Zindagi for more such pieces.