Priyanka Chopra has many feathers in her hat including businesswoman, model and now a global star. She is especially known for her acting prowess, and for being drop-dead gorgeous. During red carpets, Priyanka make heads turn with her uber-chic style and poise.
Besides PeeCee's couture, we are also a huge admirer of her hairdos. Over the years, the actor's hair game has completely changed. She has tried it all, from fringes to long straight hair. Even while juggling between so many trends, she never failed to inspire us with unique hairdos. We hunted down the three most amazing ones among them and decided to give a quick tutorial to you. Check it out!
Edgy Side French Braid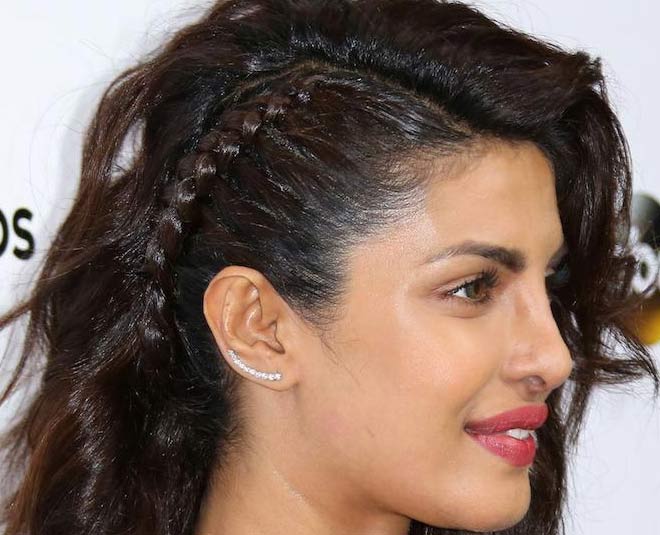 Who says you can look ace various kinds of looks with short hair! Priyanka Chopra proved everyone wrong by exuding glamour in this amazing edgy side braid. Here's how to achieve this look:
Steps
Begin by detangling your hair. Make a side parting and bring most of the hair strands to the left.
Keeps it out of the way to make the French braid on the other side.
Pick a chunk of hair from the temple of your forehead and separate it from the rest of the hair.
Then part that section into two pieces.
Start braiding by crisscrossing both the pieces.
Add hair strands from the outside to both the sections and crisscross again.
Repeat these same steps all the way down to your ear. Once done, gather the hair and secure with a hair tie.
Lastly, make soft curls using a thong to complete the look.
Princess Side Braid

While Priyanka carried this hairdo with western attire, you can try this anything and everything you like. This princess braid is a versatile piece that will make you stand out no matter what.
Steps
Start by combing your hair well to remove any knots.
Make a middle parting and leave chunks of hair strands on both sides.
Once done, bring the remaining hair back to make a simple ponytail.
Use a lose elastic band to tie the hair, as you will be removing it to make the braid.
Curl hair strands on both sides to achieve that fuller look.
After finishing focus on your braid.
Remove the hair tie and divide the hair into two sections.
Cross both sections to make the first stitch and then keep adding more hair with each crossover.
Continue braiding until you are just left with one-inch hair towards the end.
Secure with a hair tie and pull the strands gently to give it more volume.
Bubble Braid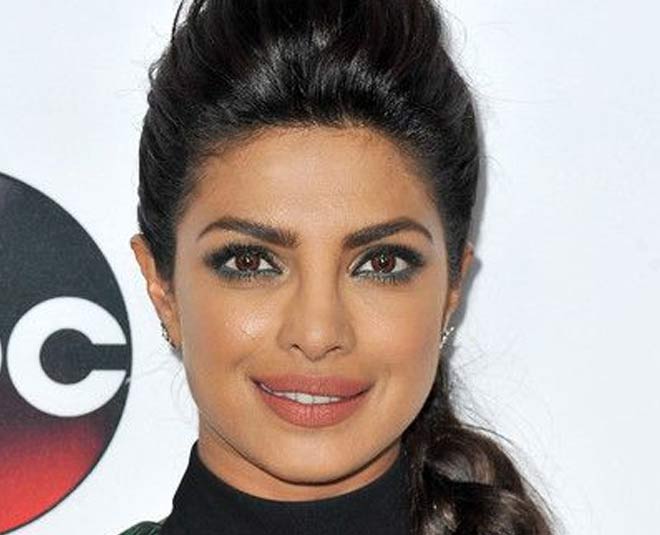 There was a time when the actress was spotted carrying hair puff like a queen. This hairstyle is high-fashion that we absolutely love. To recreate Priyanka Chopra's bubble braid, follow these steps:
Don't Miss: Priyanka Chopra's Favourite Indian Thing To The Number Of Heels She Owns, Lesser Known Things About The Global Star
Steps
Detangle (how to detangle hair quickly) your hair and then use a flat iron for straightening your hair strands.
Once done, gather a section of hair by making parting from the corner of your ears.
Comb your hair to create that neat look from the front.
Push this hair section towards the front a little and secure it with a couple of bobby pins on the crown section.
Comb all the hair strands again and bring back all to make the braid.
Divide the ponytail into three sections and start braiding.
Cross the first and third strand by passing over the second one.
Then cross the first and the second strand. Keep repeating, until you reach the end.
Secure it with a hair tie and you're done!
If you liked this article, do comment on our Facebook page. Stay tuned to HerZindagi to read more such stories.