Sara Ali Khan has started to make her own identity in the film industry. She, who garnered popularity as a star kid, is now beginning to be recognised as an actress with amazing style sense and impressive sense of humour.
As she is just a couple of days away from the release of her new film, Coolie No. 1, alongside Varun Dhawan we couldn't keep calm and scrolled through her profile to check her style evolution. More than her couture, it was her fun hairdos that impressed us.
That's why we decided to give you a simple and quick tutorial to recreate Sara's three hairstyles. You can carry these to parties, get-togethers, etc, making others sit and take notes!
Twin French Braids

The actress was seen carrying this hairstyle at the beginning of her career. Not only her attire, but even the hairdo assisted her to make headlines. This classy look can be clubbed with almost all kinds of traditional wears. Here's how you can make the twin French braids:
Steps
Begin by detangling your hair all the way through.
Apply hair serum and brush it a couple of times to spread the product evenly.
Part your hair from the centre. Tie off another side to keep it from disturbing you.
Using a tail comb, take out three hair strands vertically from the temple area of the head. You have to stitch these by combing hair from the remaining hair strands.
To make the first stitch, cross first and third strands. For the second stitch, repeat the same, but this time add a 2-inch section of hair to each of the sides. Make sure the braids are tight enough.
Continue making the braid until you reach the crown section.
Once done, secure it using a clear elastic.
Repeat the same on the other side.
Lastly, take a tong and curl your hair at the end.
Voluminous High Knot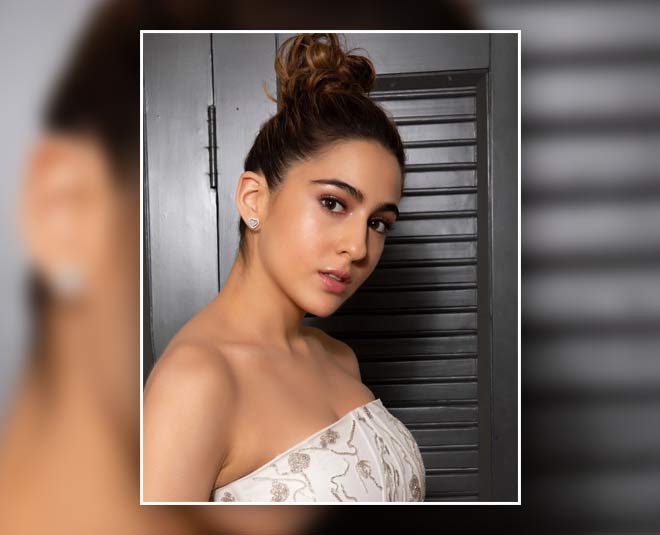 Looking for a versatile coiffure? Why not a top knot with extra volume and a lot of drama! Sara Ali Khan's knot is perfect to give the illusion on a taller body. Also, this can be paired with anything and everything you want, be it a simple sharara set or a gorgeous tuxedo set!
Steps
You need not be very neat with your moves for this hairdo.
Therefore, roughly brush your hair and apply a smoothening serum.
Then take a brown hair tie and make a high ponytail. We are using a brown tie because it is likely to camouflage better with the Indian hair colour.
Section your hair into two or more sections depending on the volume.
Using a tail comb begin teasing each section.
Once done, hold the ends of the hair and wrap around the hair tie. Do this while lightly twisting them around the elastic in opposite directions to create that messy, voluminous look.
Some of you might need bobby pins to secure the ends towards your crown.
Lastly, pull the hair sections very gently, as you don't want to pick any hair out.
Finish with a hair spray so that the hairstyle stays for a longer duration.
Don't Miss: Step-By-Step Tutorial For Shraddha Kapoor's Edgy Hairstyles
Bubble Braids

This hairstyle became a cool trend among beauty and fashion bloggers at the beginning of the year. While Sara Ali Khan has used only white hair ties, you can use different colours to create a fun and dramatic look.
Steps
Brush your hair well and apply smoothening hair serum.
Comb the hair strands again to spread the product evenly.
Divide your hair into two equal parts and brush each side again.
Begin working on the right side first. Using a tail comb, brush your hair from the temple area towards the back to create slight lift and volume.
Gently tie the first band on the nape of your neck. Leaving at least 2 to 3 inches space, tie the second band.
Keep doing the same until you're left with 2-3 inches of hair towards the end.
Repeat the same steps on the other side.
Lastly, take out one or two small hair strands from the front.
Cover your eyes (simple eye exercises) and apply the hair spray to secure the lift you created in the beginning.
If you liked this article, do comment on our Facebook page. Stay tuned to HerZindagi to read more such stories.