While getting rid of body hair is not necessary, many feel it is the better way to live a hygienic life. There are different ways one can use to remove the hair from different parts of the body. However, when it comes to hair down there, the most preferred ways are shaving or waxing.
Mostly after shaving, ladies experience that the hair follicles are growing faster and thicker, leaving them with bumps and discomfort. If you get more aggressive and keep shaving that area, again and again, you might end up damaging your skin. The easiest way to deal with bumps is to soften your hair follicles.
Use these natural ingredients and say goodbye to itchiness, irritation and discomfort!
Coconut Oil
You don't need expensive treatments and products to make your hair down there soft. All you need is a budget-friendly yet highly moisturising natural oil like coconut for relief from hair bumps.
Ingredients
2 tablespoons of coconut oil
2-3 Cotton wools
Steps
Boil water in a pan.
In another bowl, take coconut oil and place it in the pot filled with water.
Once the oil is lukewarm, take it out of the pot.
Take a cotton bowl, dip in the oil and gently apply on the skin.
Leave it so that hair follicles can become soft.
Don't forget to take shower every day and clean yourself.
Glycerin
To deal with any kind of dryness, flaky skin, or skin irritation, using water-based products are recommended. One of the best among all is glycerin which hydrates the skin the best possible way.
Ingredients
2-3 tablespoons of glycerin
Cotton wools
Steps
Begin by cleaning your skin down there with wet tissue.
Dip the cotton wool in glycerin, and apply on the skin gently.
Just dab and don't rub the wool.
Leave it overnight and clean the next morning.
Repeat every day for best results.
Shea Butter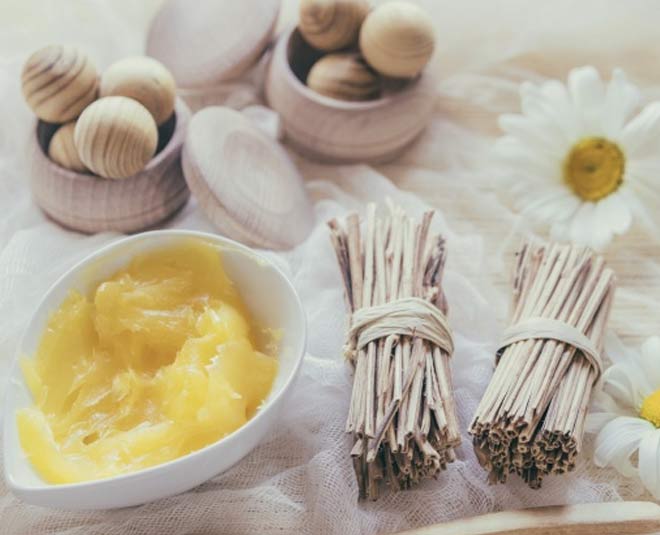 Shea butter is not just a hydrating moisturiser, but it also lightens dark skin. So, if you want double benefits, there is hardly any better element than shea butter for the hair and skin down there.
Ingredients
1-2 tablespoons shea butter
Steps
Clean your hands or sanitise them well.
Then take shea butter in your hands, rub on the tips of your finger and apply gently.
Once done, let it sit overnight, and clean the next morning.
Try this daily for the best results.
Aloe Vera
Anyone who loves to take care of their skin and hair knows that aloe vera is simply a blessing! It is one of the best nourishing and hydrating agents that takes care of skin and enhances its quality.
Ingredients
Steps
In a bowl, add aloe vera gel and break it using a spoon.
Add fragrance-free oil, and give both a good mix.
Dip cotton wool in it and apply gently.
Let it sit for 2-3 hours, then wash gently with water.
Olive Oil
Packed with various beneficial nutrients, olive is highly advantageous to make your skin smoother, softening hair follicles, etc.
Ingredients
Steps
Dip the cotton ball in the oil and apply it on the hair down there.
Let it sit overnight.
Wash the next morning.
Repeat daily for best results.
Do let us know if any of these natural ingredients worked for you by commenting on our Facebook page. Stay tuned to HerZindagi for more such stories.
Picture Courtesy: Freepik