White, dainty jasmine flowers are also popularly known as mogra in Hindi. These flowers are loved for their pleasing fragrance.
If you have a thing for flowers, you know that no other blossom can really match the delicate beauty and enchanting fragrance of mogra or jasmine flowers.
Do you know jasmine flowers are great for your skin? Not many know that these flowers can really transform the skin. They have an essential oil and some amazing properties which can benefit your skin in multiple ways.
Let's quickly take you through the benefits of jasmine flowers for your skin. Read on.
Jasmine Moisturises Skin
Jasmine has moisturising properties and this makes it a great ingredient for those with dry skin. Using mogra on your face can help you prevent dryness and skin irritation.
Jasmine Slows Down Ageing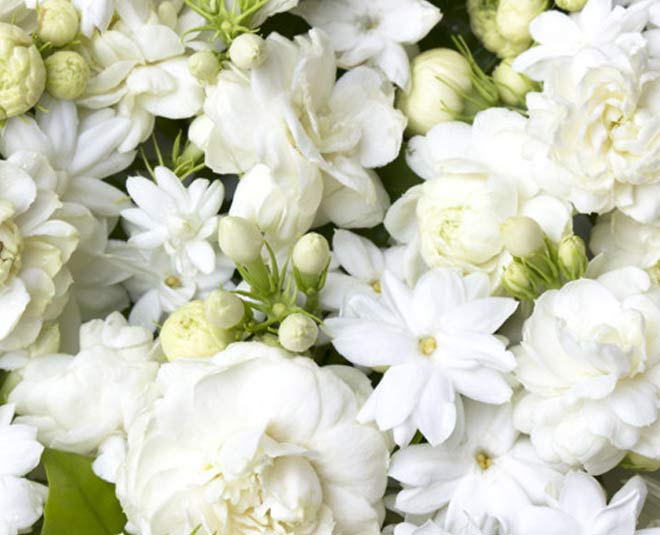 Image Courtesy: Freepik
Do you know jasmine flower is used in the preparation of many anti-ageing products? That's because it enhances the production of collagen which increases skin elasticity and prevents the appearance of skin ageing signs like wrinkles, fine lines, dark spots among others.
Jasmine Reduces Scars And Blemishes
Those who have scars and blemishes on their face should definitely make jasmine a part of their skincare routine. The flower is loaded with natural healing properties which reduce the appearance of scars and blemishes.
Don't Miss: Want Flawless Skin? Try This Amazing Marigold Face Pack To Combat Dryness And Acne
Jasmine Helps Give You Even Skin Tone
An uneven skin tone looks a lot more dull. Using jasmine can help you get back to an even and glowing skin tone. Jasmine's magical properties help treat skin over time and boost the natural glow.
Jasmine Can Help Control Oiliness On Face
So many of us are naturally blessed with oily skin and that's one reason why we face so many skin issues. Excess sebum production in the skin gives your face a sticky and dull look. Using jasmine flower help you reduce the oiliness, especially on the T-zone without making it feel dry.
Don't Miss: Fragrance Of Champa Or Temple Flowers Has These Benefits, Explains Expert
Jasmine Can Prevent Acne
Acne breakouts are one of the most common skin issues faced by women these days. The flower has soothing ingredients that help treat acne breakouts. It also helps treat skin issues like dryness, itchiness, and irritation.
Now that you know the amazing benefits of the jasmine flower for your skin, you would want it to be a part of your beauty routine. An easy way to use mogra for skin is by turning it into a face mist. So, here we have an easy mogra face mist recipe for you.
How To Make Mogra/Jasmine Face Mist At Home?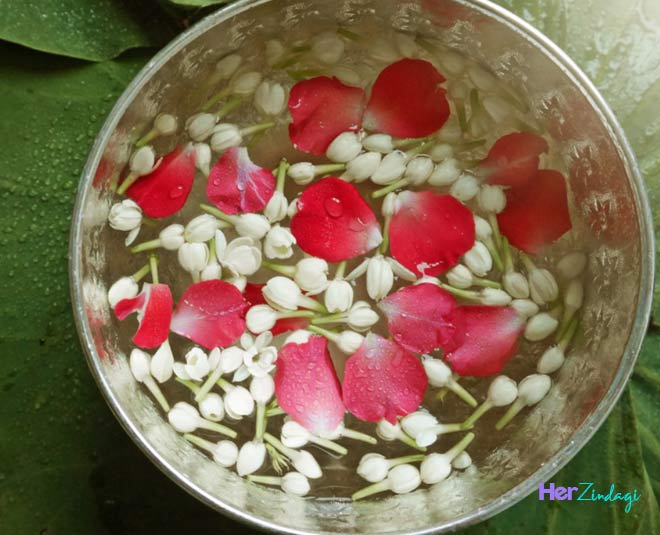 Ingredients Required
Jasmin Flowers Or Mogra
Warm Water
Aloe Vera Gel
Directions
Take a handful of mogra or jasmine flowers in a bowl and pour in warm water. Keep the bowl covered for 30 minutes.
Next, add 1-2 tbsp of aloe vera gel into the bowl. You can use fresh aloe vera gel from the plant or use the readymade one. Mix well.
Transfer this water to a spray bottle. You can also add some rose petals to this water if you like. Keep this bottle in the refrigerator for about 1-2 hours before using it. Homemade mogra or jasmine face mist is ready!
Though this face mist is completely natural should not have any side effects, make sure you do a patch test on your hand before applying it directly on your face to prevent any infections or allergies.
Do try making this face mist at home and share your experience with us on our Facebook page. For more such stories, stay tuned!