A lot of celebrities turned skincare aficionados during this lockdown period. One among them was Kirti Kulhari. The actress enjoys a huge fan following on social media and keeps posting a lot of skincare related content on her Instagram handle.
During this coronavirus lockdown, Kirti Kulhari shared a lot of useful videos on her Insta account. Recently, she posted an Instagram story where she shared the recipe of a homemade body scrub.
3 Ingredient Homemade Body Scrub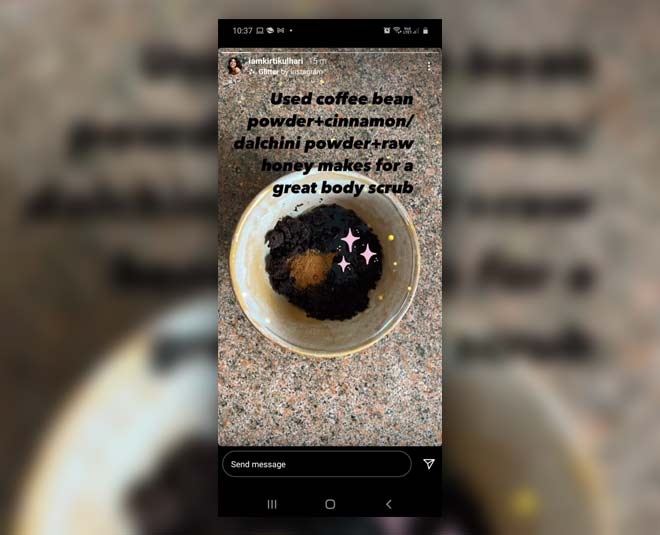 Ingredients Required:
Coffee Bean Powder
Cinnamon/ Dalchini Powder
Raw Honey
Directions:
In a bowl, add equal quantities of coffee powder, cinnamon powder, and honey. Using a spoon, mix all the ingredients. Your homemade coffee scrub is ready!
A body scrub basically works like an exfoliator which removes the dead skin cells and cleanses the skin. This homemade body scrub recipe shared by actor Kirit Kulhari can be prepared using natural ingredients that don't harm the skin and work for real.
It is best to go for a homemade body scrub as many scrubs available in the market are usually packed with harmful chemicals that may damage your skin in the long run. Natural ingredients like coffee, cinnamon, and honey have amazing benefits for the skin and they usually don't have any side effects. If you have sensitive skin, you should do a patch test on your hand.
If you have not yet made body scrubs a part of your beauty routine then you should already. Read on to know its amazing benefits.
Benefits Of Using Body Scrub
Removes Dead Skin Cells
Our skin gets exposed to dust, dirt, and pollutants everyday and they keep getting accumulated. This makes our skin look dull and dry. It is essential to remove all these layers formed on the skin from time to time and the best way is by using a body scrub. A body scrub exfoliates your skin and clears all the layers of dirt, making your skin look fresh and glowing.
Increases Skin Hydration
Do you know, using a scrub on your body can help your skin absorb the moisturiser better? Moisturising your skin after scrubbing makes the skin feel softer. Following these two steps will help you make your skin feel more smooth and hydrated.
Don't Miss: Follow Kirti Kulhari's 3 Step Skincare Routine To Get A Glowing Skin Like Her
Make Your Skin Even Toned
A lot of us suffer from skin issues like tanning, pigmentation. Using a body scrub helps in treating any such issues. It clears the dead skin which makes the skin appear dull.
Clears Skin
Body scrubs not just cleanse your skin but also keeps it healthy. Scrubs help in clearing the dead skin cells which accumulate on the body with time. Also, it clears the clogged pores of the skin which lead to body acne and blemishes.
Don't Miss: Bid Adieu To Dead Skin With These Simple Homemade Scrubs
Reduces Stress
Going for a body scrub is the easiest way to relax and reduce stress. Body scrubs relax and refresh the skin, something that we all need once in a while. It relaxes your body and mind.
How To Use A Body Scrub?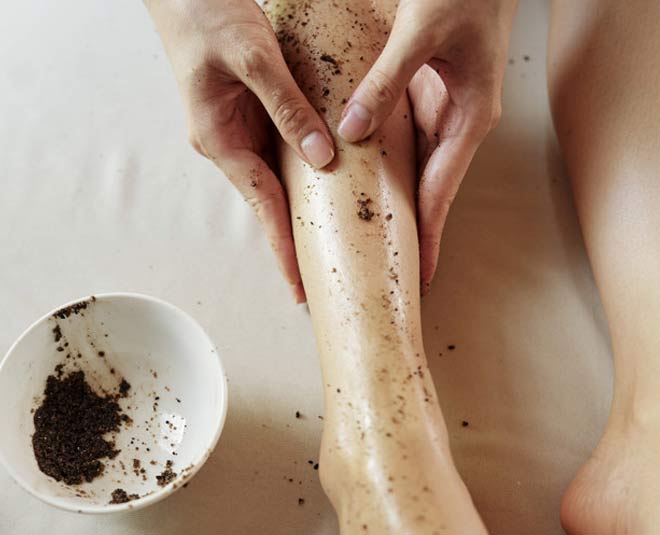 Make sure your skin is wet when you apply the scrub on it. Take the scrub on your hands and gently massage it on your body. Keep moving your fingers in a circular motion. Make sure you don't overdo it or be very harsh on the skin or you can end up hurting yourself.
Now that you know how amazing a body scrub can be for your skin, you must make it a part of your beauty routine. You can go for a body scrub once or twice a week. Do try and share the results with us. For more such stories, stay tuned!