What's the first thing you want to do after taking off your face mask? Wash your face! Its been a while since the face mask became an essential, all thanks to the pandemic. However, along with providing that layer of protection, face masks also bring along a lot of irritation and breakouts for our skin.
Recently, I was introduced to this skin relief ultra-calm face cleanser by Kaya Youth. Read on for a detailed review of the product.
Claims
Soothes skin Irritation caused by Face Masks
Ultra Mild formulation that is kind to your skin & maintains pH Balance
Removes sweat & oil buildup from face & controls acne breakouts
Washes away 99.9% germs from face
Contains Super soothing Allantoin & Cica Extracts, Safe Certified, Contains No SLS / Parabens
Crafted by Dermatologists & suitable for all skin types including sensitive skin
Key Ingredients
Allantoin
Cica extracts or tiger grass
Price
Rs. 249 For 95 ML
Packaging
The face cleanser comes in a sturdy plastic bottle with a pump which makes the use easy.
Don't Miss: HZ Tried & Tested: Review Of Cetaphil Oily Skin Cleanser For Acne And Pimple Prone Skin
Texture/Fragrance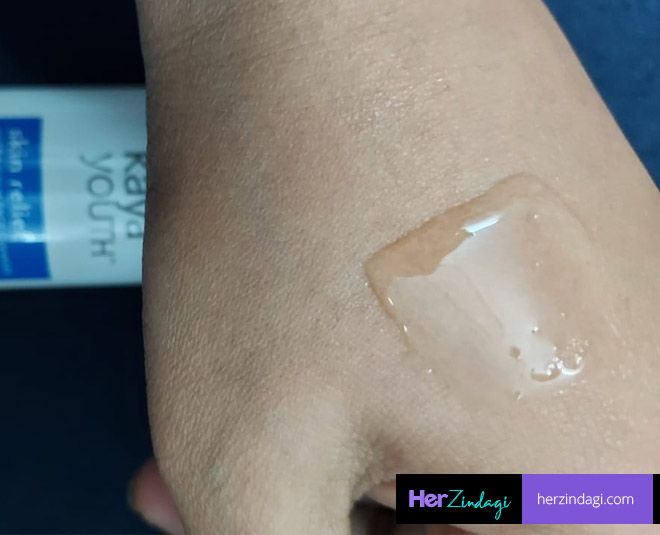 The texture of this face cleanser is gel-like and a little quantity of it goes a long way. The fragrance is light and calming which stays on for a long time.
How To Use?
I gently massaged a coin size amount of face cleanser on my wet face and then rinsed it off.
Don't Miss: Find Out The Benefits Of Reusable Masks, & Clarify All Myths That You Thought Were True
My Experience
Everytime I removed my face mask, I felt irritation on my skin. The only thing I felt like doing after removing the mask was to wash my face quickly. You know the struggle when you have to keep wearing and removing the face mask from time to time. This makes your skin feel more irritated and dry. Also, a lot of us face skin issues like acne breakouts and rashes after wearing the face mask for a long duration.
The best thing about using this face cleanser is that it is soap-free which makes it extremely gentle on the skin and doesn't damage it if I use it often. Also, I like the light fragrance of the cleanser which stays for long, my skin feels fresh and smooth.
This isn't like your regular face cleanser so do remember that it won't lather the way regular ones do. This face cleanser is soap-free and works gently on your skin to cleanse off the oil and dirt. A little quantity of the product is enough to wash your face.
Pros
Works for my sensitive skin
Washes away oil and dirt
Ultra mild
Soap-free
Paraben-free
Restores skin's pH balance
Gentle on the skin
Leaves skin moisturised
Light, calming fragrance
Crafted for both men and women
Cons
Verdict
Just like our face mask, a mild cleanser like this one is the need of the hour. This one is a must-try. You won't regret buying this one. It works for all skin types and isn't too heavy on the pocket too.
Ratings
5/5