Our favourite Bollywood divas are indulging in a lot of self-care and thanks to social media that we are getting a sneak peek into their skincare routines! Kareena Kapoor Khan AKA Bebo made the homemade mask trend like anything with her recent posts. We recently shared with you her secret face mask recipe. Well, let's also tell you that it isn't the only face mask she is using to pamper her skin. Kareena's sister Karisma too took to her social media recently and shared that the Kapoor sisters are using matcha face masks. Sharing a picture with sister Bebo on her Insta handle, she wrote, "Packing and Pouting together. This Matcha Mask was so good!!."
All this while we have been wondering the secret to the glowing, spotless skin of the Kapoor sisters, and it is finally out! Scroll down to know the amazing benefits of using it.
Matcha Green Tea
For those who don't know matcha is a green tea which isn't like your regular green tea. It is prepared through an altogether different process. The matcha leaves are protected from the sunlight to increase the level of their amino acids and then turned into a fine powder.
Don't Miss:
Benefits Of Using Matcha Green Tea On Face
Reduce Pigmentation, Dark Spots
Matcha green tea is packed with antioxidants which are great for your skin. These antioxidants fight the free radicals in your skin and prevent your skin cells from damage. Applying matcha green tea on your skin helps in reducing pigmentation, dark spots, and fine lines too.
Minimizes Size Of Pores
Big pores on the face are a common problem we all face and using matcha green tea helps in minimising the size of the pores.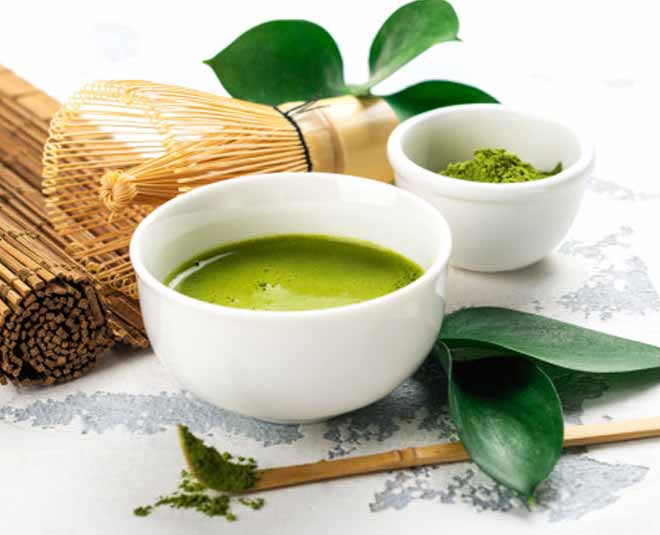 Skin Looks Younger
Applying matcha green tea helps in removing all the toxins and further helps in increasing skin elasticity. This makes your face look young.
Makes Your Skin Glow
Matcha green tea has anti-inflammatory properties which help in soothing your skin and make it look bright and beautiful. It rejuvenates your skin and makes your skin glow.
Don't Miss: Kareena Kapoor's 4 Ingredient Face Pack Recipe Is What You Need For Glowing, Spotless Skin Like Her
Reduces Puffiness On Face
Matcha has vitamin K which helps in reducing puffiness from your face. It also helps in reducing skin inflammation.
Good For Acne Prone Skin
It is a great ingredient for acne-prone skin as it has anti-bacterial and antibiotic properties.
Don't Miss: Karisma Kapoor Uses This One Makeup Product That Will Up Your Beauty Game In Seconds
Matcha Green Tea Face Mask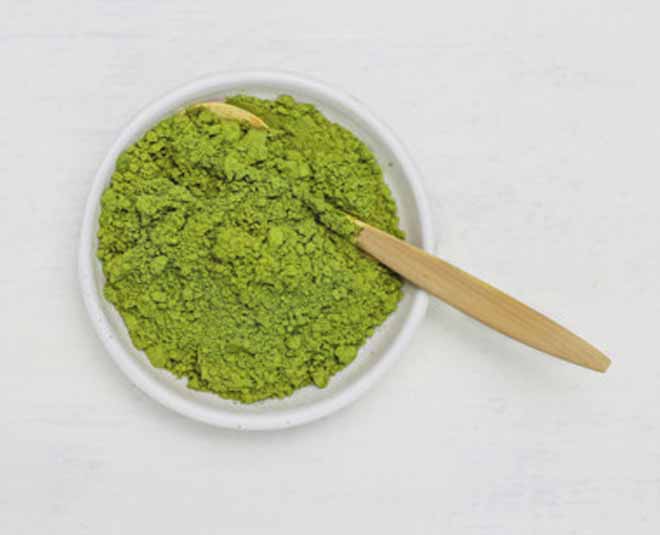 We don't the secret recipe of Kareena Kapoor and Karisma Kapoor's matcha mask yet but we can definitely try making it a part of our beauty routine.
You can mix matcha powder with honey and avocado. Honey and avocado work as moisturising agents and give your skin a healthy glow. Mix all the 3 ingredients to make a smooth paste and apply all over your face and neck. You can scrub the mask on your face in circular movements before washing it off.
If you have oily or acne-prone skin, you can mix matcha tea with aloe vera and turmeric to make a mask. Mix well to make a face mask. Apply and wash after it dries.
Also, let us tell you that Soha Ali Khan too uses the same face mask. The Khans and Kapoors are indeed pampering their skin during this quarantine period. What are you doing to pamper your skin? Share with us!s For more on celebrity beauty secrets, stay tuned to HerZindagi.com