Jawed Habib Tips: Learn From Expert How To Prevent Hair Frizz After Shower
If your hair is getting more frizzy after shower then these easy hair care tips by hair expert Jawed Habib will help you.
One of the most common problems that people face during the winter is their hair becoming frizzy. Our hair loses a lot of moisture, and washing it with hot water might actually make it worse. Even after using multiple hair products, it is usual for it to remain this way.
In the winter season, the use of hot water combined with a lack of moisture in the air worsens the problem and therefore to deal with this, some modifications to our normal hair care routine becomes required.
We spoke with hair expert Jawed Habib about the issue which a lot of women are facing, and he gave us some special tips for controlling such frizzy hair to some extent. However it is important to note that people with dry scalps and curly or wavy hair are more prone to this problem, so you'll need to make some adjustments to your winter and summer hair care routines.
The hair expert Jawed Habib, recommends the following hair care measures to prevent hair frizz after showering:
1. Use Wide Tooth Comb
You have to use a wide tooth comb to avoid damage to your hair. Wide tooth combs can detangle hair easily while avoiding breakage of hair.
2. Use Good Quality Serum After Shower
Using a good quality serum can work wonderfully in preventing hair frizz. You have to lock the moisture in your hair and for that you have to invest in hair care products as well. Get yourself a serum of good quality. Using it after shower will reduce the frizziness of your hair and at the same time increase the hair shine, which will give your hair a healthy look.
Don't miss: Homemade Hair Packs For Frizzy Hair
3. Use Moisturizing Shampoo And Conditioner
Winter season means not enough moisture in the hair and that's why the use of moisturizing shampoo and conditioner becomes necessary. Go for sulfate free natural shampoos for the better result on your hair. Moisturizing shampoo and conditioner helps to lock the moisture in the hair, giving your hair a good look.
You can do hair oiling or not, it is up to you, but you have to use a mild shampoo and conditioner.
4. Use Soft Towel
The use of a soft towel is important for no frizzy hair. If the towel is too rough, it will cause friction in the hair cuticles and increase hair frizziness. You have to use towels which are soft, smooth and do not create much friction. Soft cotton towels are best for this.
So, use a soft towel - it won't lift the cuticle and helps control frizzy hair after a shower.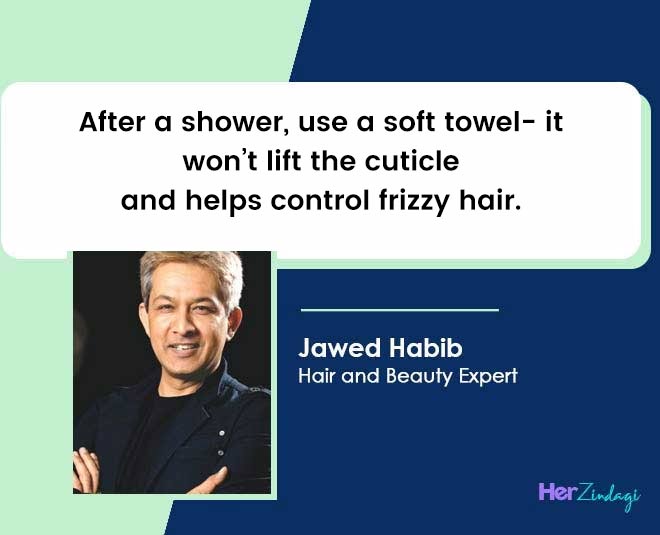 Don't miss: Everyday Tips For Curly Hair Maintenance You Definitely Need
5. Avoid Excess Heating Tools
You have to avoid using heating tools on frizzy hair as much as you can. There are other ways you can dry your hair naturally which can be used. The more tools you use, the worse the hair problem becomes.You may use medium heat tools and heat protection spray, but don't run the dryer every time.
All these hair care tips will not only prevent frizziness but they will also improve your hair quality while giving them a healthy appearance.
For more such stories by experts, stay tuned to HerZindagi!