We have all grown up hearing the amazing health benefits of neem but do you know that these green leaves are great for your skin too?
Yes, neem can work like magic for your skin. Neem is believed to have anti-microbial, anti-inflammatory properties which are all believed to great for skin. Most of our skincare products are packed with the goodness of this natural ingredient.
However, if you are someone who wants to take the natural route then we have a simple home remedy for you. You can turn neem leaves into ice cubes and then use them everyday to treat your skin issues. How does it work? Read on to know.
How To Make Neem Ice Cubes?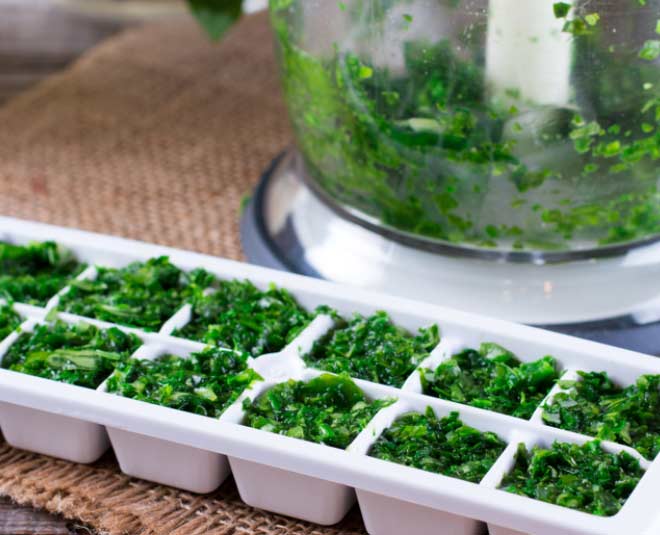 Things You Need
Neem Leaves Paste
Aloe Vera Gel
Mint Leaves
Boiling Water
Ice Tray
Directions
In a jar, pour in hot water and add neem leaves paste. You can prepare neem leaves paste by simply grinding it with some water.
Drop some chopped mint leaves into the jar.
Next, add 1 teaspoon of aloe vera gel to it. You can use fresh aloe vera gel from the plant or use the readymade one.
Mix well.
Transfer the mixture to the ice tray and freeze till the cubes are set.
How To Use Neem Ice Cubes?
Wash your face with a mild cleanser and then rub a neem ice cube all over your face. You can skip the cleanser if your skin isn't that dirty but it is important you remove any dust or impurities from your face before you try this home remedy or it won't give you good results.
Benefits Of Using Neem Ice Cubes
Reduces Appearance Of Ageing Signs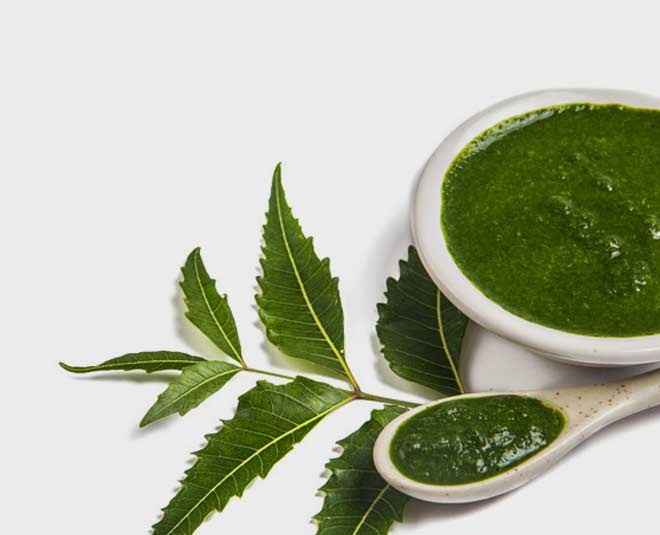 Neem leaves are believed to have anti-ageing properties. Using these neem cubes will help you reduce the appearance of ageing signs like wrinkles, fine lines, pigmentation among others.
Treats Acne
If you have acne-prone skin, these neem ice cubes will transform your skin magically. Neem has anti-bacterial properties which fight the bacteria causing acne. That's one reason why neem is commonly used in skincare products for acne-prone skin. Rubbing these ice cubes on your face will also help soothe itchiness and irritation.
Cleanses Skin
Neem has antibacterial properties which fight the bacteria on the skin which leads to skin problems like blackheads and whiteheads. These problems usually occur because you don't clean your skin well. Rubbing your face with a neem ice cube will help remove excess oil and dirt from your face which keeps getting accumulated with time and make your skin look dull.
Don't Miss: Neem: These Reasons Will Compel You To Chew This Plant Leaves Daily
Evens Skin Tone
Neem is packed with antioxidants which help in reducing the production of melanin in your skin which helps to even out your skin tone. Using these neem cubes will help you even your skin tone and make your skin look a lot more bright and glowing.
Lightens Scars
It might seem like a dream to get rid of those stubborn scars on the face but it isn't impossible. Using these neem ice cubes regularly will help you reduce their appearance.
Don't Miss: How To Use Neem Leaves For Beauty
Makes Skin Look Plump
Neem leaves have a collagen-producing enzyme called procollagen which nourishes the skin. It boosts collagen production in the skin which further makes your face look fuller and glowing.
Though these neem ice cubes are prepared using natural ingredients and should not have any side effects, it is best you do a patch test on your hand before applying them directly to your face to prevent any skin issues.
If you try making these neem ice cubes at home, don't forget to share your experience with us on our Facebook page. For more such beauty stories, stay tuned!