Huda Kattan needs no introduction. She is one of the most renowned people in the beauty world. The beauty mogul who kick-started her journey as a makeup artist is today one of the most followed beauty influences on Instagram.
Honestly, we can't thank her enough for sharing so many beauty tutorials with us through her social media.
Recently, she took to her Instagram and shared a quick tutorial on how to fake a lip job. It is super easy, you don't need a lot of beauty products and you have fuller-looking, thick lips super quickly. Read on to know.
How To Fake A Lip Job?
Things You Need
Lip Scrub
Lipstick
Lip Liner
Step 1 - Exfoliate Your Lips
Begin with scrubbing your lips with a lip scrub. You can use the one available in the market or make one at home using coffee, sugar, and water. (In a bowl, add some instant coffee powder, sugar granules, and some water. Mix well to make a paste-like consistency. Homemade lip scrub is ready)
Scrub your lips gently to remove any dead skin or dirt accumulated on the surface of your lips. Clean.
Exfoliating helps in making your lips look fuller, healthier. When your lips are dry and chapped, they look thinner. Scrubbing them helps in removing any skin layers, improves circulation, and gives you beautiful, pink lips.
Don't Miss: These Home Remedies Will Help You Get Rid Of Dark Lips Instantly
Step 2: Use A Lip Pencil To Contour
Using a brown lip liner or pencil, draw a thick line on your cupid's bow and center of the lower lip. Also line the corners of your lips. Next, cover your entire lip line with a light hand.
View this post on Instagram
Fill in the center of your bottom lip with the same brown lip pencil. Draw two small lines on the sides of your cupid bow and in the center (inwards).
Overlining the lips always helps. It gives an appearance that you have thicker, fuller lips.
Step 3: Use Any Lipstick Of Your Choice
Start applying your lipstick, first on the lower lip and then the upper lip. Make sure you don't spread the lipstick outside the lip line.
Don't Miss: Want Fuller Lips? Try These Easy Tricks To Get Those Plump Lips Within Minutes
Other Makeup Tips To Make Your Lips Look Fuller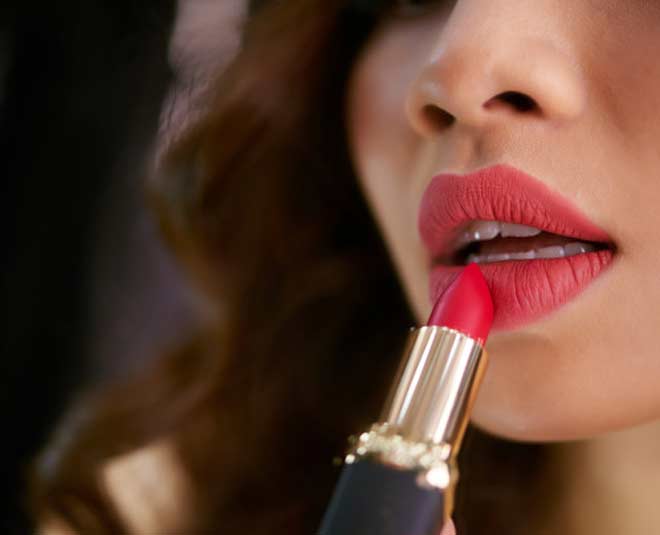 Using a concealer over your lips before applying your lipstick is also believed to give an illusion of thicker lips. The trick is to blur the line between your lips and face.
Another way to make your lips look thicker is by using a lip gloss. Pick a shade close to the colour of your lipstick and apply a good amount of gloss.
Using plumping products like lip balms, glosses, and other makeup treatments can help too to give an illusion of thicker lips.
Apply any lipstick of your choice, a light colour preferably. Using another shade, a darker one, fill in the center of your lips. This will make your lips look fuller.
After applying your lipstick, apply a contour powder under your lower lip, this will make your lips look poutier.
Lip masks are the hottest trend of the season. They can help you get those perfectly plump lips. They help in keeping your lips moisturised and healthy too.
We hope this guide helps you get those perfectly plump lips. For more such beauty-related stories, stay tuned!