Gua Sha has taken over the beauty market like anything. The beauty industry keeps evolving and there are beauty tools that keep taking over. However, this is one facial tool that might stay here for long.
Gua Sha finds its origin in the ancient Chinese healing technique. It is a smooth tool that is used on the face to remove toxins from the lymphatic system but that's not all. This facial tool has numerous benefits for your skin. Read on.
What Is A Gua Sha?
Gua Shar is a tool used in relaxing therapies. It is used to gently massage and stimulate the energy points of the face. The Gua Sha tool comes in different shapes, sizes and stones and can be used picked according to one's skin type.
How Does Gua Sha Work?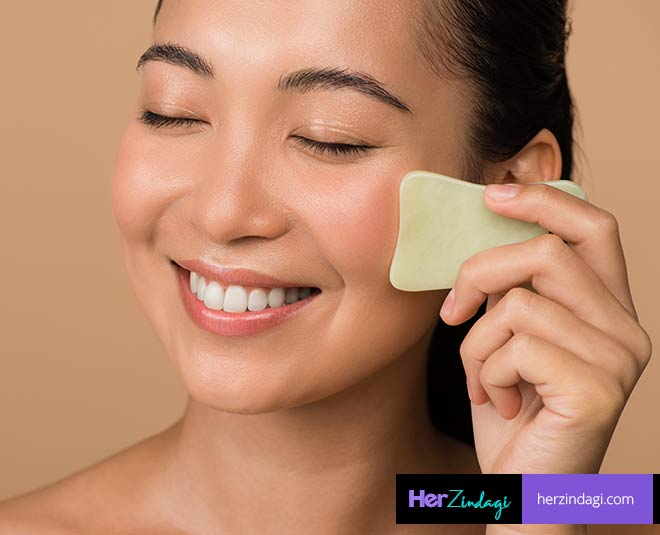 The Gua Stone helps in removing any blockage or lymph in the skin by creating a flow. When there is a blockage in the skin, it is not able to function properly. This also leaves no space for the flow of oxygen, blood, and nutrients in the skin.
Don't Miss: DIYs To Korean, Japanese: Skincare Trends The Decade Saw
What Are The Benefits Of Using Gua Sha?
Great For Acne Prone Skin
Those suffering from acne should use Gua Sha as it is effective in removing toxic lymph from the skin and improves the healthy flow in the skin. This further helps in reducing acne.
Removes Dark Circles
Lack of sleep, stress, dehydration, alcohol among others are some common factors that contribute to dark circles. Using a Gua Sha helps in depuffing the eyes and reduces the appearance of dark circles if used regularly.
Glowing Skin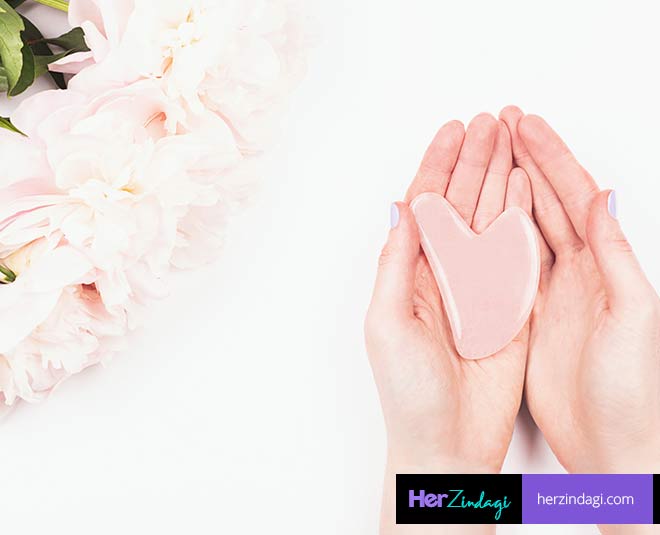 Using a Gua Sha tool helps in improving blood circulation in your face which helps in restoring the natural glow of your face.
Healthier Looking Skin
Your skin starts to look dull when impurities accumulate on its surface with time. A Gua Sha tool can help in removing all the impurities from the skin. It works like a detox for your face.
Don't Miss: Jade Rolling Benefits, Why You Should Try Bipasha Basu's Beauty Hack
Young Looking Skin
Using the Gua Sha is one of the best ways to prevent the appearance of ageing signs like fine lines and wrinkles. This facial tool tones up your skin and makes it look tight and young.
How To Use A Gua Sha?
Now that you know the amazing benefits of using this facial tool, you must buy it. Here is the right method of using it:
Cleanse your face and then apply face oil or serum.
Start using the tool from your neck. It is important to release the tension in the neck and then move towards the face. Working on your neck first also helps in energising your face.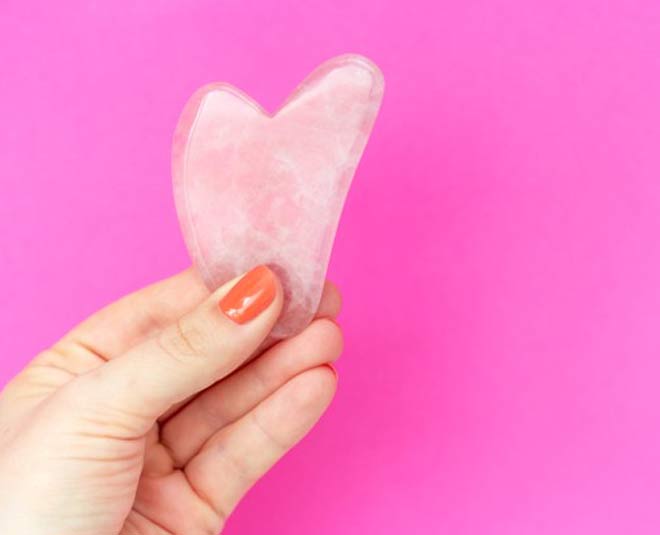 After the neck, start using the tool on your face. Start from the jawline and move upwards to remove congestion present in between. Repeat on the other side. Move to your under eyes and forehead.
Using a Gua Sha 2-5 times a week is enough according to beauty experts. Gua Sha tool made using rose quartz is immensely popular for its properties. It is known to calm and soothe the skin along with relaxing the face muscles. Jade and Le Marbelle Black are also popular Gua Sha stones.
If you wish to invest in facial tools then Gua Sha can be a good option. It is easy to use and has so many amazing skin benefits. If you already have Gua Sha in your beauty kit, share your experience of using the facial tool. For more stories related to beauty, stay tuned!