It is best to stick with natural ingredients when it comes to your skin and hair. We are truly blessed with some great natural ingredients that work great for all our everyday problems. One such ingredient is castor oil. Obtained from castor seeds, castor oil is one of the best oils for your skin, hair, and health. Castor oil is rich in antioxidants and unsaturated fatty acids that help us with most of our skin and hair problems. It has anti-bacterial and anti-inflammatory properties which make it a great product for your hair and skin. Read along to know the benefits of castor oil for your skin and hair:
Reduces Signs of Aging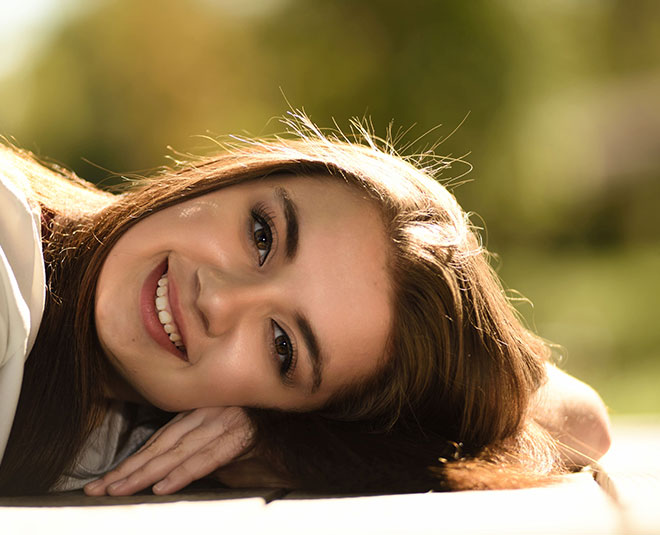 Castor oil stimulates the production of collagen and improves the elasticity of the skin. It makes the skin feel fresh, soft and beautiful. Applying castor oil on your skin helps you reduce the appearance of wrinkles and fine lines. It keeps the skin hydrated for long which makes it look younger. You can apply a small amount of castor oil at night and wash it off in the morning.
Makes Your Hair Thicker
Thinning hair is one of the most common hair problems we all face. Castor oil is just the perfect solution to deal with your hair problems. It improves your hair growth by improving the blood circulation to your hair follicles. The oil has omega-9 fatty acids which make your hair healthier and stronger. Regular application of castor oil makes your hair thick and reduces hair fall.
Don't Miss: Want Thicker Hair? Try These Home Remedies That Work For Real
Prevents Graying Hair
Graying hair is more like a nightmare for all of us. Castor oil is a great product for your graying hair. It maintains your hair pigmentation and delays the process of hair graying. Apply castor oil from your scalp to tips to keep a hold on your natural hair colour.
Reduces Visibility Of Blemishes
Castor oil has a good content of fatty acids in it. These help in fading the blemishes and scars from your skin. Using castor oil helps the growth of healthy tissues in the skin and fades blemishes and scars. You can apply it regularly for great results.
Don't Miss: Use Cucumber Peels To Reap Amazing Beauty Benefits
Reduces Acne
One of the biggest skin problems is acne. Castor oil has ricinoleic acid which removes all acne-causing bacteria from the skin. Applying castor oil also helps you in maintaining the moisture level of the skin. Take some castor oil and apply it on your face in circular motion. You can keep it overnight and wash off your face in the morning.
Conditions Your Hair
Castor oil has antifungal and antibacterial properties which keep all the hair problems away. It is the best natural remedy to treat your dull, damaged and rough hair. Castor oil helps in locking up the moisture of your hair and makes your hair silky and smooth. You can add a teaspoon of castor oil to your leave-in conditioner and apply it after you shampoo your hair.
So, try these amazing beauty tips by just using castor oil and give the much needed nourishment to your hair & face.
All image courtesy: pexels.com
For more such hair care and beauty tips, stay tuned to HerZindagi.com