Makeup, especially for a bride is of key importance as she wants to and has the pressure to look her best. Be it a day time wedding or an evening time event, the makeup varies but just one person can make or break a bride's look and that is the makeup artiste. There are certain key points that all makeup artistes must keep in mind and advise their clients when they are consulted and begin their art.
Professional Makeup artist Pankhi Bhavnani told HerZindagi that "the Key trend of bridal makeup for 2021 will be minimalistic, soft & skin-like base. The idea is to make the bride super comfortable on her big day without any fuss about the makeup getting patchy or turning grey. With right techniques & also with so many brands available in India right now it's super easy to achieve the desired look. Any bride should be able to enjoy her most beautiful day and most importantly be able to feel beautiful from within."
"A wedding day isn't a day to take a risk, therefore it is always advisable to check with your makeup artist the look which you desire, any skin precondition, products which they will be using & the overall look & hairstyle to go with your outfit," she added.
So here are a few tips rolled out by Bhavnani which are key points the makeup artist must adhere to and the brides must know as well.
Skincare
Advise your bride to start taking good care of her skin and hair. Brides should invest in a good skincare routine as it's important for the skin to look good so make-up can be applied flawlessly. Exfoliating, cleansing and moisturising is key for an ideal base, it gets rid of any dead skin cells on your face.
If you have a sudden blemish or breakout just before your wedding day, do not touch your face. It's always good to consult a dermatologist. If you frequently face breakouts after applying makeup then a good dermatologist would be able to advise the necessary skin care routine best suited according to your skin type. Nonetheless, get enough sleep, drink plenty of water, take short meals (don't starve yourself) & stay positive.
Layering
Every product should be applied evenly & in thin layers. Use a sponge to dab the foundation, lip liner to outline the lipstick, primer to be applied before applying foundation –that helps the makeup to last long.
Foundation Application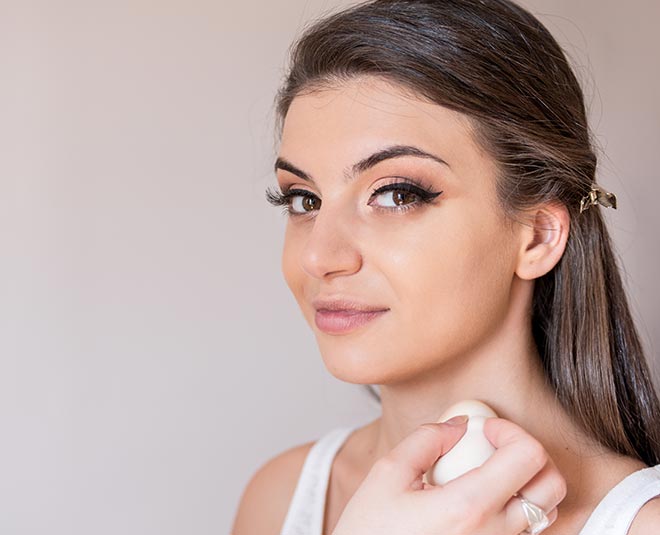 The type of foundation you choose will depend on the skin type and that perfectly sits on the bride's skin. Foundation & concealers should be well blended at the corners of the eyes & mouth since cameras pick up visible makeup lines. And it should also be applied till your neck & collarbone area too as you don't want two different types of shades reflecting. Also, don't forget the ears.
Don't Miss: Switch To Organic Makeup & Save Your Skin For These Reasons
Contact Lenses
If you want to wear contact lenses and have never worn before. Brides must not wait for the big day to try this out. Ask them or if you are the bride, practice wearing lens before the wedding so that you are comfortable on your wedding day & avoid any irritation. Also if you are going for coloured lenses, choose the colour & brand beforehand.
Perfect Lips & Eyes
If you have thin lips, go for peach & pink & for bigger & fuller lips-go for bold colours. For bigger eyes, go for cut crease if the brides want it & for hooded eyes, just a simple colour with shimmer in middle & smudged liner will do. For hooded eyes, lens & false lashes play an important role to accentuate and open up the eyes.
Excess Shine
To control shine, dust translucent powder across the forehead, sides of the nose, and on the chin with a powder puff and then apply a soft, shimmery highlighter to just the temples and tops of cheekbones. Champagne Pop from Becca is the best!
So keep these tips in mind and do not panic. If you are a bride reading these tips then you know what a good makeup artist will keep in mind.
Stay tuned to HerZindagi for more on bridal tips and the wedding season.