When winter approaches it comes with many issues especially dryness if we talk of skincare. With the winter season being prime for weddings, brides and bridesmaids want to look fresh, have that naturally glowing skin look their best. Besides going for their regular salon and parlour appointments, here are some products and appliances all women and especially brides must have in their kit. To keep in mind that if you are lucky, you may be able to bag these at cheaper prices during sales or using coupons. So take a look and stock up on what you may not have.
Bronson Professional Mini Silicone Face Exfoliator Brush
This is a trend started by the Koreans and we must thank them as the skincare regimes we have started following now have indeed brought a difference to the textures of our skin and that glow is back for sure. This brush which also massages your face is priced at Rs 1100. It has a facial brush that is made using top-grade silicon that can allow the removal of 99.5% nasty dirt and oils from your pores, as mentioned by the brand. It is easy to use and fits in all travel bags. Make sure you use it with a non-abrasive cleanser. It gives you baby skin softness and besides cleansing thoroughly, it also massages your face.
Kama Ayurveda Nalpamaradi Thailam Skin Brightening Treatment
This 50 ml bottle is priced at Rs 575. As per Ayurveda, this oil is a natural skin illuminator and helps in de-tanning. As per the brand, it lightens complexion, softens and repairs your skin as well. The oil contains potent turmeric which has antioxidants that help in repairing pigmentation, uneven skin tone, and marks. The presence of sesame oil gives hydration, while vetiver, amla and madder extracts heal and relieve environmental damage. As the brand claims, it is a highly regarded bridal beauty treatment.
Aroma Magic 7 Step Bridal Glow Facial Kit Salon Range
This 18 ml + 20 gm kit is priced at Rs 950. This kit helps in skin detoxification and helps keep the skin smooth and soft. It has organic materials as per the brand and can be easily used at home. The kit includes face pack, revitalising skin serum, face cleanser, exfoliating gel, nourishing cream, hydrating gel and sunscreen.
Don't Miss: 5 Best Body Scrubs: Winter Special Exfoliators To Get Rid Of Dry Skin
LANEIGE Lip Sleeping Mask, Grapefruit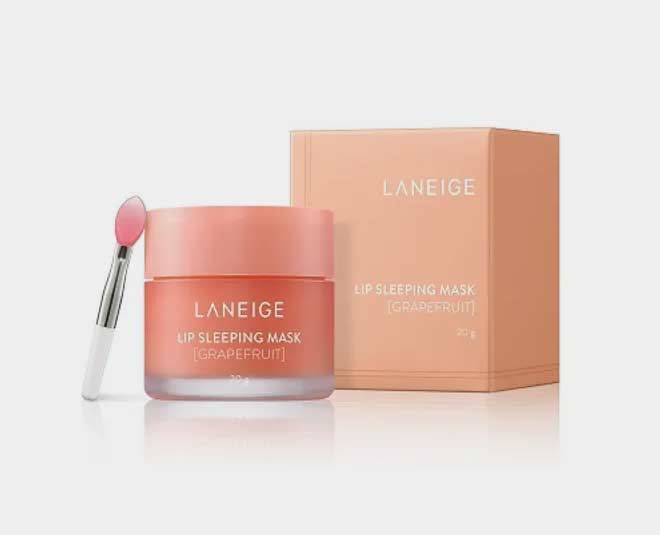 This 20 gm pretty bottle is priced at Rs 1150. All you have to do is, before going to bed at night, apply an adequate amount on the lips using the built-in spatula. This mask melts the stubborn dead skin cells from the lips overnight and provides abundant moisture to the lips. In the morning, wipe the lips clean with tissue or cotton pad and this will make your lips elastic and smooth. A little goes a long way so take very little amount.
Don't Miss: HZ Tried & Tested: Laneige Lip Sleeping Mask Detailed Review
HealthSense Nano-Cure Facial Steamer
Priced at Rs 2400, this steamer uses advanced nano ionic steam technology and a segmented atomisation system to generate soothing, hot-spring like waves of ionic steam particles 4000 times finer than traditional steam to penetrate and moisturize the skin, as per the brand. The nano-steam is said to help with deep and thorough cleansing by opening pores. It also moisturises the skin and stimulates circulation in the face. It looks stylish and is rather compact to carry as well if you are having a destination wedding.
Royalry Essentials Nail Care Miracle Serum
Buy this 15 ml bottle for Rs 500. It is a rich, multi-benefit nail serum which is enriched with plant extracts and restores strength and flexibility for brittle and weak nails. It contains ingredients like almond oil, castor oil, flaxseed oil, vitamin E, and tea tree oil which help repair our nails which may be damaged due to nail paints.
Don't Miss: If You Suffer From Migraines Then Keep These Teas In Stock
Visual Echoes Soft Cotton Sleep Eye Mask With Cooling Gel Inserts
Buy it at Rs 499 but if lucky, you may get it at a cheaper price. This mask is amazing if you suffer from migraines and headaches or use the laptop, phones or a computer system a lot as it helps in cooling your overworked eyes. Refrigerate the gel insert for some time and then wear it as it also has an elastic band attached to it. As per the brand, it is made using high-quality hypo-allergic soft cotton.
So order these items now and make your skin happy. Stay tuned to HerZindagi for more on skincare tips or bridal help.
Did you like this article ?