Gram flour or besan is one of the most used flours in Indian kitchens. From preparing crispy fritters to delicious desserts, gram flour is used in so many different ways. Do you know besan or gram flour can do wonders for your hair? Yes! Besan is an effective remedy for a lot of your hair woes. If you have been suffering from any hair issues like hair loss, dandruff, itchy scalp, hair thinning among others then using gram flour for your hair can completely transform your tresses.
Benefits Of Using Besan For Hair
Besan balances oil in your scalp and prevents oiliness or dryness.
Gram flour makes your hair follicles strong which further improves hair growth.
Using besan on your hair regularly adds volume to your hair and makes them look healthier.
Besan is a go-to solution for hair loss, hair thinning, and dandruff.
It cleanses your scalp and prevents any irritation or itching.
Besan has natural conditioning properties that keep your hair soft and hydrated.
There are different ways you can use gram flour for your hair. One easy way is to prepare a besan hair mask. Scroll down for its easy recipe.
Homemade Besan Hair Pack For Quick Growth
Using besan with a combination of other ingredients can help you grow your tresses quickly.
Ingredients Required:
1 cup besan or gram flour
1 tsp almond powder
2 vitamin E capsules
1 tsp olive oil
Directions:
In a bowl, add almond powder, olive oil, gram flour, and vitamin E capsules. Using a spoon, mix all the ingredients to make a paste. Apply this paste all over your hair. Let it dry and then wash it with cold water. This can be used twice a week.
Don't Miss: These Methi Hair Packs Will Revive Dull Hair, Stop Hair Fall, Dandruff, Re-Growth
Besan Hair Pack For Dandruff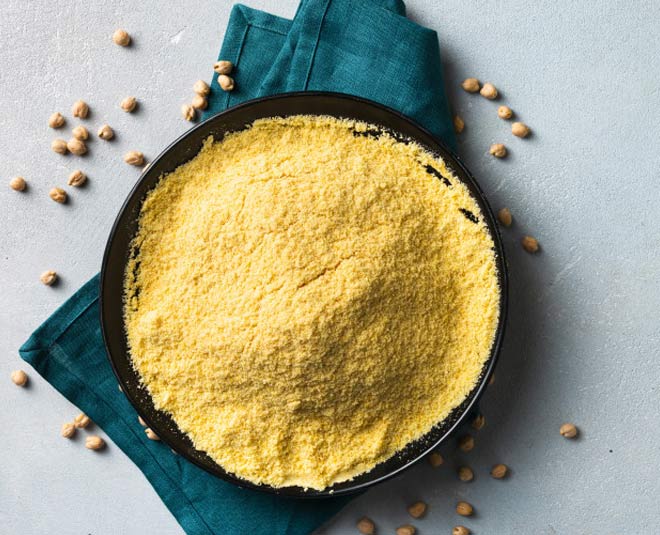 Gram flour has essential nutrients that wash dandruff off your scalp.
Ingredients Required:
6 tbsp gram flour or besan
Water as required
Direction:
In a bowl, add gram flour and water. Mix well till you get a thick paste. Apply this paste on your hair for 10 minutes. Let it dry and then wash it off.
Don't Miss: Prepare Face Scrubs Using Besan Or Gram Flour For Glowing, Clear Skin
Gram Flour Pack For Dry Hair
Besan has essential nutrients that nourish your hair from within and make them soft and smooth.
Ingredients Required:
2 tbsp gram flour
2 tsp honey
1 tsp coconut oil
Water as required
Directions:
In a bowl, prepare a mix using besan, honey, coconut oil, and water. Use this mix all over your scalp and hair and massage gently. Leave it for a few minutes and then wash. You can repeat this 2 to 3 times a week.
Besan Hair Pack To Cleanse Scalp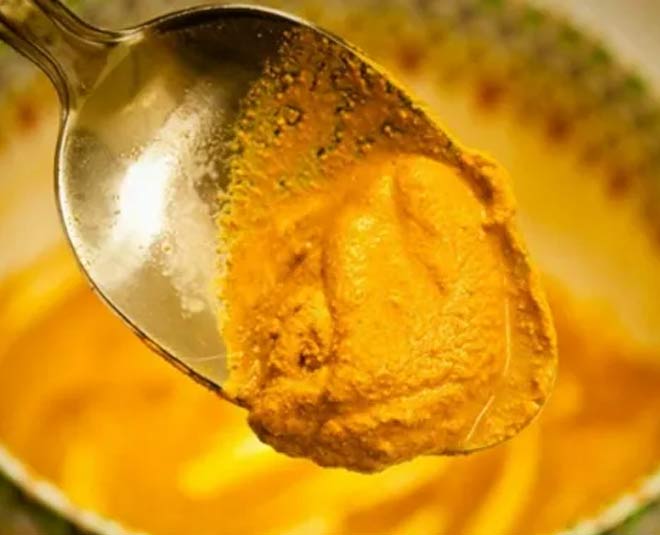 Your hair gets exposed to polluted air everyday and it starts to accumulate on your scalp. Also, regular usage of hair care products leads to a build-up on your scalp which leads to a lot of hair problems. Besan or gram flour works as a cleansing agent for your scalp.
Ingredients Required:
Directions:
In a bowl, mix besan and water. Make sure it is a runny paste or else it can stick to your hair and it will get difficult for you to wash it off. Apply it on your roots. Keep for 5-10 minutes and then wash.
Besan or gram flour indeed works like magic on your hair. For all its amazing benefits, you must make besan a part of your haircare routine. The best part about using besan on your hair is that it is completely safe and is a chemical-free solution to treat your hair issues. Do try it and share the results with us. For more such beauty DIYs, stay tuned!