2021 is about to end and the new year is about to start which brings us lots of hope about the future. However, along with hope, the new year also comes with changing trends. We are still experiencing the hangover of the pandemic, so many beauty trends of 2022 will be somewhat like the trends of 2021.
So, have a look at the beauty trends shared by Shahnaz Husain that will be popular in 2022.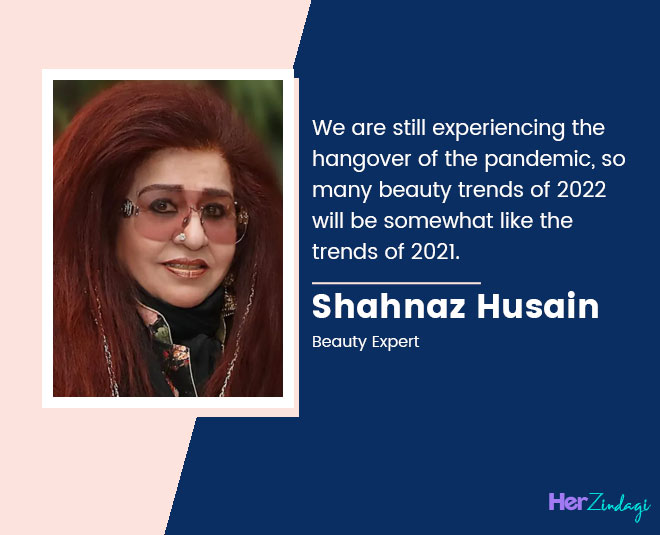 Decrease In Sales Of Makeup
Last year supply chains of many make-up items were disrupted. Lipstick sales showed a downward trend. This was due to the fact that half the face was covered by a mask. Wearing a mask will continue at least during the early part of 2022, with the threat of variants looming large.
Eye Makeup
The emphasis will remain on eye make-up. Some experts are predicting the popularity of eyes being emphasized with eyeliner, with coloured eyeliners becoming popular. There are many ways to incorporate the colour. A thick line of coloured shadow can be used above the line of black eyeliner, while lining the lower lid only with coloured shadow. You can also use a coloured shadow over your entire lid and blend it well.
Bold & Bright Makeup
Many experts feel that as a reaction to the pandemic, people will use bolder and brighter make-up. They want to bring about a change to the pandemic behaviour. One expert says, "My make-up trend predictions for next year are definitely bold and colourful. Having spent so much time at home because of the pandemic, people will want to go very loud on their make-up." As salons are open now and footfalls are on the rise, people are more open to innovative salon treatments.
Green Cosmetics
With people becoming more conscious about health and well being, the demand for "green" cosmetics or environment friendly cosmetics will increase. Organic and herbal beauty care is already popular and the popularity will increase.
Home Beauty Trends
Shahnaz Husain says, "During the pandemic home beauty care also became popular. We were also selling more skin and hair care kits, so that people could follow beauty care at home with these 5 steps or 7 steps facial kits."
Don't Miss: Party Make-up And Grooming Touches For Her and Him By Shahnaz Husain
Skin Protection
People are more aware of protection of the skin. So, a rise in the sale of sunscreens and sun block products is predicted, as well as other skin protection products like antioxidants. Cosmetic product manufacturers are thinking of protective products that may work like foundations.
In fact, this trend is very much like our sandalwood cover cream, which can act like a protective base for make-up. You can have a foundation and also protect the skin. Products for hydration and protection from damage will be on the rise, very much like moisturisers or serums containing ceramides and powerful antioxidants.
Don't Miss: Make A Switch To Clean Beauty By Following This Guide By Expert
Skincare And Makeup For Men
View this post on Instagram
Whenever we think about beauty, we think about women. However, times are changing and it is predicted that, "Skincare and makeup for men will be one of the fastest-growing trends in the beauty industry."
For more such stories, stay tuned to HerZindagi!