Even when we are in the midst of the pandemic, people have managed to find a host of ways to make fashion a lot of fun and creative. A lot of bizarre fashion trends took over our social media feed recently and we couldn't really decide if we would want to see them again or not. From face masks to shoes, we saw seen a reboot of a couple of things in the last year. Have a look at the most talked about weird trends and tell us if they went too far!
Nath Over Mask
A woman's love and craze for jewellery is unexplainable. We are all obsessed with our jewellery but there are some women who would rather stay at home than stepping out without donning some jewellery.
Recently, Kavita Joshi, a resident of Ghodakhal, Nainital proved that her love for jewellery was above everything else and taught us how to to make a statement while adhering to all the COVID-19 restrictions.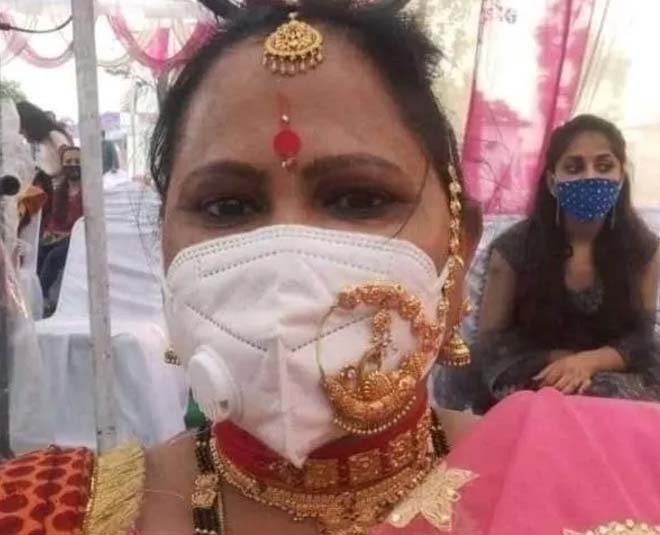 Face masks have become the most essential accessory ever since COVID-19 hit the world. During this one year, many fashion enthusiasts taught us to amp up our face coverings. While some of them were worth taking note of, others just left us in splits.
This woman attended a COVID wedding recently but didn't want to go low-key with her jewellery. She went on to wear a gold nath over her N-95 mask. Ever since a picture of her was put up on Twitter, netizens have been showering it with a lot of love. People have been praising the woman for her 'jugaad', calling it one of the best pictures of the pandemic.
With the number of corona cases rising each day, face masks are surely here to stay but will you dare to try a bizarre fashion trend like this one?
Bra Over Top
This isn't the newest of trends today, it was introduced a couple of years back long back but it has become a thing now. Wearing underwear as outerwear might sound bizarre at first but for fashion aficionados, it has become the 'it' trend.
The trend indeed looks fancy on runway models but are we really ready to see women carrying it IRL?
Barefoot Print Shoes
Who said shoes are just to protect and comfort your feet? It is a fashion statement for many but for some, it is all about taking the out-of-the-ordinary route. Commando 2 actress, Adah Sharma was snapped at the airport wearing a pair of barefoot print shoes.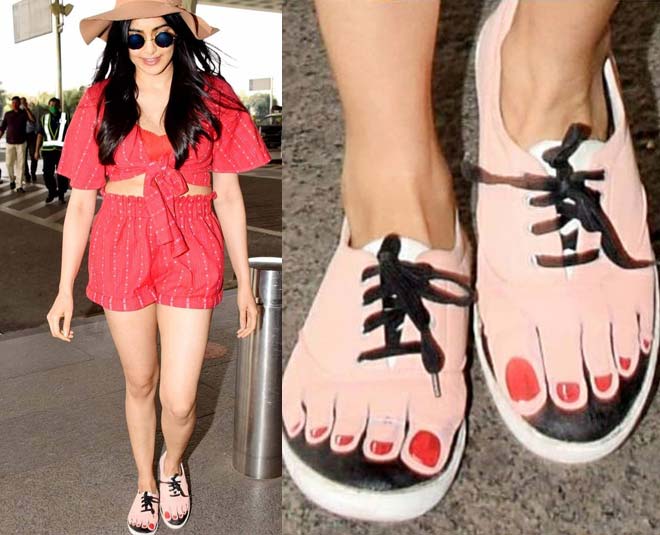 If you are bored looking at your feet then wearing these barefoot print shoes might do the trick!
Don't know about you but I am clearly not ready to see a shoe trend like this one roll over. Would you dare to cover your feet with a pair of shoes that looks like feet?
Don't Miss: From Bamboo Varmala To Bidai In Helicopter: Wedding Trends Amid COVID-19 Are Innovative And How!
Hi-Waisted Underwear As Top
Another underwear as outwear trend, this one involves wearing underpants as a top.
View this post on Instagram
Would you wear a single shoulder top like this one or let your underpants be underpants?
Don't Miss: Bride Leaves Wedding Midway To Collect Certificate After Winning BDC Seat
Built-In Face Mask Dress
If you constantly forget to carry your face mask then this face mask dress has got you covered. This isn't a regular dress, it comes with a built-in face mask. Sold by Pretty Little Thing, this dress that costs 15 Pound has become the talk of the town.
It looks a little unusual to me but knowing that we are in the midst of the pandemic and not getting rid of the facial coverings soon, I think many might like the idea. What's your take?
What is your final verdict on all these bizarre fashion looks? Share your thoughts with us on our Facebook page. For more such stories, stay tuned!