Pandemic coronavirus has changed everything in our lives and how the world generally operates. This includes the way we Indian do our marriages and those grand wedding events where atleast 200 guests are invited. It has now boiled down to 50 guests and instead of garlands, many welcome you with hand sanitisers and face masks. Putting on a great lipstick is no more a concern as the right face mask with jadau work is. It is not just the makeup or fashion trend which has changed for the brides and the guests but also how the marriages are conducted is impressive. Here are some uber-cool and inspiring wedding trends which are here to influence us.
Bamboo Ki Varmala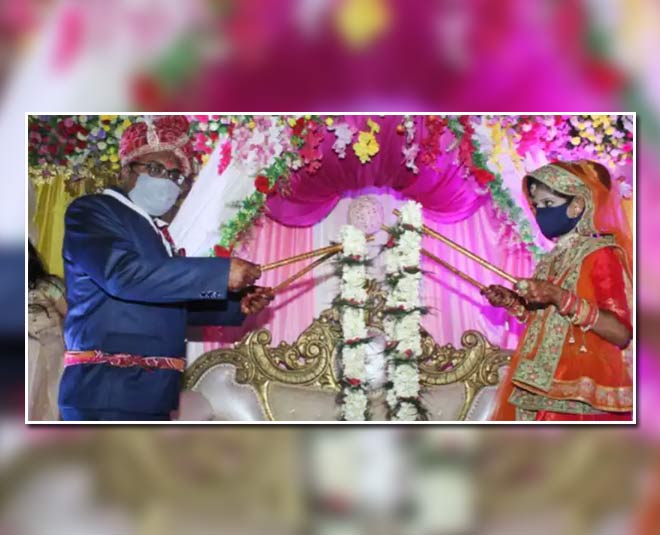 Now doing a varmala or the simple act of exchanging varmalas was never weird but in the times of social distancing, there are some thoughtful couples who are here to change the game in that arena as well. One such case is that of a couple that got married in Bihar's Begusarai. The dedicated duo decided to maintain physical distancing even while getting married.
According to the website India.com, the groom Kirtesh Kumar and the bride Jyoti Kumari, took the help of bamboo sticks to exchange the garlands and not to forget the masks stayed in their place. According to the entertainment and lifestyle website, the groom shared that the "unique 'varmala' will always be memorable for him!"
According to the family as reported, the guest list was of less than 50 people while the wedding rituals were completed in accordance with the official guidelines. The wedding took place on April 30.
Helicopter Carriage Please
This may not be about COVID-19 but more about fulfilling a bride's wish by the ever so loving and thoughtful groom. In old times the royals had the bride coming in beautiful flower-adorned carriages but this groom went an extra mile to make his girl's wildest dream come true by bringing her home in a chopper! In the bidai ceremony, the girl goes crying as she departs from her parents, in a car with her groom but here, right after the wedding ceremony, the couple went home in a helicopter.
The groom, Siyaram Gurjar, a resident of Raipur village in Vair subblock in Bharatpur district, hired a chopper and flew to the bride's place on Monday, and brought his newly-wed wife back to his village in the same helicopter the very next day. A farmer's son, Siyaram, his brother Kartar Singh and brother-in-law Ramprasad managed it all.
According to the website, during the take-off, administrative and police officials were also seen at the spot who were ensuring that the Covid guidelines were followed because undoubtedly, a big crowd had gathered to catch a glimpse of the helicopter.
The website shared that "Siayaram's wife, Rama, had a dream of travelling with him in a helicopter to their "sweet home" and hence he hired a chopper, which cost him a whopping Rs 7 lakh. Rama also said that it was her dream to take a chopper ride to her in-law's place, which has now been turned into a reality."
Don't Miss: HZ Exclusive: When Real Marathi Bride's Traditional Maharashtrian Wedding Dream Came True!
At first, the district collector and the CMHO had rejected the application for hiring a chopper due to the rising Covid-19 cases in the region, but eventually, the permission was granted later with some set terms and conditions.
Baraatis & Dulha On A Cycle
In 2019, a similar event made the headlines when a Sikh couple rode home post-wedding, on a cycle with a motive to show that it can all be simple and you can still get married! This time we have another couple amid COVID-19 where a groom from Uttar Pradesh's Pratapgarh district embarked a ten-kilometer journey on a cycle to his bride's house for their wedding.
Vinay Kumar and his friends took the baraat from Bojhi village to Rajgarh village wearing face masks and shields. He was praised by locals with people taking umpteen pics and videos.
Kumar told media: "I wanted to give a clear message that social distancing is important. This would not have been possible in a car or bus so we cycled to the bride's house. This is my way of fighting against the second wave of Corona."
Don't Miss: Bookmark These Tips To Have A Sustainable Wedding
Vinay's family members said that they decided to go minimalistic on the expenses during the pandemic and create awareness about how important environment conservation. There were a few guests representing social distancing. The groom works in a private factory in Pratapgarh.
If you also know of any news like this or a couple who took an initiative to spread the word of positivity then stay tuned to HerZindagi and do share it with us on our Facebook Page.